KENT, Wash. (BRAIN) — Under its new parent, Accell Group, Beeline Bikes is mapping out aggressive growth plans both domestically and internationally. In a call with Bicycle Retailer & Industry News, Accell North America CEO John Short said the goal is for Beeline to operate in 30 U.S. cities by end of year and 60 by end of 2019. It currently has 84 mobile vans across 15 cities, with new mobile shops added monthly.
Beeline has also started looking at Canada and identifying IBD partners there, with visits to Vancouver last week. Vancouver would be an easy first step as it's close to Accell North America's U.S. headquarters in Kent, Washington, just south of Seattle. Accell is also investigating how to expand into Europe.
Accell Group announced the acquisition of Beeline Bikes Wednesday. Neither the purchase price nor annual revenue of Beeline was disclosed. But Accell did say that it owned 30 percent of the shares of Beeline before Wednesday's news. Investors into the mobile shop business, which launched in 2013, have included Backcountry.com and a handful of private angel investors. Now Accell owns 100 percent of the Beeline shares.
Beeline remains a stand-alone division within Accell with CEO Peter Buhl still leading the charge and the team will stay intact in its corporate offices in San Carlos, California.
"Accell made a number of investments over the course of the past couple of years into Beeline," Short said, on the call from Germany. "The initial thought was Beeline would be a great fit for the group. But progressively, over time, the relationship continued to build. The other thing that happened is that the evolution of the industry made it even more interesting and more appropriate to go ahead and complete the acquisition for the balance of the company and to bring it fully into Accell Group, initially into ANA.
"Tom (Anbeek, Accell Group's global CEO) and I are convinced that there's tremendous opportunity to use Beeline and its capabilities as a bridge between online and traditional IBDs," he added. "We see that a lot of traditional IBDs aren't doing so well. As a result, you have to step back and question that strategy. We feel like partnering with progressive retail partners who share our belief that omnichannel is here and here to stay because it's what the consumer demands. It really creates an opportunity to be the glue that sticks it all together."
Buhl said Accell's investment allows his company to "innovate better."
"We could be more creative together in terms of how we deliver new revenue streams," he said. "Thinking about the margins, how margins get split among a variety of players, it's much easier to put together a super compelling offering when you're in the same boat rowing together."
Buhl said that Beeline will continue to support all brands, not just Accell's, from both a service and fulfillment perspective. From a brand perspective, Beeline is agnostic, he emphasized.
Beeline currently delivers and assembles bikes sold online from all of Accell's brands, as well as Amazon and Competitive Cyclist.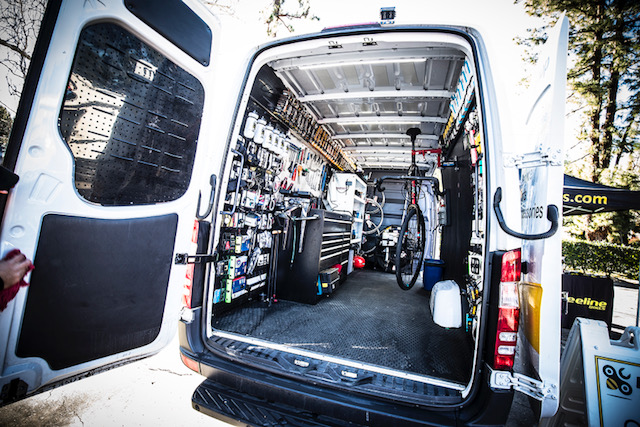 "We have several other brands we're in discussions with about doing fulfillment," Buhl said. "The great thing about Accell is they understand the Beeline platform. They know that's for the benefit of franchisees/IBDs and the best way to optimize the success of the business. That means servicing all bikes and fulfilling all bikes we can."
"The economics make sense for a brand," Buhl continued. "I think as more and more brands go direct to consumer, you're going to want a world-class last-mile solution. If the only option is to pick up in shop, you're going to miss a bunch of customers. If you can offer pick up in shop or deliver to door, over time, that will be what customers demand — convenience."
Beeline currently operates franchisees in Phoenix; Irvine, Los Angeles, Oakland, Sacramento, San Diego, San Francisco, San Jose, and Silicon Valley, Calif.; Boulder, Denver and Fort Collins, Colo.; Chicago; Indianapolis; Detroit; Austin and San Antonio, Texas.; and Arlington, Va.
Short said that Beeline's model differs from Velofix and others in that the company is partnering with IBDs to reach customers who don't otherwise come into their stores, not to directly compete with them. Multi-store retailers who have recently signed on include Wheel & Sprocket with stores in Wisconsin and Illinois and American Cycle & Fitness in Detroit.
"There's little overlap between Beeline users and those who take bikes to a shop to get tuned and repaired," Short said. "So Beeline creates the ability to create new customers for bike shops."
Short also said that the mobile business allows retailers to grow and expand their sales territory without investing in more brick and mortar locations, which could be quite expensive.
"On a city-by-city basis, we're targeting where the bike community and bike culture is important," Short added. "We've mapped out a growth strategy on that basis.
"What Pete has built is very unique and very special, which was one of the key reasons it's of interest to us. But it really creates the opportunity to put together all of the pieces of an omnichannel business — online, brick and mortar and customer service," Short said.
For more on how the deal will work, make sure to turn to the April 15 print issue of Bicycle Retailer & Industry News.
Related stories: