LAWRENCE, Kan. (BRAIN) — Forty-six miles of riding — a good dusty chunk of it on gravel roads — brought the BRAIN Dealer Tour crew to visit two shops Thursday. One store was less than two months old in a tiny town that happens to be along a popular cycling route. The other is 47 years old in a historic brick block in downtown Lawrence, the home of the University of Kansas.
Our three-day tour of shops in the area wrapped up with a ride led by Dan Hughes, the owner of Lawrence's landmark Sunflower Outdoor & Bike Shop. Besides running the store, Hughes is a legend in gravel racing circles, having won the Dirty Kanza 200 four times, as well as the 2014 Gravel Worlds. This year, Hughes is taking it up a notch, competing in the new 350-mile category at Dirty Kanza, which is held the first weekend in June.
Hughes led us nearly due west from our base in Overland Park toward Lawrence. Along the way we stopped off in Eudora, a town of about 6,100 people that now, as of a few weeks ago, has a new bike shop, Frontier Bikes.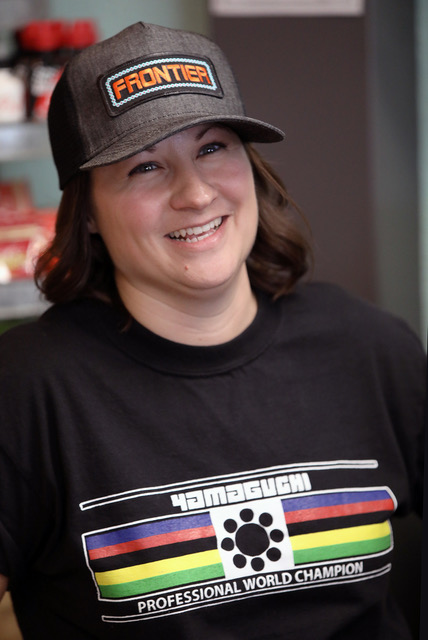 Frontier's owner is Beth Morford whose career as a massage therapist for the U.S. swim team culminated in a trip to the Rio Olympics. After that, she promised her kids she would retire from traveling. Morford is a framebuilder who has worked with Lenexa, Kansas, builder Julie Pedalino and apprenticed with Colorado builder Koichi Yamaguchi. She also had wrenched for Velo+, a Lenexa store we visited earlier on this Dealer Tour.
When she decided to open her own shop, she looked at locations in East Lawrence before finding her current spot in an unassuming commercial development at the edge of town. While the location might not provide much sidewalk foot traffic, it happens to be along a major cycling route between the Kansas City area and Lawrence — something Morford confirmed by studying Strava maps.
"Everyone rides by here, we decided it was perfect," she said. The local community has quickly welcomed the new store even as non-Eudora cyclists stop in for necessities during weekend rides. "The biggest surprise has been the town's support," she said.
Frontier Bikes focuses on service, which includes offering spin bike classes. The spin bikes work both ways, she said: "Some of the spin class people get interested in riding outside and we can help with that. And some of the outdoor riders want to ride inside when it's raining, or windy, or too hot or cold. We were on a DK (Dirty Kanza 200) training ride last weekend when it started to rain, so we did the last 30 miles on the spin bikes."
As the store gets off the ground, Morford is being careful to not overextend on inventory and to keep the focus on service.
"Because of the limited space and because we didn't want to bury ourselves in net terms, service is our biggest revenue generator." Frontier does stock a handful of bikes from Surly and All-City and is considering adding another brand.
Down (and up) the gravel roads we went, after leaving Frontier, to the picturesque university town of Lawrence, arriving in time to miss a vicious afternoon thunderstorm.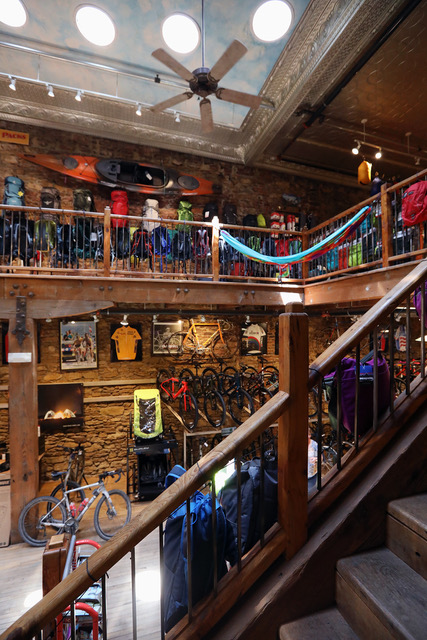 Sunflower began as an Army-Navy surplus store in 1971 and expanded into bike and outdoor gear over the years. The three-story location on Lawrence's Massachusetts Street is a gem and has a long history: the building was burned to the ground in the Civil War, but quickly rebuilt. In 1997, another fire gutted much of the space. Then-owners David and Susan Millstein rebuilt it using re-purposed materials where possible.
The legend is that David Millstein walked into the burned-out store after the fire and, though the inside was gutted, he appreciated the ample natural light coming down into the space from holes in the burned roof. He rebuilt the roof with tubular skylights and a faux partly cloudy blue sky ceiling above a two-story tall open space in the middle of the store. The light brightens the walls of stone and red brick and the stained wood floors, resulting in a warm feel that still highlights Sunflower's colorful inventory.
Hughes said the store's revenue is roughly 50-50 outdoor gear and bikes, with outdoor providing more profit because of higher margins. The bike mix includes Trek, Specialized, Salsa and other brands; gravel bikes have largely replaced traditional road bikes on the sales floor in recent years. E-bikes are another fast-growing category.
Hughes has decorated much of the store with autographed pro team jerseys and other mementos, but he conceded that the roadie history means little to his customers. He's slowly taking down the treasures and replacing them with images showing the kinds of regional adventures that most Sunflower customers can aspire to.
The Dealer Tour was sponsored by Garmin, which is headquartered in the area. Co-sponsors included Chamois Butt'r — another local brand — and Salsa Cycles, which provided a fleet of gravel bikes for tour participants.
Full coverage will be in the June 15 issue of Bicycle Retailer.
Previous articles: