Editor's note: A version of the following story appears in the July 1 issue of BRAIN.
VANCOUVER, British Columbia (BRAIN) — With a significant new investment from a clean technology fund, mobile service franchiser Velofix is jump-starting its growth with plans to add 30 corporate-owned vans in the U.S. and Canada in the next 12 months.
The company-owned vans will be in addition to those owned by Velofix franchisees, who currently operate vans in 120 territories in North America.
Velofix has hired retail industry veteran and author Donny Perry, who will open the U.S. headquarters in Austin, Texas, to support the corporate vans and franchisee operations. In the coming year, Velofix will become a much larger operation, with plans to add 20 new employees in Austin and at its offices in Vancouver, plus 50-60 new mechanics to operate the corporate vans, CEO and co-founder Chris Guillemet said. Besides the new employees and facilities, the privately held company will, for the first time in years, own vans and inventory.
"It's a shift for sure," Guillemet told BRAIN. "But when we launched, we did own vans corporately. We've done it before."
He emphasized that Velofix will continue to sell and support franchises but said corporate-owned locations — which are common in the franchise business — will help Velofix expand its footprint, adding brand visibility and buying power.
Last mile fulfillment is the big opportunity
An expanded presence in key markets across the continent also will make Velofix more attractive to bike brands, especially consumer-direct brands looking for assembly partners, delivery and warranty service. Contracts with those brands give Velofix operators an advantage over independent mobile operators and provide the company a big selling point when approaching potential franchise owners.
"The more trucks on the road, the more dots on the maps, the more attractive we are to bike manufacturers," Guillemet said.
He said Velofix receives 30-40 requests a month from bike brands looking for "last-mile" fulfillment.
Velofix currently has varying agreements with more than 20 brands to provide delivery and assembly and/or to offer bike sales or after-sale assembly and warranty service. The company is one of the delivery options offered by Canyon Bicycles and Amazon, notably. VeloFix recently hired former FSA manager Cameron Simpson to manage vendor relations and the VeloFix Direct program. 
Guillemet said Velofix is underrepresented in several major markets. It has only one franchisee operating in the Chicago area, for example, and one in the Boston area. Both markets could support more vans.
"There is a misconception that certain territories are sold and gone — that's been one of our challenges," he said.
While Velofix will honor exclusive territories it has sold to franchisees, he said corporate vans are likely to be added in some larger regions where franchisees operate.
Sales growth slows
In recent years, Velofix's new franchise sales growth has slowed. It added 40 new U.S. franchises in 2016, 37 in 2017 and 26 last year, according to its March 2019 U.S. Franchise Disclosure Document. In each year, that number was below public projections.
Velofix also ended previous plans to expand into Europe in the short term, although Guillemet said international growth remains a long-term goal.
The March disclosure, available from the California Department of Business Oversight, was posted on the Ashburn Bicycle Repair website. Operated by Rob Crangle, Ashburn is an independent mobile bike repair operation in Virginia. On the site, Crangle speculates about Velofix's corporate financial viability and the performance of its franchisees. He attempts to compare Velofix franchise costs and benefits to alternatives.
"Although I've got a critical eye on Velofix, I'm also a big fan," Crangle told BRAIN. "They've done a ton of good for the mobile bike shop industry (if I can call it that). We 'independents,' I believe, have benefited from Velofix and all of their marketing and outreach. I hope they survive and prosper. Likewise, if they fail, that might put a bit of a stain on the rest of us."
Guillemet said on a corporate level, Velofix is financially healthy; adding that Velofix was not looking for additional outside investment when MKB Partners Fund LP, a Montreal-based clean technology fund, approached. The size of the investment, announced in May, was not disclosed.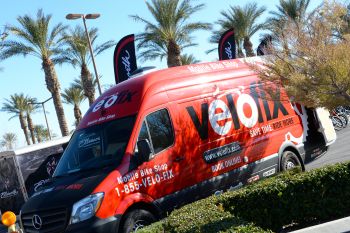 "Our business was healthy; it was growing organically," Guillemet said. "We're happy we're on the right track. Like any business franchise system, as you grow, you learn what the right franchise partners look like."
He said in five years he wants Velofix to remain the largest mobile service provider in the world and to expand outside North America. Increasing parts and accessory sales is another goal.
"We consider ourselves a bike shop. We sell everything from power meters to Garmins to wheelsets, and we will continue that. Potential P & A sales are massive.
"The convenience factor and the level of service we've tried to provide is critical. As people get used to Amazon Prime and Uber and just-in-time shopping apps, what we offer will become more valuable. More and more brands are taking different ways to get to market, and what we offer is perfectly aligned with that movement."
Rolling advertisements
He said the MKB investment allowed Velofix to roll out the corporate-owned vans earlier than it had contemplated. Among other things, the vans are Velofix's best advertisements.
"At the end of the day, our single biggest challenge today is still awareness — making consumers aware that a service like this even exists. ... The trucks are our marketing collateral. We do 2,000 events systemwide each year, everything from elementary school visits to the Kona Ironman World Championships. We also do digital and social marketing and an ambassador program, but one reason we want to get more trucks on the road is the awareness it drives."
'Exactly like a retail chain'
Perry was Specialized Bicycle Components' retail development manager and most recently the head of retail for North America for Bang & Olufsen. He's moving from Brooklyn, New York, to open the Velofix headquarters in Austin, which was chosen for its business-friendly environment, central location and strong cycling market. Perry expects to have two corporate-owned vans on the road in the Austin area in a matter of weeks. (A franchisee previously operated Velofix vans in the Austin market, but left the business for personal reasons.)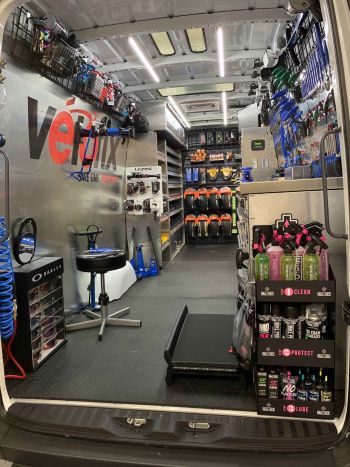 Perry, author of 2014's "Leading Out Retail: A Creative Look at Bicycle Retail and What All Retailers Can Learn From It," said he views Velofix operations as bike shops.
"My job will be exactly like running a retail bike chain," he told BRAIN. "I don't see any difference between what happens in those vans from what is happening in neighborhood bike shops."
He did say hiring Velofix technicians is a bit different from hiring a bike shop mechanic.
"There are some personality types we'll probably steer clear of. The folks who want to hunker down and work on bikes and not interact with customers — that person is great, but not great for Velofix.
"It's such an intimate space in the van, and you are in someone's driveway or their office, or even in their house, so we might look for someone who is more of an extrovert and thrives on interaction with people."
Perry said he's consulted with many traditional bike shops over the last decade and said the best brick-and-mortar retailers understand the same things as Velofix.
"There's nothing that Velofix is doing that the best brick-and-mortar retailers don't get. At the end of the day, we all want to get more people on bikes more often. I think there is a big overlap in the Venn diagram of mobile customers and brick-and-mortar customers. The same people are looking for different things at different times. These things can coexist healthily."