SAN FRANCISCO (BRAIN) — Mobile bike repair presents opportunities for brick-and-mortar operations to branch out, reach new customers and generate more revenue. Since Beeline stopped selling repair vans and protected-territory franchises, retailers have taken divergent approaches to going mobile.
A market worth watching is the San Francisco Bay Area, where the two dominant chain operations are Mike's Bikes and Summit Bicycles. The similarity between the two: They've both taken Beeline vans and converted them to store branding. The major difference: Summit started three years ago this month, while Mike's is just getting rolling.
The 12-store Mike's Bikes chain extends from Silicon Valley north to Sacramento. Founder and CEO Ken Martin described why they kept none of the Beeline identity and services after purchasing four of the vans. "We created our own custom software solution that fits in with our POS and the front end of our website," noted Martin.
Late January marked the first Mike's mobile rollout. "The initial response has been overwhelming," Martin said. "It's clear that consumers are embracing mobile, especially from a brand they trust."
Martin noted the impact on e-bikes. "E-bike sales are going crazy for us, especially in the North Bay and Sacramento. Our vans make buying an e-bike more feasible for many people. How else is a customer going to manage transporting a 50-pound e-bike back and forth to the shop?"
"Our vans make buying an e-bike more feasible for many people. How else is a customer going to manage transporting a 50-pound e-bike back and forth to the shop?" — Ken Martin.
Martin expects San Francisco and Silicon Valley to be hot spots for mobile. "People are so app driven in these markets and they're used to home services. And there's no extra charge above the in-shop rates for mobile service as long as the customer meets a $50 minimum," Martin said.
Ian Christie, CEO of Summit Bicycles, bought seven Beeline vans and franchises in early 2017 to support his five store locations between Burlingame and Los Gatos. He's now rebranding the vehicles. The Summit graphics have been designed and will be painted in the next few weeks.
"Things (are) going well with mobile," Christie said. "It makes sense to offer our customers as many options as we can. The biggest struggle has been finding people to operate the vans. With unemployment virtually zero here, we have five vans on the road and two awaiting drivers."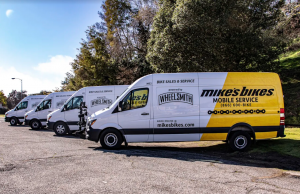 Christie likes to keep his mechanics mobile-ready. "We've had good luck rotating people in and out of the shops. Rather than having one person in one van, our mechanics are working three days in store and three days in the van," he told us.
Unlike Mike's, Summit has retained a connection to Beeline. "Beeline has stepped back from being the brand, it's now more of a software scheduling solution that we use for both mobile and in-store scheduling," Christie noted.
After three years of experience with mobile, the big surprise for Christie was the volume of new-bike fulfillment. "We really underestimated how many online bike orders that we would have," Christie said. "We build and deliver hundreds and hundreds of Raleighs, which is a result of Accell and Beeline's earlier partnership."
"It was efficient and profitable at first," continued Christie. "But it soon got to a point where customers were waiting three weeks to get their bikes. We'd offer them faster service if they came to the shop to pick them up, and that eased the backlog."
After three years, mobile dollars are "Right around 3% of gross sales, not huge," said Christie. "And we're finding that the gross margin is ridiculous since we're not having to pay 65% of the revenue in cost of goods sold."
Summit's most popular mobile service is their $120 tune-up. "Beeline was notorious for low prices, so we raised prices to reflect what we're charging in the store. The goal is to have a $175 ticket per mobile visit. That's challenging, because mobile customers buy a lot fewer add-ons than our in-store people."
These two powerhouse retail chains cross over between South San Francisco and Palo Alto, and there's no longer Beeline-based territory protection. Christie believes there's plenty of room for both Summit and Mike's. "There are nine million people in a 50-mile radius," concluded Christie. "As long as we do a good job for our customers, mobile will continue to grow for each of us."