A version of this article ran in the April edition of Bicycle Retailer & Industry News.
PHILADELPHIA (BRAIN) — After 26 years in the industry, Drew Guldalian has figured out what he does best. So while many suppliers zig toward the direct-to-consumer route, Guldalian and Engin Cycles zags toward retail outlets to sell his components.
"The decision was based on what our strength was," said Guldalian, who has moved from operating Wissahickon Cyclery to full-time component and frame manufacturing. "We had inventory on the shelf and also the ability to make more. That seemed crazy to keep the inventory and not try to move as much of it as possible. If we need to make more parts, that is a good thing."
That goes to the heart of Engin Cycles, and the pivot can be traced to last year when the COVID-19 pandemic hit. "We need to accept certain things," Guldalian said. "One of them was that the world as we knew it for retail was changed in the blink of an eye."
But before 2020, Wissahickon Cyclery was a niche specialty shop carrying brands like Moots, Independent Fabrication, Parlee, and Vicious Cycles — with the ultimate goal of manufacturing custom bikes. In 2005, and with a 4,000 square-foot building available behind the bike shop, Guldalian decided to use the space for manufacturing instead of expanding the retail business.
He then purchased a milling machine, lathe, and welder.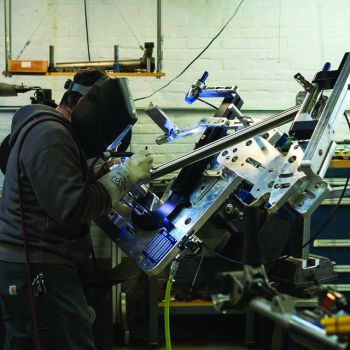 "At first, it was just a money pit that took all my time and energy," said Guldalian, who manufactures mountain, road, and all-road models. "It yielded a bunch of crappy bikes and loads of frustration. Luckily, I am very stubborn and keep going until stuff started to click."
While Engin sells components primarily through retail outlets, Engin Cycle frames are sold direct-to-consumer, starting at $5,000 depending on options.
Engin Cycles bike sales eventually came at the expense of the boutique brands that the store carried, but it led Guldalian to make another critical decision: go all-in on manufacturing by purchasing a CNC machine.
"The CNC machine was so I could really make the bicycle the way I wanted and remove limitations from sourced parts," he said. "As time went on, more machines and ability kept happening."
However, with the pandemic creating component shortages, Engin Cycles focused on supplying components to retailers and frame-building tools to builders. As for components, Engin Cycles manufacturers stems, seat collars, SRAM-compatible spiders, and tapered steerer tubes. Engin Cycles just released a 31.8mm seat collar that joins its 34.9mm version in four anodized colors.
Because of precision machining, Engin Cycles says, posts can be secured at a lower torque value with its collars.
"For the past year, we have focused almost all of our energy on getting the components made and ready for this," said Guldalian, who said he's confident the CNC-machined component market is sustainable post-boom. "We tried to be direct-to-the customer only, but it was obvious that using the network of shops and builders was the needed path forward."
Beyond filling a current need in the industry for components, Guldalian said the passion was fueled by the love of manufacturing.
"The parts were born out of the desire to control as much of the process as possible when it came to making bicycles," he said. "That desire has not gone away. If anything, it is greater than ever. ... Our (frame-building) tools (ISCG 05 Locator Tool and wheel tool) are some of our best creations, so to keep them to ourselves seemed crazy."
Guldalian has been steadily building a retailer network and getting inquiries daily. "It's been very well received," he said, adding that news of his transition is gaining traction through social media and word of mouth.
Engin Cycles offers wholesale pricing for bike shops and framebuilders, while maintaining, "We have never wanted to operate as a direct-to-consumer outfit that cuts local shops out of the picture."
More information at engincycles.com.