WASHINGTON (BRAIN) — The industry imported 1.7 million bikes in August, worth $142 million — a 24% increase in value over the same month last year, but down $9 million from July's numbers. 
Imports in June, July and August were some of the highest numbers the industry has seen since 2015. July's bike import value of $151 million was the largest month since April of 2015, when the industry brought in bikes worth $180 million.
At the wholesale and retail level the industry is struggling to rebuild inventory left depleted by booming demand since the pandemic lock-downs began in March in the U.S., coupled with factory closures in Asia in the first quarter.
In July and for the first week of August, importers had an extra incentive to up the pace: a 25% tariff on China-made bikes that took effect Aug. 7. 
The U.S. Department of Commerce released the August import stats on Tuesday. The figures show imports of all bikes, including those bound for mass merchant distribution. Most bikes sold in the specialty and mass merchant channels are imported.
There are few publicly available figures for wholesale or retail bike sales, but the numbers that are available indicate that demand continues to exceed supply. The rate of increase in imports does not match the increase in sales, much less fill the empty warehouses.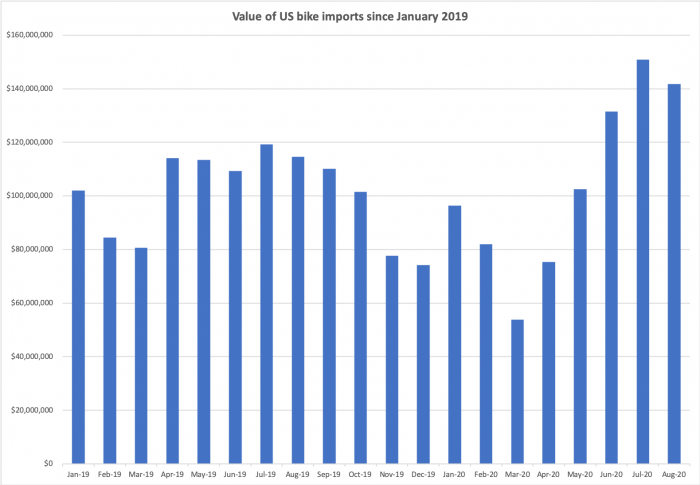 The PeopleForBikes Sell-In Report, for example, shows that wholesale bike sales to U.S. dealers were up 27% in dollars in August compared to last year, and up 35% year-to-date through August, compared to the same period in 2019.
Wholesale warehouses had just 81,000 bikes on hand at the end of August this year, compared to nearly 600,000 in stock at the end of August 2019.
And The NPD Group/Retail Tracking Service reports that retail bike sales through independent bicycle dealers were up 49% in dollars in the 12 months ending in July. Most retailers say that while sales peaked in May this year, consumer interest continued through the summer and fall at significantly higher levels than in recent years.
Suppliers who are attempting to significantly increase their bike imports this year are bumping against the industry's capacity limits, especially for components and other bike parts. Some component makers are taking orders for delivery as far out as the second quarter of 2021.