VENTURA (ZEITBIKE) — ZEITBIKE has recently added custom water bottles to their product line. These bike bottles can be personalized so that dealers and shops can design unique bottles that will work organically to promote their store name and equity among customers.
Dealers can order the bottles with their choice of bottle color (with an option to add a second color). They can upload their shop logo or any standardized image that fits a predefined art template and can mention their shop name or another preferred text. Ordering is almost completely online, with a final review and confirmation from the company to avoid any confusions or surprises.
Zeitbike wants to stand out from other bottle customization programs by offering designing assistance to shops. The company has a growing template database of modern, cool designs. The bottles can be designed around locations, or themes, rather than just around a company logo.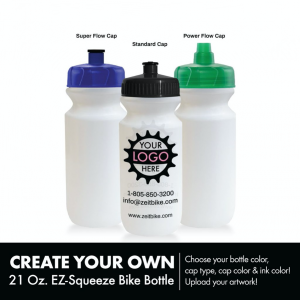 Zeitbike offers choice of standard cap, or premium power flow or super flow cap, with choice of cap colors. Bottles are available in popular 21 oz, 25 oz, 26 oz, or large 38 oz sizes. The bottles are made of reusable and recyclable, FDA approved LDPE plastic. These bike bottles are BPA and lead free.
Prices start at $2.67 onwards per bottle for the 21 oz., at a minimum order size of 150 pieces. Turnaround time is 2-3 weeks. Shops can get more discounts if they order larger quantities.
"We want to offer more value to dealers than other custom bottles available in the market, with high quality design options at lower prices.", says Fritz Bohl, founder of ZEITBIKE. "A big benefit we see is that these bottles will remain as a souvenir in the customer minds, which will help bring them back to shop for more."
Bottles are available in 21 Oz. 25 Oz., 26 Oz., or 38 Oz. Sizes.
About Zeitbike:
ZEITBIKE is an innovative approach to bicycle distribution, curating state of the art bicycle gear from all over the world. ZEITBIKE has exclusive partnerships with some of the best brands in the industry and offers wholesale accounts to dealers in the USA and Canada.
Shipping is free on Zeitbike.com for orders above $99. Dealers and wholesalers get special dealer pricing upon signing up and approval.
Please contact ZEITBIKE at info@zeitbike.com or (805) 850-3200 for more information.