Specialized and Trek file objections; court lets ASE "abandon" some inventory but suppliers work to recover the products.
Editor's note: This story has been updated to reflect that the bid deadline has been moved to Monday and the auction has been moved to Wednesday.
DURHAM, N.C. (BRAIN) — Monday, Jan. 14, is the deadline for bidders to submit offers for the assets of Advanced Sports Enterprises, the parent of Performance Bicycle, distributor ASI, and an array of brands including Fuji, SE, Breezer, Kestrel and Roubaix. An auction will be held next week if competing qualified bids are received.
The sale proceeds will go toward paying back ASE's debts. They include $88 million owed to secured creditors and at least $20 million owed to unsecured creditors, who include many bike industry suppliers. Claims are still being accepted (a list of some of the largest unsecured creditors from the industry was in BRAIN's November 17 story about the bankruptcy filing).
On the other side of the ledger, the company owns a small amount of real estate and other property totaling about $15 million. The rest of its assets include store leases, proceeds from liquidation sales, and the trademarks and related intellectual property. What anyone will pay for those assets is the big unknown.
As the deadline approaches, ASE and its creditors are working to remove any issues hanging over the trademarks that could diminish their value, while other entities — including Specialized, Trek and Ideal Bike — are showing up asserting their rights.
Meanwhile, all 102 remaining Performance stores remain open, but on Wednesday the company released a list of the planned closing dates for 40 of the stores.
Last week a bankruptcy judge allowed ASE to "abandon" about a third of a million dollars' worth of inventory that was in transit, or in port, when the company filed for bankruptcy in November. However, retailers might be relieved to know that at least some of that inventory has been recovered by the suppliers, which will reduce their financial exposure and keep the inventory from being dumped on the market.
We take up each topic separately below.
Trademarks — and bundling — key to auction proceeds
ASE owns land and buildings assessed at $5.7 million. In court documents, it valued some of its brands — those associated with ASI's merger with Performance in 2017 — at $2.4 million. That includes Performance Bike, Nashbar, and house brands like Forte and Spin Doctor, but not the ASI bike brands. The $2.4 million is apparently how those brands were valued when ASI and Performance merged in 2017. Likewise, ASE's goodwill was valued at $4.3 million, the book value used at the merger. Neither valuation means anything when the assets are auctioned.
In court documents ASE has not estimated a value for its many other brands, trademarks, social media and web domains. Hilco Streambank, a broker that handles the sale of intellectual property, is marketing those ASE assets.
In marketing materials, Hilco notes that the Fuji brand dates to 1899, making it one of the oldest bike brands in the world. The brand had sales of $77.5 million in 2017, selling 185,000 bikes according to Hilco.
ASE's Breezer brand had sales of $10.8 million in 2017, while SE Bikes had sales of $9.6 million and Kestrel $4.5 million that year. Sales of Tuesday and Phat Cycles-branded bikes totaled $800,000.
Performance Bicycle's online sales totaled $22.7 million in its fiscal 2018, according to Hilco, which did not publicly show sales through Performance's brick-and-mortar stores (court filings show Performance's gross sales in 2017 fiscal were about $141 million). Bike Nashbar's online sales were $25.4 million in fiscal 2018.
ASE's other brands include Nichibei, Oval Concepts, Americano, Travel Trac, Axiom, Spin Doctor, Transit and more. The company also owns dozens of web domains and social media accounts related to the brands. For the Axiom trademark, ASE has a coexistence agreement with Canadian distributor Live to Play, which sells noncompeting bike products under the same name. 
"ASE offers a broad range of innovative, relevant and desirable bicycle brands and related assets, with a strong wholesale and brand management division, complemented by an e-commerce platform and retail stores," Hilco said in its marketing materials.
The assets are being examined by several companies inside and outside the industry, including a sporting goods retailer and several of ASE's creditors. Some of the largest potential buyers appear to be interested in cherry picking one of the bike brands, with Fuji and SE probably the most desirable. Those close to the case said ASE is likely to garner the most value if it can sell a bundle of brands and other assets to a single buyer. "The question is whether the parts are worth more than the whole," one source said. 
The bid deadline is 5 p.m. Eastern time on Monday, Jan. 14.
Copies of the bidding procedures order are available at the website of Kurtzman Carson Consulting, LLC. Those interested in bidding can contact Mike Smith at D.A. Davidson & Co. at msmith@dadco.com or, for the IP, contact Richelle Kalnit at Hilco Streambank at rkalnit@hilcoglobal.com.
The auction will be held at 10 a.m. Jan. 16 at the Durham Convention Center in Durham, N.C. at 10 a.m. Only qualified bidders, debtors and consultants will be allowed in.
Don't expect closure on the 16th. The sales process may be messy since competing offers are likely for various combinations of assets or the entire package. Any messes could get tidied up at a court "Sale Hearing" to consider the proposed sales, scheduled for Jan. 22. Given the complexity of the case, it could be longer before the industry knows who is the new owner of the ASE's brands, some of which have been industry mainstays for decades.
Specialized and Trek make appearances
The Roubaix bike model trademark is a category of its own. Fuji has sold a Roubaix model since 1992 and has been licensing the trademark to Specialized for exclusive use in the U.S. since 2003 (ASI's Fuji Roubaix is an exception to the exclusivity). Specialized has been registering the trademark itself in many other countries since 2002.
So far, the court has not rejected the Specialized license agreement as ASE requested last month.
Last month ASE asked the bankruptcy court to end its licensing agreement with Specialized, which ASE said would make the trademark available to any buyer and increase its value at auction. The official committee of unsecured creditors supported the motion.
Specialized objected to the motion, which could jeopardize its use of the trademark on its popular bike line. In a Dec. 28 filing, the company argued, among other things, that ASE hadn't backed up its position that the trademark was more valuable if the license agreement were ended. Maximizing that value so that creditors recover as much of their debt as possible is the key metric the court uses in making decisions.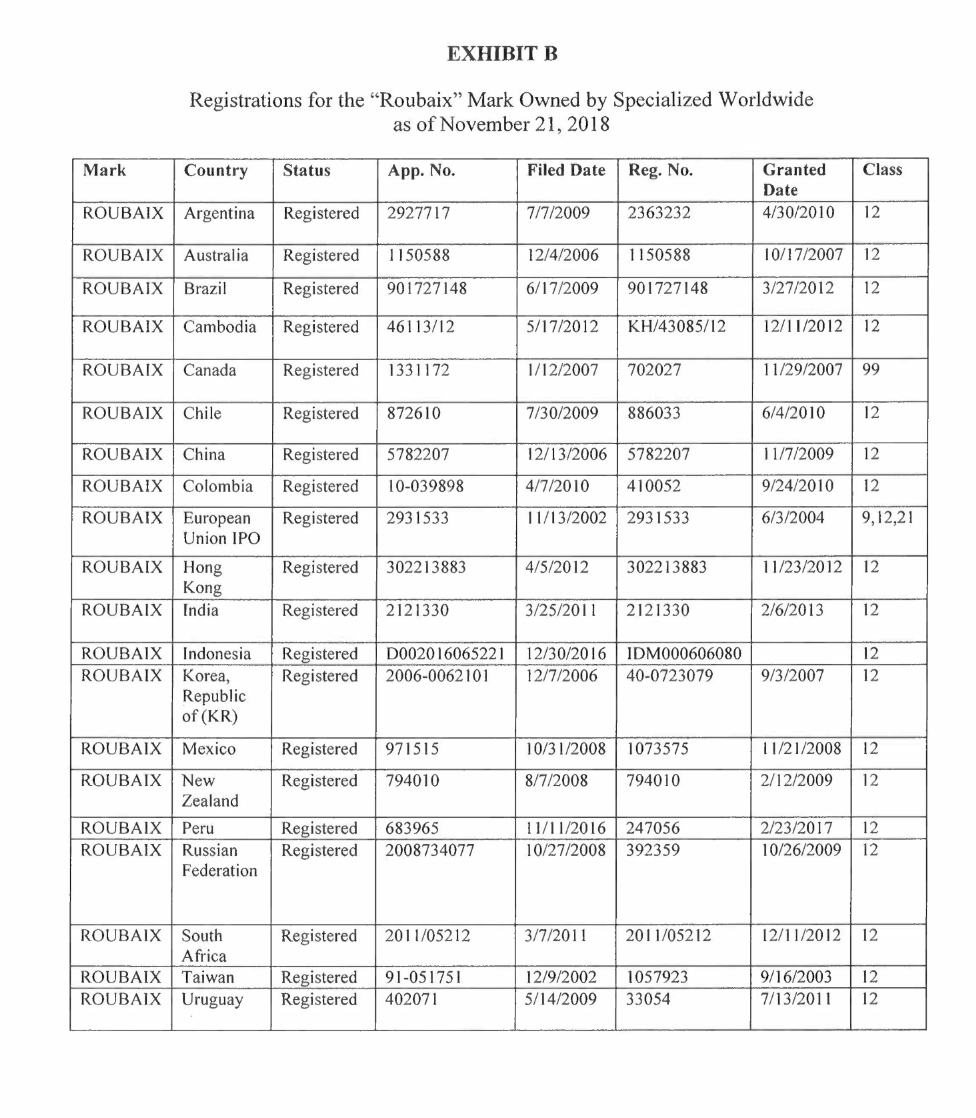 So far, the court has not rejected the Specialized license as ASE requested, although the issue could be resolved before the bid deadline on Friday. A Specialized spokesman did not comment on the subject, but it would be surprising if the company was not quite interested in obtaining U.S. rights to the Roubaix name.
On Wednesday, the bankruptcy court agreed to let Specialized submit evidence related to its objection under seal because the company said the evidence contains confidential trade information. 
Trek Bicycle filed an unrelated objection with the bankruptcy court. The Wisconsin company said it has licensed some intellectual property to ASI since 2016 and said it discovered the licensing agreement was viewable by potential bidders, despite confidentiality agreements that should have kept it out of sight. Trek told the court the license is not transferable — in fact it is even tied to ASI's current CEO, Pat Cunnane, remaining in place. ASE removed the license from public view and the issue is apparently closed.
If nothing else, Trek's motion revealed that the company is among the many who are poking around ASE's online "data room" list of available assets. 
Ideal promises appeal
Last month the bankruptcy court ended ASE's trademark and manufacturing agreements with Ideal Bike, the Taiwan-based manufacturer, despite Ideal's objection.
Ideal's attorneys notified the court that they were appealing the decision to the U.S. District Court for the Middle District of North Carolina, and asked the bankruptcy court to stay its decision pending the appeal. On Jan. 4 the bankruptcy court denied the motion to stay.
There's no record that Ideal has filed the promised appeal and Ideal's attorneys have not responded to requests for comment from BRAIN. As the bid deadline approaches, it's not clear whether an appeal will add uncertainty about the value of the brands, reducing their value. (Update: the appeal was filed on Jan. 15)
Stores open, sales continue
ASE sent an email to Performance store employees Wednesday informing them that 40 store locations are set to close this month. The 40 stores are those that ASE had identified as unprofitable at the time of its bankruptcy filing. Some stores may reopen immediately under new ownership. Closing dates have not been announced for the other 62 stores. 
According to court records, the liquidation sales at Performance stores and online were bringing in a total of $2.8 million to $3.8 million per week in mid-December. A total sales figure for the liquidation to date wasn't available. ASE has to pay payroll, rent and other regular expenses out of the revenue, plus a fee to the liquidator company, Gordon Brothers Retailer Partners, but net proceeds go to paying off creditors.
In November, ASE issued Worker Adjustment Retraining Notification (WARN) notices for 60 employees in Pennsylvania and 200 in North Carolina, saying those employees were due to be laid off on Jan. 15. 
Abandoned inventory recovered
Last week the bankruptcy court granted ASE's request to abandon inventory that was in transit at the time of its bankruptcy filing and was being held by a broker, Expeditors International of Washington, Inc. 
The inventory, worth about $330,000 wholesale, was in something of a gray area in bankruptcy law because it had come into port before the Nov. 16 bankruptcy filing but was not actually in ASE's possession on that date. Expeditors was holding the inventory until it was paid for freight, duties and other charges, including accumulating storage fees. The suppliers were not paid for the products.
The inventory included products from SRAM, WTB, Topeak, Kemco Group, Elite, Lezyne and others, as well as Performance house-brand products that were sourced by Ramiko, a Taipei, Taiwan-based exporter. 
Several of the brands are now working with Cycle Force Group to recover the products, said Nyle Nims, the company's president.
"We've taken action on behalf of some suppliers to gather and consolidate their goods ... the suppliers shipped in good faith and we are helping them get their products back in good faith," he said.
The suppliers are paying for Cycle Force services and costs owed to Expeditors. Cycle Force is having the products trucked to its warehouse in Iowa. Nims said Cycle Force would retain the Performance house-branded products at least until ownership of those brands is determined at the asset sales this month. He said none of the products are being offered to third parties like Amazon.