FOUNTAIN VALLEY, Calif. (BRAIN) — Pedego, the e-bike brand with over 100 licensed U.S. stores in operation, is testing a program to sell its bikes to independent retailers through a "store-within-a-store" program.
The program requires no licensing fees and includes mutual exclusivity: Pedego bikes are the only electric bikes the store can carry and the store will be given an exclusive territory in areas where there are no Pedego stores. The one-year agreement also includes interest free floor-planning, allowing retailers to keep bikes on the floor and pay for them as they sell.
"There's no buy-in program," said company founder and CEO Don DiCostanzo. "We think we should take the risk in inventory, not the dealer."
Most current Pedego store owners come from outside the bike industry, and DiCostanzo said a few years ago he gave up trying to sell to IBDs.
"We went to Interbike for several years and it never paid off," he told BRAIN. "Now we're finding that more and more retailers are getting interested in the e-bike business and realizing there's an opportunity here."
Besides the licensed Pedego stores, the company currently sells through a small handful of IBDs, including Straight River Sports in Minnesota and Mr. B's Bicycle in Yuma, Arizona, which was mentioned in a recent BRAIN story about CABDA West. DiCostanzo said the brand's new program will be open to ten IBDs in its first year.
DiCostanzo is a believer in single-brand retailing (he wrote a BRAIN opinion piece on that topic last year), which he said makes it simpler for consumers to choose. He said internal research shows most e-bike customers are unfamiliar with even the best-known IBD brands. The Pedego stores all sell Pedego exclusively, although a few share ownership with an independent retailer, operated with a separate store front.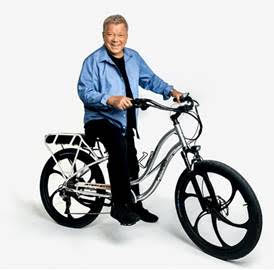 Pedego markets its brand aggressively, spending several hundred dollars per bike sold on marketing, he said, including targeted social media ads in markets where it has stores. The company plans to do the same kind of marketing for the IBD store-within-stores.
Pedego's marketing also includes an agreement with actor William Shatner. The company is about a year into a five-year agreement with Shatner, who appears in video spots as well as at Pedego dealer meetings and other events.
DiCostanzo said he met Shatner when the actor returned two defective e-bikes from another brand to a bike shop in North Hollywood, California. The shop owner contacted Pedego about getting Shatner some replacement bikes and DiCostanzo worked out the agreement with him.
Under the agreement Shatner gets free e-bikes for himself and his family and makes himself available to the brand for three days a year for events and video shoots. Besides the bikes, Shatner is paid with Pedego company warrants, which are similar to stock options, DiCostanzo said.
More information: pedegoelectricbikes.com/ibd.