Editor's note: A version of this story ran in the July issue of BRAIN.
FRAMINGHAM, Mass. (BRAIN) — In the middle of a pandemic, in the middle of a national discussion about the role of police departments in systemic racism, in the middle of an industry-wide debate about what some call the "abhorrent" misuse of police bikes at Black Lives Matter demonstrations ... Brandale Randolph, a Black entrepreneur and activist, is in the middle of trying to raise money to manufacture high-tech police bikes in the United States.
"(It) has put us in a VERY awkward position," Randolph told BRAIN recently.
Nevertheless, Randolph said interest in the bikes from 1854 Tech, his company, increased in recent weeks.
"The agencies I'm in contact with, who are waiting for our bike, are more interested now because of what's going on with new efforts to bridge public health services and law enforcement. That's something our bike can do," he said.
"We are in the middle of fundraising to build our factory. We're close to closing on some of it and there was this question about, 'do you really want to get out of this industry?' And I'm like, no, I think it's time we get into this business.
"If you are going to police these communities, why not make these interactions about service?" — Brandale Randolph
"If you are going to police these communities, why not make these interactions about service? That is the evolution we are going to see post the George Floyd uprisings and post the COVID pandemic."
Randolph, a former commodities broker, founded 1854 Cycling Company about three years ago. The brand name refers to the year of a landmark meeting of slavery abolitionists in Framingham, led by William Lloyd Garrison. The meeting was also attended by Walden author Henry David Thoreau.
Six years after that meeting, the Civil War began. And on June 19, 1865, Union soldiers landed at Galveston, Texas, with news that the war had ended and that the enslaved were now free. That date is now celebrated as Juneteenth; BRAIN spoke with Randolph on the eve of that holiday.
1854's mission is to employ the formerly incarcerated. A significant amount of poverty among people of color is due to the difficulty ex-convicts have finding work that pays a living wage, the company says.
Initially, 1854 developed a line of single speed bikes, cargo bikes, and softgoods. Bikes were assembled in Framingham and shipped worldwide, including to a handful of U.S. IBDs.
But Randolph, a graduate of the Wharton School at the University of Pennsylvania, soon realized there wasn't enough margin in bike sales to grow the company and pay factory workers a living wage. That goal became even harder to achieve as imported parts grew more expensive due to tariffs on Chinese goods.
In 2018, he was accepted into an accelerator program called MassChallenge, intended to help entrepreneurs network and meet mentors to help realize their ambitions.
And last fall, 1854 revealed it had been working with partners including Draper, a Cambridge, Massachusetts, not-for-profit engineering company, to develop its police e-bike. The bike is now called the Thoreau Tactical System.
1854 has mostly wound down its regular bicycle business, although it recently sold about 60 frames to a local retailer who couldn't get bikes from his suppliers during the pandemic bike boom.
The police bike, which is expected to sell for about $10,000, contains communications features Randolph said make it ideal for the kind of unarmed community patrols envisioned by some police reformers.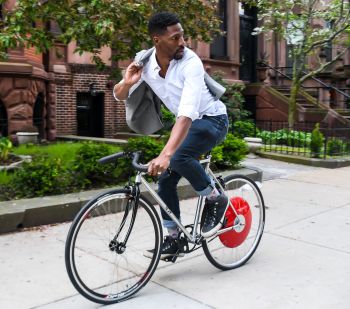 Randolph said designers have pulled back from some more militaristic and invasive technology that had been originally envisioned for the bike.
"As a black person (those kinds of features are) not something our community needs. I do think that police and the public need to interact on a more personal level," he said.
The technology on the bike, for example, would allow users to access data on nearby homeless shelters with available space. It also allows encrypted communications with health providers. Campus patrols would be able to access student data that is not accessible through non-encrypted devices. He said the bike's dashboard console is more sophisticated than tablets or cell phones, using the kind of technology used in modern factories, agricultural settings and power grid management.
All in all, the bike's technology allows its users to better serve the public, he said.
"Service is what is needed in low income and communities of color. Right now some people are seeing (police) bikes as more of a weapon than a tool and that's something we want to change."
1854 is keeping about 10 employees on the payroll while they attend online technology classes. Randolph hopes to develop a workforce that includes formerly incarcerated people with tech skills that will pay a real living wage, something that might be impossible if the business remained centered around selling regular bikes.
1854 has attended police trade shows and has had interest from departments around the country. The company is gearing up to show demo bikes this summer and deliver bikes this year.
Because of tariffs and supply chain issues out of China, 1854 is looking to increase its diversity of suppliers and source components from the U.S. whenever possible.
"As a B2G (business-to-government) supplier, we have to deliver the order on time or we lose the order. We can't afford to miss a delivery because we are missing one part. It's not something we can risk as a new company: we are going to have one shot," he said.
More information: 1854tech.com.