KNOXVILLE, Tenn. (BRAIN) — After a long dormancy, LeMond Bicycles is back, releasing two new bikes Tuesday. And if you were looking for the company, founded by Tour de France hero Greg LeMond, to relaunch with pro road bikes, you'll have to wait at least a couple months: The first two models are city-style carbon-framed e-bikes, with retail prices starting at about $4,800.
Greg LeMond has gone in an unexpected direction in recent years, putting his bike brand — which dates to 1986 — on hold while he built up a carbon fiber manufacturing company with patented carbon production technology LeMond hopes will revolutionize the material's use in everything from wind turbines to automobiles. 
While that company has moved forward, bikes were always on LeMond's mind. But why would LeMond, best known for high-end road bikes, relaunch with e-city bike models called the Daily and the Dutch?
"I'm a big believer in e-bikes, for one," LeMond told BRAIN in an interview recently. "We're in the carbon fiber business and our target market is the mobility market for the future. The bikes are part of our carbon fiber strategy to find manufacturing solutions for customers."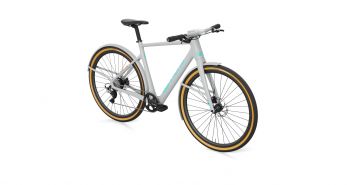 "I'm at a different stage in my career and I want to expand beyond performance bikes. E-bikes are going to expand the market in a dramatic way," he said. He said the bikes will help position LeMond Bicycles as more of a lifestyle brand, rather than merely a performance road brand.
The first two models feature carbon frames and upscale parts for the category: Shimano GRX 1x11 drivetrains, Deore XT hydraulic disk brakes and with Di2 shifting as an option. They also have carbon seatposts, integrated handlebars and stems with built-in lighting systems, Spurcycle bells and ebikemotion X35 rear hub motors with batteries integrated into the frames. 
The bikes each weigh less than 27 pounds and LeMond is working with various component suppliers to offer carbon fiber part upgrades, including a carbon wheelset with Tune front hubs, custom carbon fenders, rear racks, and front basket.
"My goal is to eventually make every part on the bike out of carbon fiber; that's our business," he said with a chuckle.
The LeMond Dutch is modeled on classic European style city bikes with step-through frames, like the one that LeMond's wife, Kathy, got when the couple first moved to Belgium in the 1980s. The Daily is more of a sleek urban commuter.
The bikes are made in Asia. While LeMond's company was intimately involved in their development, the frames do not currently use carbon manufactured using his company's proprietary technology. That may come later.  LeMond said by next year he hopes to have manufacturing set up in Europe and the U.S. "We want to manufacture close to the markets to keep the supply chain tighter and build on demand," he said. 
In the U.S., the bikes will be sold primarily through LeMond's website. He said he's open to sales through a handful of IBDs in the U.S. and Europe eventually, as well.
LeMond is enthusiastic about the new bikes and thinks e-bikes will bring more people into cycling. He said for almost the first time in his 40 year marriage, he's been riding regularly with Kathy, who recently got an e-bike. "Now she's dropping me!"
Still, it's hard to miss the enthusiasm in his voice when he starts talking about what many fans want to hear about: performance road bikes.  "We will bring out a road bike that a top pro would want to race on, and we will make the lightest, strongest, safest road bike on the market," he said. "Safety is a major priority of mine."
He said he hopes to sponsor a WorldTour team in a few years. He plans to launch the road bike in November and a line of gravel bikes soon after.
Following LeMond's messy separation from Trek Bicycle in 2008,  LeMond spent several years researching carbon fiber technology for a new line of road bikes when he "stumbled into" the carbon fiber manufacturing venture.
"I was anticipating launching a line in 2013 with Time," he said. (He did release a limited edition of Time-made LeMond bikes and frames at the 2013 Interbike).  "But that became a nightmare. They were saddled with a lot of debt and it was hard to work with them. Then I started working with Steve Hed in Minneapolis to develop a bike," he said. Hed, the founder of HED Cycling, died suddenly in November 2014. 
After Hed's death, LeMond went looking to set up his own manufacturing.
"I wanted to have control over what I was doing. This (bike) industry is pretty small and I didn't want any interference from the big players. That led me eventually to Oak Ridge," he said, referring to the Oak Ridge National Laboratory in Tennessee. During a tour there, LeMond met a team that had recently invented a new way to manufacture carbon fiber that was cheaper and faster than existing technology.
"I started talking to the team about how to commercialize the technology. … there hadn't been any real breakthroughs in carbon since the early '70s, but they came up with a way to make it four times faster; it's a real game-changer. It's really crazy how I kind of stumbled into that."