WASHINGTON (BRAIN) — Figures released Wednesday show the industry received a surge of parts from overseas in March. Monthly imports of derailleurs, pedals, saddles, and other parts were at their highest level in at least 14 months, in some cases by large margins.
Complete bike imports also remained at high levels in March and were higher than the prior two months.
The increase, while welcome, is clearly not doing much to help bike shops get the repair parts they need.
"Not at all!," said Christina Baanders-Decker, owner of Kansas City's Midwest Cyclery. "10 and 11-speed chains and cassettes: Nonexistent! Saddles ... one or two here or there. Derailleurs, I haven't needed any. I stocked up," she said in a Facebook Messenger conversation with BRAIN. Baanders-Decker is a member of BRAIN's State of Retail panel.
Baanders-Decker and other retailers said they struggle to get repair parts — low-priced, dealer-quality parts, especially those needed to repair older bikes. Retailers and wholesalers emptied their back shelves of those parts last year and have never fully restocked.
Big surge
As the charts below show, March was an exceptional month for imports of many parts. March pedal imports, for example, were valued at $5.8 million, 61% higher than the February imports, and more than twice the value of pedal imports in March 2020.
The surge in March may have been a result of when importers placed their largest orders last year, suggested Patrick Hogan, the Bicycle Industry Research Manager at PeopleForBikes.
"We know that sales began surging in March 2020 ... Once that surge became apparent, suppliers began to ramp up production. Because seemingly all suppliers had attempted to increase production within the same relative timeframe, many components have been on backorder for the past +/- 12 months. Finally, some of these items are making their way to the market," he said.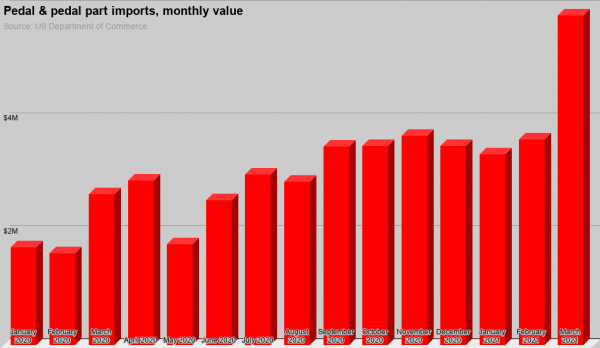 Patrick McGinnis, the president of distributor HLC, said his company ordered heavily last August based on dealer demand and, given manufacturers' current extended lead times, those products are just arriving this spring.
"It is really a matter of timing," McGinnis said. He said HLC is expecting to receive "very large" volumes from June through August.
"I'm assuming other (importers) were seeing and reacting in a similar fashion," he said.
For many components, U.S. Customs does not record unit imports — sometimes they record only the weight of shipments. That makes it difficult to assess how much of the increase is simply due to higher prices, a result of inflation, increased raw materials costs and other factors.
But if you want to go there ... the U.S. imported 200,000 kilograms of pedals and pedal parts in March — up from 135,000 kilograms in February. So the surge is not just in dollar volume.
Where is it all going?
The component import statistics do not count parts imported as part of a complete bike. 
It's generally impossible to tell where the imports end up — some are bound for mass merchant bike factories, like Kent's factory in South Carolina. Others go to smaller upscale brands that assemble bikes in the U.S. Some go to e-commerce vendors including Amazon and some go to distributors who serve the IBD channel.
But the origin of the component imports this March suggests, at least in some cases, that many are bound for the IBD market.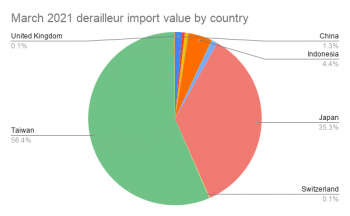 For example, Japan, where Shimano makes some of its highest pried parts, supplied 35% of the derailleurs that came in in March (by dollar value), while China provided just 1.3% of the month's dollar value. Taiwan, where SRAM and other brands manufacture mid- to high-end parts, supplied 62% of March's derailleurs. Year-over-year, imports of derailleurs from Taiwan were up 75% while China's were up 60%.
Shimano also manufactures derailleurs in Singapore, but no imports from that country show up in this month's report. It might be that Shimano ships its Singapore-made derailleurs to the US from Japan.
Still small numbers
The aftermarket and repair market is relatively small compared to the OE market, as these numbers suggest — all the (non-OE) derailleurs imported in March were worth $5.5 million, which equates to perhaps $16.5 million in retail value. Meanwhile the industry imported bikes worth $130 million at the port, roughly $390 million at retail. 
Understandably, most parts makers supply bike factories with OE parts before filling aftermarket orders, which has contributed to the parts shortages. An exception is that some high-end upgrade products — too fancy to be spec'd on many complete bikes — are more readily available, as are some accessories that are not included with new bikes.
"You can find $5 pedals or $500 pedals. Nothing for the majority," Baanders-Decker said.
It's not just us.
While the shipping and port crisis continues, U.S. ports still continued to process record numbers of imports. In the larger economy, the U.S. had record imports in March of $274.5 billion for the month. U.S. exports were also up, but the trade imbalance still grew. The U.S. Census Bureau and the U.S. Bureau of Economic Analysis announced Tuesday that the goods and services deficit was $74.4 billion in March, up $3.9 billion from $70.5 billion in February.