BREMERTON, Wash. (BRAIN) — In an industry of hard workers, Mike Kalmbach was among the most industrious. Starting in retail at age 13 — he attended the week-long Schwinn retail school three years later — Kalmbach later moved on to importing and OE sales, and was best known to the US industry for his distribution company, ProNet.
Kalmbach continued to work at ProNet until just weeks before his death in January at age 75. He had suffered from cancer for several years.
Mike's brother Bob, who worked with him at ProNet from 1999 until retiring about six years ago, said his brother was a gifted salesman and a bit of a workaholic.
"He never left the warehouse until every order was filled and every e-mail was returned, even if that meant he was there until 1 or 2 in the morning," Bob said. "He was always honest and generous, and never took credit for something he did. In fact he would usually give that credit to someone else."
Alberto De Gioannini of Effetto Mariposa, the Italian accessories and tool brand, remembers sharing a house with Kalmbach during the Sea Otter Classic.
"Even after a day at the show, Mike kept working: he was typing away at his computer when we all went to bed, and he was there checking emails — again — when I woke up very early for my morning run," De Gioannini told BRAIN. 
"When I was back, he was cooking breakfast for everybody. Always on duty, he was one of the hardest working persons I ever met, setting the pace by his example."
Kalmbach's honesty and generosity were on display in 2007, when he and fellow American Tom Petrie were "frozen out" of a Taiwan OE trade show. Although the two represented competing brands, Kalmbach suggested they team up to host their own little show in a Taichung hotel.
The two called their show "Surf-On." In conference rooms at the Evergreen Hotel, Kalmbach displayed Selle Italia saddles and Kore components while Petrie showed Selle San Marco saddles and 3T components.
"What a great time that was," Petrie remembers. "The memory of it brings a smile to my face. Mike was like that."
In another act of generosity, Preston Martin, the president of BTI, remembers that Kalmbach offered to extend the distributor's terms when COVID-19 forced it to shut down for a time in 2020. "Mike was generous and thoughtful," Martin said. "I am sad to have lost a good friend."
After two tours in Vietnam with the Army, Kalmbach earned a degree in accounting and opened a bike shop which soon became three stores, in Silverdale, Bremerton and Bainbridge Island. When Seattle Bike Supply offered him a job, he turned the shops over to his employees and entered the supply side of the industry.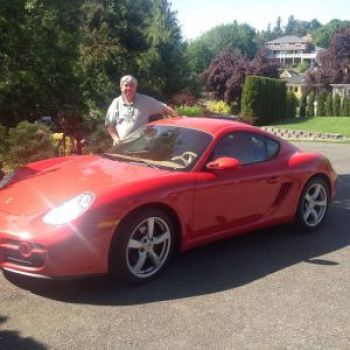 Later at ProNet, which he launched in 1993, Kalmbach first represented Selle Italia to factories in Taiwan. The company eventually opened a warehouse in the country because it had so much business there.
"Mike had been to all the companies in Taiwan, he knew all the factories. He could get you in the door to talk to the right people," Bob said, explaining his brother's success in Taiwan. "He was a great salesman — he would talk your ear off until you bought something," he remembered.
Away from work, Kalmbach enjoyed boating, water skiing and cycling. A few years back he treated himself to a red Porsche, a throwback to the red MG that he had owned after returning from Vietnam. He also was one of the founders and major supporters of the Chilly Hilly bicycle ride around Bainbridge Island, which is is the first official ride of the season for Cascade Bicycle Club, celebrating its 50th year this year. 
Kalmbach leaves his wife Jeri, to whom he was married for 52, and two sons, Chris and Brian. Besides Bob, he leaves another brother, Ed, and a sister, Diana.