UPDATE: Pirelli halts operations in Russia; Orbea stopped operations the day after the invasion.
Editor's note: This article has been corrected to indicate that Orbea does not have an office or employees in Russia. The Spanish company has an importer there, and Orbea stopped the operations with the importer on the day after Russia invaded Ukraine. It has also been updated with a statement from Giant Bicycle. See below. 
MILAN, Italy (BRAIN) — Most bike suppliers tell BRAIN they have stopped doing business in Russia following the country's invasion of Ukraine. The decision to end business there is due to the difficulty of operating under banking sanctions and the voluntary decision by some shipping companies to stop delivering in Russia. Or a happy coincidence of both. 
"The Russia decision is mostly due to our inability and the risk with payments but I would say that there's a social aspect too," the president of one parts and accessories brand told BRAIN. 
A few large companies that do business in the bike market (but are not primarily bike industry suppliers) continue to have some presence in the country. That includes the French retailer Decathlon and German manufacturer Bosch. Italian tire maker Pirelli announced late Thursday that it would halt operations in Russia. 
SRAM, Trek, Specialized, Tern, Giant, Orbea and QBP each told BRAIN they have stopped doing business in Russia. Giant, Shimano, and Pon did not respond to BRAIN's inquiry about their Russian business.
Vista Outdoor, the owner of Bell, Giro, Blackburn and QuietKat, has not released a statement about its bike brands' presence in Russia. But the company, which owns several ammunition brands, is donating 1 million rounds of ammo to the Ukraine armed forces and is selling a special T-shirt to benefit a Ukraine refugee fund.
Decathlon appears on a list of 33 global companies that have declined to exit their Russia businesses or reduce their activities there, according to a list maintained by Yale University's Jeffrey Sonnefeld. 
Sonnefeld's list of brands that are "Diggin in" in Russia also includes Authentic Brands Group, the parent company of ski apparel brand Spyder, Reebok, Aeropostale, Vision Street Wear, Volcom and other brands. 
Before Thursday's announcement, a Pirelli representative had told TireBusiness.com that it was "continuing its activities (in Russia) while monitoring the situation through a permanent crisis committee." Pirelli also said it has donated $550,00 to help Ukraine refugees. "Pirelli forcefully condemns what is happening and its thoughts are with the people who are suffering," the company told TireBusiness.
TireBusiness reported that Continental, Bridgestone, and Michelin had each suspended production in Russia. 
According to Sonnefeld's list, Decathlon has at least 50 stores in Russia. Decathlon sells its own brand of bike products at its stores; it recently announced it would close its U.S. stores to focus on online sales here through its site as well as Target, Walmart, and other e-commerce sites. 
Bosch is on Sonnefeld's list of companies that are "reducing current operations/holding off new investments" in Russia. The Germany-based company has several factories in Russia and Ukraine, although it's not clear if any of them manufacture Bosch e-bike products. On its Facebook page, Bosch said it is assisting refugees. 
"We are devoting all our energies to the welfare of our local associates and their families. In addition, Bosch facilities in neighboring countries will be made available as refugee accommodation. We are also supporting humanitarian aid in the region by making a donation to the German Red Cross and are examining further ways of helping locally," Bosch said.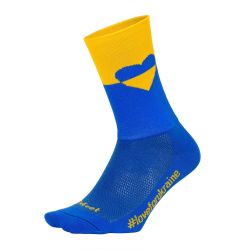 Supplier statements
A QBP spokesman said the distributor has stopped doing business in Russia following the invasion. He said QBP has never sold its proprietary brands to Russian distributors.
Tern's Josh Hon said although the company has a long-time distribution partner in Russia, Tern has no plans to do any business in Russia now. "We deplore the attack of Ukraine by Russia and stand by the people of Ukraine," Hon said. "We are incredibly moved by the bravery that we see from the people of Ukraine and we are doing our small part to send support."
SRAM has suspended shipments to Russia and is matching employee donations to three humanitarian organizations aiding Ukrainians. They are United Nations High Commissioner for Refugees , UNICEF Ukraine and Doctors without Borders.
Specialized has stopped all sales and marketing activities in Russia and Belarus. "We are activating our network to help find jobs for Ukrainian retailers who have fled to Poland and other countries, and we are donating clothing and supplies to volunteers who are working in country to address the urgent needs of the civilian population," a Specialized representative told BRAIN. "We will continue to work with our team in the region, including after hostilities cease, to help those impacted."
Trek has suspended all shipments to its Russian distributor. The company also is making a $100,000 donation to the International Red Cross and matching all employee donations to the IRC through March.
Wheel maker Spinergy said it is donating a portion of proceeds from bike wheel sales to World Central Kitchen, which is serving meals to Ukrainian families. 
Outside Interactive, BRAIN's parent company, is matching employee donations to the United Nations Ukraine fund.
Last month, tire brand Rene Herse matched customer donations to two Ukraine aide groups.
Giant said, it has suspended business operations with its Russian distributor. "We are also working with some of our European sales companies to provide resources and help for Giant retail partners who have been forced to flee Ukraine," the company said.
No comments
Shimano did not respond to multiple inquiries from BRAIN. 
Shimano has an office and a distributor in Moscow, believed to be a joint venture. 
A spokesman for Orbea USA initially declined to comment to BRAIN about Ukraine, but Jokin Díez, the Spanish company's public relations manager said Orbea stopped all operations in Russia the day after the invasion began. Orbea does not have an office or staff in Russia but worked with an importer there.  
Other sports brands
In other related markets, footwear brands Nike, Puma, Under Armour, adidas, New Balance, Skechers, Crocs have all suspended sales to Russia. Puma, adidas and Crocs said they are closing their Russia stores but continuing to pay the store employees. 
Harley-Davidson, increasingly active in e-bikes, announced March 1 that it was ceasing its business in Russia, where it has about 10 stores.
Related: