BOULDER, CO (BRAIN)—Leslie Bohm, who devoted his career to cycling and to helping independent bike shops compete with larger vendors, died Monday evening after several years of fighting cancer. He was 59.

Bohm owned and was CEO of the direct marketing company Catalyst Communication and a founding board member of the advocacy group Bikes Belong. He was well-known and respected across the bike and outdoor industries, known to suppliers, retailers, media members and advocates for his passion for the business and the activity of cycling.

Bohm leaves his wife, Lynn Guissinger, and two teenaged sons, Griffin and Cooper. Bohm and Guissinger were married for 20 years.

A memorial service is planned for Sunday, Sept. 2, at 4 pm the Seventh Day Adventist Church, 345 Mapleton Ave, in Boulder. 
'To be a catalyst'


Bohm started his first business, Eclipse, at age 20, during the bike touring boom. In 1984 he sold Eclipse and founded Catalyst in his new home of Boulder. Twenty-eight years later the company still thrives.

In a Catalyst company history he wrote in 2005, Bohm said he saw that retailers in the bike, motorcycle and luggage industries needed help with marketing and that suppliers needed to cooperate to fill that need.

"In many industries, vendors and retailers are often at odds with each other. That friction is in the DNA of specialty retailing in every industry I know," he wrote. "I saw the need for a mediator to help the makers and sellers cooperate to influence the buyers. To be a catalyst."

Catalyst launched The Cycling Guide, a "magalog" combining information with product stories, and then took over the SuperSale in 1986. The SuperSale was and is a nationally coordinated direct mail campaign featuring products from various suppliers, sent to mailing lists in participating retailer's market to drive them into the stores.

Catalyst also launched summer bike industry conferences in 1988 in Vermont. The conferences eventually morphed into the Bicycle Leadership Conference, which is still held, although Catalyst no longer produces it.

Personally and through Catalyst, Bohm was active in bicycle advocacy campaigns. During the reauthorization of the federal transportation legislation ISTEA in the 1990s, Bohm estimated he spent 20 to 40 hours a month working on the campaign. Following Hurricane Katrina, Catalyst employees helped send 358 bikes from Boulder to Baton Rouge for Hurricane victims.

"Leslie always envisioned the possible and then worked and inspired others to make it happen," his wife, Lynn, told BRAIN recently. "If you knew him, you always saw a pad of paper in his shirt pocket, so he could take notes, write down new ideas, or get back to you tomorrow with the answer to a question.

"Leslie believed that bicycling could make a big difference in the world, attacking the problems of pollution, energy consumption and obesity by encouraging people to ride their bikes," she said.
'We are the cavalry'


Bohm was a founding member of Bikes Belong in 1996, and two years later he attended the Bicycle Product Suppliers Assocation's annual meeting to talk about bike advocacy, making the case that it was in suppliers' best long-term interests to support advocacy.

In accepting the 2011 BRAINy Award for Distinguished Service, Bohm said it was up to the industry to step up to support cycling.

"(W)e are the ones who have to lead this campaign," he said. "We can't be waiting for some cavalry to ride in and save our butts. As bike business leaders we are the cavalry in this battle."

In 2008, Leslie was the driving force behind the idea that the industry bring 1000 bikes to Denver and Minneapolis for the Democratic and Republican national conventions. These bikes were used to seed bike-share programs across the country.
Rock Star


Trek Bicycle CEO John Burke paid tribute to Bohm in a blog post last month. Burke called Leslie and Lynn 'rock stars,' and said, "Leslie can light up a room. I have been lucky enough to know a handful of people who can illuminate a room when they walk in. Leslie is one of those special people. Big smile, the big handshake, and the booming voice out of the small man "John how are ya!!!"

Interbike managing director Pat Hus said Bohm had an 'uncanny' understanding of the bike retailing.

"From the first time I met him as the owner of Eclipse bags, to his days at Catalyst, and as recently as helping me put together the curriculum for the IBD Summit, his understanding of bike dealers was uncanny," Hus said. "He just understood what makes them tick better than anybody I've ever met in the bike industry. His insight and his passion for the cycling was infectious and will be missed."

Steve Flagg, co-owner of Quality Bicycle Products, first met Bohm as a supplier, then knew him as a fellow Bikes Belong board member.

"Leslie was the guy who carried the same vision of excellence for what we all can do for bicycling that he had way back when he ran Eclipse," Flagg told BRAIN recently. "He cares about purpose over self. He has done as much for advocacy as anyone and has been abundantly generous with his time for this cause. Leslie is one of the most inspiring people with whom I have had the opportunity to share a board seat with."

Raleigh president Steve Meineke was another Bikes Belong board member.

"Leslie is an inspiration to me with a great spirit, passion, and ability to articulate vision and guidance to all of us," Meineke said recently. "Leslie helped me get it' from my 'rookie year' in 1993, to my re-entry in 2004 joining Bikes Belong. Leslie was always focused on building next steps for cycling in America."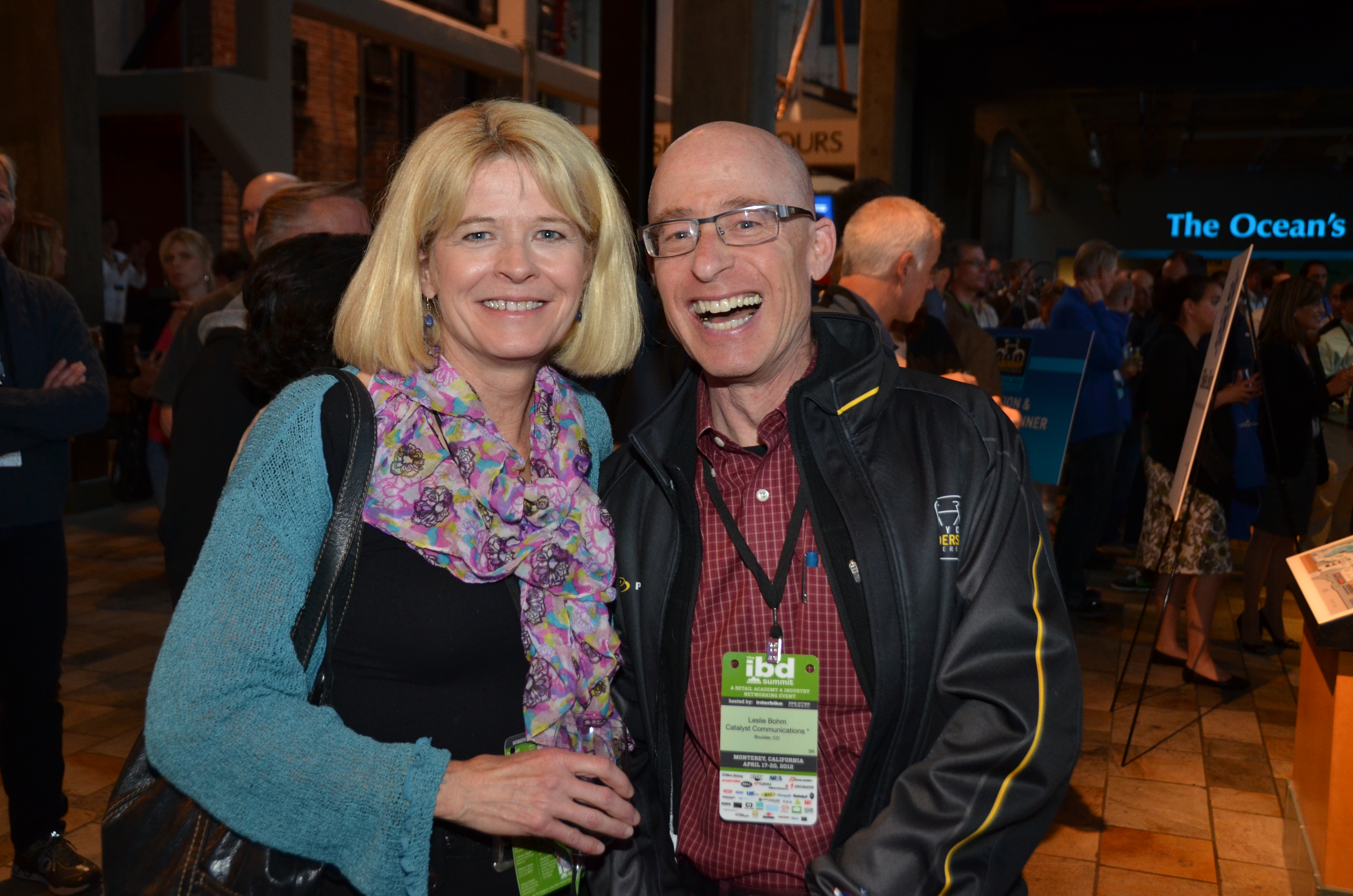 Bohm and wife Lynn at the Bicycle Leadership Conference in 2012
First generation


Bohm was born in Detroit in 1952. He was a first-generation American, proud that his father, from Czechoslovakia, had escaped the Nazis and worked with the Resistance before coming to America, learning English and starting a successful business.

After attending the University of Michigan, Bohm started Eclipse in his hot attic. Eclipse quickly became a leading brand in bicycle touring. The company also sold motorcycle products, including the first modern motorcycle gas tank bag. Bohm held ten patents.

In the 70's, Bohm drove the country in his old Chevy van, getting to know the world of bicycle retailers. Eclipse grew to be a multi-million dollar company, with products featured in the magazine of the NY Museum of Art and in Playboy in a 1981 article, "Biking Comes of Age."

Eclipse was one of the first U.S. companies to sell a carbon fiber frame, which it imported from France in 1984.

That year, Bohm sold Eclipse to his partner Shaun Jackson and moved to Colorado where he started Catalyst.
Acting local


Bohm also contributed to his hometown of Boulder. He was president of the Boulder Nordic Club, which helped bring groomed cross-country skiing to North Boulder Park. He created the Active Boulder group of the Boulder Chamber of Commerce, to encourage new active lifestyle businesses to locate in Boulder.

He was a serious student of Iyengar yoga in Ann Arbor in the 70s and early 80s and traveled to India to study with Mr. Iyengar himself. He and a friend completed one of the first winter hikes from Moosonee to Fort Albany in Northern Ontario, snow camping the whole way.

In 1981, he was one of the first Americans to cycle through China after it was opened to tourists. A cyclist since his early teens, Bohm was proud of the 300-mile organized ride he rode in Michigan, the single-day annual ride from Boulder to Aspen (always on the summer solstice until he decided to get married that day), and the many rides through Europe with his Swiss friends and his wife. More recently, he skied the Haute Route from Chamonix to Zermatt, escaping a huge snow storm by trailblazing in a white-out down into Italy. His brothers-in-law introduced him to fishing in the bayous of Louisiana.

Above all else, Leslie adored his family. He loved introducing his sons and their friends to mountain biking in the canyons near Moab, skiing and hiking around Colorado and climbing in the Dolomites.

He taught his sons to be involved in their community, to fix their bikes, to love words and communication, to do the right thing. He had even started to teach them to sew — a skill he learned working in his father's dry-cleaning business.

In addition to Lynn, Griffin and Cooper, Bohm is survived by his mother, Ada Bohm and an extended family, including his sisters, Marcy and Tom Waldinger and Deb and Alon Rosenman of Michigan, and his mother-in-law, Gayle Guissinger, and sisters-in-law and families, Ann Guissinger and Malcolm Robinson, and Laura Guissinger and Ken Rathnow. He has eight nieces and nephews. He was preceded in death by his father and father-in-law, and his nephew, Sam Rathnow.