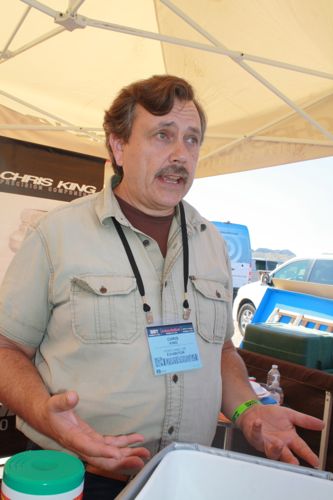 BOULDER CITY, NV (BRAIN) — When the White House calls, even the King of Headsets has to respond.
Last Thursday, Oregon component maker Chris King attended a White House meeting with a small group of top Obama Administration economic officials to discuss U.S manufacturing and exports. 
The meeting, in the White House's Roosevelt Room, was attended by just a dozen business leaders. With revenues approaching $10 million and about 100 employees, Chris King Precision Components was likely the smallest company represented.
At the Interbike OutDoor Demo Monday, King said that although President Obama was not at the meeting (he was campaigning in Colorado), just being in the White House "gives you chills."
"Honestly, to just sit there and realize all the historic things that have happened there ... The Roosevelt Room is just a door away from the Oval Office. The sense of history in that room is overwhelming. And the fact that they (the administration officials) were interested in discussing real world problems was pretty cool."
King noted that it was small meetings with business leaders like the one he attended that led to many of the proposals in the President's job bill, which is currently stalled in Congress.
The meeting came about after King attended a panel discussion in Portland about a year ago that U.S. Department of Commerce officials attended. Some of the officials later toured the King factory.
"The mess we're in didn't get created overnight and it's not going to be fixed overnight. And it's not going to be fixed by just lowering taxes all over the place" — Chris King
"I think they were tickled with what they saw. They saw a small business being successful on a global basis."
Must of the White House meeting was focused on how to increase exports and reduce outsourcing of jobs. 
King has strong opinions about both subjects. 
Exports now account for about 40 percent of his company's sales. He said they could account for 70 percent — the limiting factor is largely the availability of credit to fuel growth, something that has become hard to find in the last few years.
He notes that a Small Business Administration loan allowed him to buy his first building and part of the stimulus package four years ago also helped his company make capital investments in new tooling. Smart tax incentives can make real progress, he said.
As for outsourcing, King has struggled to find qualified workers; the answer lies in changing education and attitudes toward manufacturing.
"Put it this way," he said. "Everybody who works in the shop, we train them."
"There isn't training anymore in middle school and high school like there was for me. 
"We have to make a path for people to get into the trades. There are some regional programs in some parts of the country, but it's all state-by-state, there is no program across the country to make this a part of our education system. We need to create some kind of message that tells kids as early as middle school that there is this kind of option (to work in manufacturing)."
King was an Obama supporter before his visit, and seems to be even more so afterward.
"(The Administration) is just genuinely interested in what they can do to stimulate manufacturing at even the smallest level in American. They know we need to try to turn things around and they were asking, 'what can we do?''"
"The mess we're in didn't get created overnight and it's not going to be fixed overnight. And it's not going to be fixed by just lowering taxes all over the place," he said.