MONTEREY, Calif. (BRAIN) — If you've never ridden an electric bike before, several exhibitors at Sea Otter would really, really love to let you try one. Test rides, they believe, are the best advertisements for e-bikes.
"We're most interested in getting butts on bikes, since with e-bikes, the pedals speak much louder than our words," said Jonathan Weinert of Bosch (Booth 706), which makes the motors for many high-end e-bikes.
Compared to e-bikes from even five years ago, today's models are stylish, dependable and backed by major brands inside and outside of the bike industry. (Bosch, for example, is a $77 billion global behemoth.)
What's changed? Motors, for one. Bosch started the trend away from hub drives to mid-drive motors, followed by Brose, Yamaha and Shimano.
Another big change is Europe, where e-bike sales have exploded. That has driven a wave of innovation and product development that is now coming to America.
Commuting and transportation are two sweet spots for e-bikes. No one wants to show up sweaty at the office. And for families trying to replace an automobile with a bike, a motor helps for hauling groceries or taking kids to school.
"E-bikes are perfect for longer commutes to work or replacing car trips without having to get geared up," said Taylor Jackson of Focus USA. The company's Kalkhoff brand (Booth 506) is showing its stylish, German-made Integrale city and commuting bikes, while its sister brand, Gazelle (Booth 505), has Dutch-style recreational bikes with and without motors.
BESV (Booth 375), an offshoot of a huge Taiwanese electronics company, has a line of award-winning city and commuter e-bikes that look like nothing else on the market.
Felt (Booth 761), an early advocate of the e-bike movement, is expanding its line into lower prices. "The majority of our bikes are sold in urban areas as replacements for automobiles," said Zach Krapfl, Felt's e-bike product manager. Felt is releasing three models equipped with Shimano STePS, which will be less expensive than their Bosch-equipped siblings. One is the Tote'm cargo bike, which joins the Bosch-equipped Brühaul.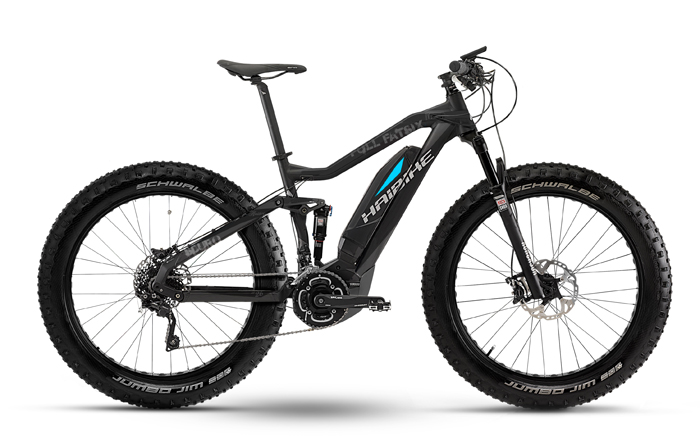 Off-road is probably the sexiest e-bike category right now. Haibike (Booth 740) lit the fire under the e-mountain bike boom in Europe a few years ago, and is now going big in the U.S. It has doubled its Sea Otter footprint and has 72 bikes on hand. "We're the leader in the German and European markets, and that's what we want to be here in the States," said Ken Miner, director of U.S. sales.
It's going to have some competition, however. Mountain bike pioneer Specialized (Booth 747) is launching its new S-Works Turbo Levo line of e-MTBs. The well-equipped fatties use the Brose mid-drive motor.
KTM (Booth 647), an e-MTB pioneer in Europe, is showing three off-road e-bikes. Focus and Felt also have e-MTBs in their lineups.
Other brands feature e-bikes that are family-friendly and affordable — "affordable," in e-bike-speak, meaning around $2,000. (Motors and batteries aren't cheap, and the frame and components need to be beefier to handle the extra weight and speed.)
Check out the Vibe+ from iZip (Booths 502 and 504), one of the oldest U.S. e-bike brands. It's an entry-level step-through for new and returning riders. iZip also has a pavement bike and a fattie.
Evo (Booth 242), which is expanding into the U.S. from Canada, is showing a line of affordable e-bikes with BionX hub drives or Shimano STePS systems. "Our bikes are all about the people that really are not enthusiasts," Evo's Jason Grantz said. "They don't really care about racing."
At the other end of the spectrum are carbon e-bikes from German manufacturer M1-Sporttechnik (Booth 417) that will cost you anywhere from about $7,000 to north of $18,000.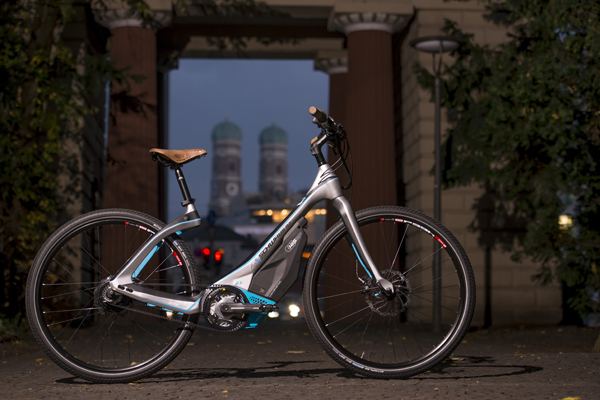 Bulls Bikes (Booth 402), a big brand in Germany that's looking to make a name with consumer-direct sales in the U.S., is bringing many of its Brose- and Bosch-equipped bikes to Sea Otter. "We like when consumers have the opportunity to test various e-bike brands as they are able to compare the bicycles themselves," said Fernando Endara of Bulls Bikes USA. 
Sea Otter visitors who aren't sure what they are looking for should head to Bosch, which is showcasing e-bikes from more than a dozen brands. "We are offering demos of almost every kind of e-bike under the sun — mountain, commuter, trekking, cargo, fat-tire, hybrid and maybe even a three-wheeler," Weinert said.