UPDATED: It all started at a bike shop, of course.
PHILADELPHIA (BRAIN) — Super Bowl viewers may see at least one bicycle during the ad breaks on Sunday (and on Youtube before and after the game). In a Skittles candy ad, retired NFL player Marshawn Lynch pedals an SE Bikes Fat Ripper around Houston.
Houston, Scotland, that is. Kilt shops, bag pipers.
"Guaranteed to be the funniest thing you see on the internet today," said Todd Lyons, brand manager for SE, an ASI-owned brand.
The video already garnered more than 700,000 views on Youtube by Friday morning, but Lyons said it has been seen many more times on other platforms, including TV. He said it has received more than 6 million views on a Skittles Instagram post and a Complex Sports Facebook page alone. It's not clear whether the ad will run during the game itself, but it's certainly part of the pre-game social media hype.
Lyons told BRAIN his brand's relationship with Lynch began last May, when Lyons saw a photo of Lynch on a Fat Ripper in front of Hank & Frank Bicycles location in Northern California.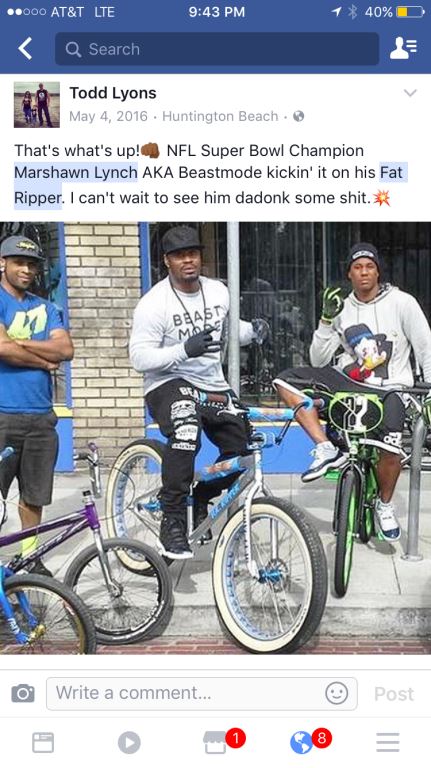 "I reposted (the picture) and then reached out to the Hank & Franks guys and told them to let me know if he wants to do anything with the SE brand. So a few months later his manager contacted me and we have been working on a top secret project for the past few months (it will be released this summer). And in regards to the Skittles piece, yes, we helped to provide him with a new bike for it," Lyons said in an email to BRAIN Friday.
"I think what turned him on to riding a big SE BMX bike is the rapid growth of the #bikelife movement. We as brand and myself personally have been strongly intertwined and supportive of this movement for the past few years now. And thus, the sales of some of our models (like the 24" So Cal Flyer and 29" Big Ripper) have doubled and tripled in the past year or two."
The #bikelife movement is related to youth riding urban-style BMX bikes — including SE's big tired bikes — in big cities. 
"These are mostly city kids and not your normal 'BMXers,'" Lyons said. "A lot of these kids are new to the sport and their first 'real' bikes are SE's. We are by FAR the #1 brand in this market."
SE may not be the only brand to make an appearance during the game. PeopleForBikes executives will be watching closely Sunday, all in the name of bicycle research. They will be counting how many times bicycles appear in ads during the game, to measure whether bikes remain something advertisers want to align with. BRAIN is polling its readers on their predictions (please, no wagering).
One PeopleForBikes employee said she's betting on predicting close to a dozen bike cameos during the game.