WASHINGTON (BRAIN) — Confirming what many cyclists already know, a new study by the American Automobile Association found that new vehicle "infotainment" systems cause drivers to take their eyes and attention off the road for potentially dangerous periods of time. 
Drivers using voice-based and touch screen features were visually and mentally distracted sometimes for more than 40 seconds when completing tasks like programming navigation or sending a text message.
AAA said it conducted the research, which was done with the University of Utah, to help automakers and system designers improve the systems.
"Some in-vehicle technology can create unsafe situations for drivers on the road by increasing the time they spend with their eyes and attention off the road and hands off the wheel," said Dr. David Yang, executive director of the AAA Foundation for Traffic Safety. "When an in-vehicle technology is not properly designed, simple tasks for drivers can become complicated and require more effort from drivers to complete."
The study looked at the visual (eyes off road) and cognitive (mental) demands and the time it took drivers to complete a task using the infotainment systems in 30 model year 2017 vehicles. Study participants were required to use voice command, touch screen and other interactive technologies to make a call, send a text message, tune the radio or program navigation, all while driving down the road.
Programming navigation was the most distracting task, taking an average of 40 seconds for drivers to complete.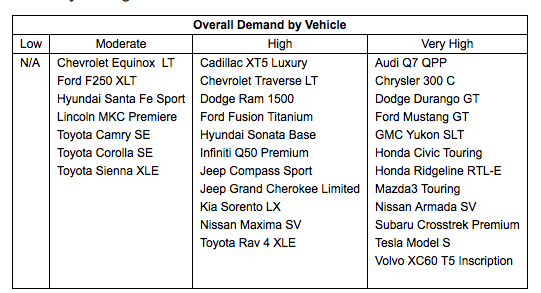 The study ranked the 30 vehicles by the demand on a driver's attention by their infotainment system. It rated 12 vehicles as "very high demand," 11 vehicles as "high demand," and 7 as "moderate demand." It found none that merited a "low demand" rating. 
AAA said that most systems tested could easily be made safer by following federal recommendations such as locking out text messaging, social media and programming navigation while the car is in motion. 
"These are solvable problems," said Jake Nelson, AAA's director of Traffic Safety Advocacy & Research. "AAA cautions drivers that just because a technology is available while driving does not mean it is safe or easy to use when behind the wheel. Drivers should only use these technologies for legitimate emergencies or urgent, driving related purposes."