Speedway, Indiana isn't only home base for the Indianapolis 500, but also Zipp Speed Weaponry, which resides right down the street from the iconic raceway. While the weather might have been cold outside Friday morning, it was warm inside, with machines and (roughly 100) people working in unison to put out some of the most high quality carbon wheels, cranksets, etc. that you can find anywhere. What makes Zipp truly unique isn't just that they put out such high quality components, but where they do it—most of it comes straight from this facility. For Zipp story, be sure to check out the April 1 issue of BRAIN. PHOTOS by Dr. Gonzo Jr. aka Chris Ertel.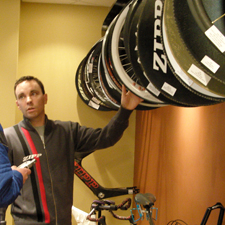 Zipp's Andy Paskins walks BRAIN through some Zipp wheelset history in the lobby.
And you thought Zipp only has a history in wheelsets. Not so fast my friends. Don't discount Zipp's cranksets and hubs, which stand up just fine to the competition.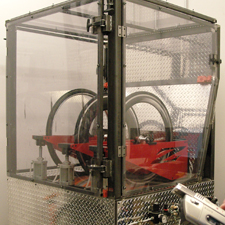 Zipp puts its wheelsets (and all components for that matter) under rigorous testing. If they don't stand up to this machine, they can't stand up to the athletes who pound away on them.
Carbon needs love too, especially when being cut on. That's where some high grade coolant comes into play. Amazing.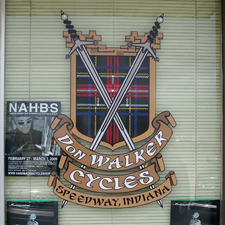 Oh yeah, and (Handmade founder and handmade builder) Don Walker's store is right down the street from Zipp. This weekend you'll find him in a kilt at the Indy Convention Center along with a ton of other handmade exhibitors.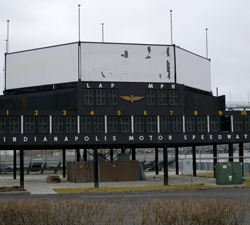 Talk about speed.