The BRAIN Boston Dealer Tour rolled out of Waltham, Massachusetts Monday morning with a team of 15 riders from sponsors Giant, Pedro's, Speedplay, Panaracer, Craft and Lazer. The weather was a bit brisk, especially for us SoCal weather wimps, but we stayed dry, warm and caffeine infused (thanks Cycle Loft!) for much of the day.
We hit well-known local shops Cycle Loft, Belmont Wheelworks and Harris Cyclery. Unfortunately, we missed out on a visit to Quad Cycles as the team there closed for Columbus Day at the last minute and spent the day riding. We can't say we blame them for forgetting about us; it turned out to be a gorgeous New England fall day. We may not be as fortunate on Tuesday as some wet weather is forecast.
Below are some pictures from Day 1:
Eric Schenker, with Craft, and BRAIN's Robert Roman and Marc Sani bundle up before leaving in the 46-degree weather.
Some may say a ski hat and wool snowboarding socks were a bit overkill for the day, but I was warm!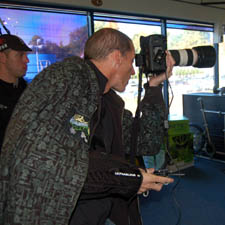 Props to Giant photographer Jake Orness who is shooting the tour with one hand due to a "shoulder rebuild" required after crashing hard during a recent post-work mountain bike ride. We hear it's the fourth shoulder surgery at Giant this year (Uh, we can tell you where we won't be riding any time soon!). Jake rigged his set-up so he can hold the camera with his left hand, and take the picture with the remote in his right hand. What a trouper.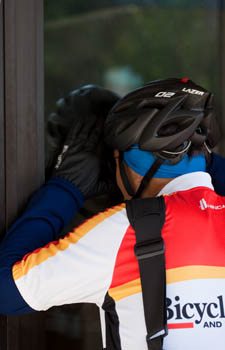 Marc peers inside the closed Quad Cycles looking for any signs of life inside!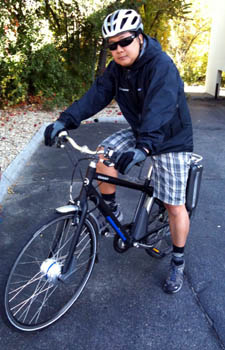 Giant global marketing manager An Le rocked the Twist electric bike all day. I was secretly hoping the battery would die so he'd be forced to pedal at least part of the day without assist, but to no avail. That Twist lasted all day, and zipped up the hills pretty freakin' fast.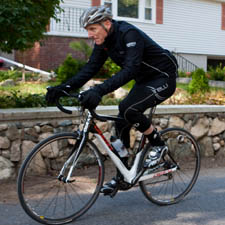 Speedplay's Richard Bryne tackles the pot-hole laden Massachusetts roads. Apparently repaving local streets doesn't register quite as high on the priority list in Mass as it does in other parts of the country. In fact, Clint Paige, an owner of Belmont Wheelworks, noted that it takes twice the money to pave a mile of road in Mass than in neighboring New Hampshire due to laws and politics.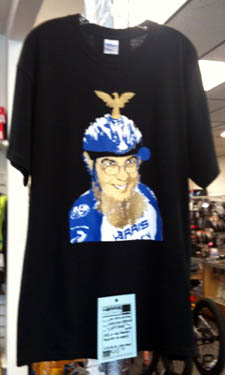 A Sheldon Brown memorial T-shirt hangs in Harris Cyclery. A portion of the proceeds from the special edition T go to charity. Brown, who launched Harris' uber-succesful mail-order business in the 1990s, passed away in early 2008. Brown's first blog entry, an easy-to-understand explanation of how to build a wheel, prompted the first mail order from a reader who asked to have the necessary parts shipped to him in California. The mail order business now accounts for about half of Harris' annual sales.
Photos by Nicole Formosa and Jake Orness