Today we traveled by bus to Keembe, a rural community about an hour and 15 minutes away from Lusaka. The area has special meaning for WBR because it's where they tested bikes sold in Zambia before designing their own. F.K. Day said they saw a lot of bike failures there. It's also one of the areas WBR has been in the longest. They've been on the ground there for over two years as part of the RAPIDS program to provide World Vision caregivers with a bicycle.
After meeting with caregivers, we got on WBR bikes to ride to the homes of a caregiver and her clients. I experience such contradictory emotions—it's both heart-wrenching and inspiring to hear their stories. I am devastated by their condition but also uplifted by their amazing generosity and kindness to each other. The good deeds they undertake to maintain the health of themselves, their community and their children are greatly facilitated by a bicycle. Something as simple as a bicycle—something most of us take for granted—is a lifeline for people here.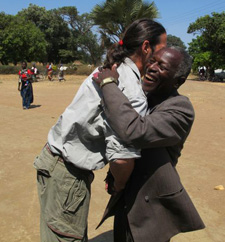 F.K. Day, president of World Bicycle Relief, greets Ackson Mulandu, the community care coalition chairperson in Keembe. A dapper man who speaks English eloquently, he organizes 380 volunteer caregivers for the community of 44,500 people. Of the 23,000 children here, 4,770 are orphans or vulnerable children. Ackson said in addition to providing transportation for caregivers to visit clients and take them to clinics, the WBR bicycles improve the individual's economics by facilitating mobility.
Photographer Leah Missbach Day rides on the back of her husband's bike to shoot us riding along the dirt roads. F.K. says this is riding a bike the way a Zambian rides a bike—not in Lycra and carrying people or heavy loads. "This should be a riot," he says before we depart. And it is.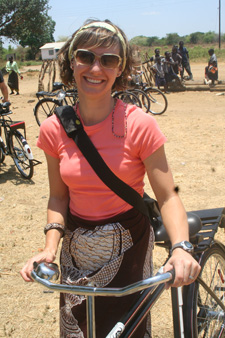 I'm riding a men's frame although WBR also has designed a women's frame with a sloped top tube. The men's frame design is stronger, but culturally women are expected to ride a women's bike and the sloped top tube makes it easier to wear a "chitenge," the brightly colored cloth wrap that most women wear over their clothes. By brazing on a support near the bottom bracket, WBR has made the women's bike almost as strong which means no compromises in strength between the men's and ladies frames.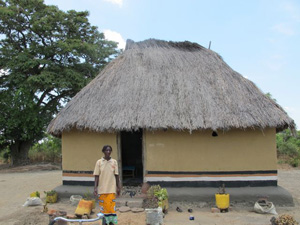 Susan Mweetwa, a caregiver for six years, at her home. She has two children, and also looks after three children of her sister, who passed away. She lost her husband due to TB in 1999. She is HIV positive and is on antiretroviral therapy (ART). Despite her own health status, she has 7 clients she visits once a week. She said the bicycle allows her to visit her clients more easily than on foot. It also lets her take a client to the clinic or collect drugs for clients. The nearest clinic is 20 kilometers away in the dry season and possibly further in the rainy season which makes some dirt roads impassible.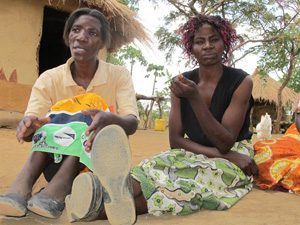 Susan (on left) visits with her client of two years Loster Mpongo. Cycling to Loster's house took us roughly 30 minutes on a sandy dirt road—a trip that would have taken two hours on foot. She cares for her client and ensures she is still following her ART. She also ensures she's getting good nutrition by bringing her corn meal and teaching her how to mix it with roasted soy beans to create a healthy porridge. She also speaks with Loster about practicing safe sex, a lesson that Loster is passing on to her 15-year-old daughter in hope of preventing AIDS.
Steven Chilinga was born with a deformity in his right eye. He can see out of it after a surgery sponsored by World Vision, but he is still in constant pain. World Vision also gave him a bicycle, which helps him travel the 4 kilometers to school each day. He rides an adult bike because like most kids here he wants a bike to grow into. Since he is quite small for his 13 years he has to stand to ride because his feet don't touch the pedals while seated.