Tucked away in an unassuming building in an industrial park off the I-15 freeway, Intense Cycles is still manufacturing mountain bike frames in Southern California long after most of its high-end peers have decamped to Asia.
Chris Allen, the company's new general manager, said while manufacturing in So Cal is a costly business model, the company has still managed to make a profit every year. Even last year when industry sales in its category of premium mountain bikes dipped, Intense experienced double-digit growth.
But while the company has strong brand equity, it was limited by the capacity of its in-house manufacturing facility and struggled to meet demand. Jeff Steber, the company's president, said the company has been backordered since day one, when he welded the first Intense frame in his garage.
Under the direction of production manager Jeff Moates, it's making strides to change that.
When Moates arrived at Intense in July it was batching, producing large quantities of a single model at a time, which resulted in an inventory buildup. The batching method also stalled production of other models in the queue, creating an order backlog.
Moates has worked to improve availability by bringing organizational discipline to the floor. He's completely revamped the production department and introduced lean manufacturing principles. With the new system, Intense can make any one of its six models at any time, allowing it to keep less product on hand and fill orders more quickly.
The company, which has historically had backorders as long as three to four months, has reduced lead times for custom orders by close to 75 percent. Through efficiency gains it also has increased output, and expects 50 to 70 percent growth in capacity this year by applying sound lean manufacturing principles.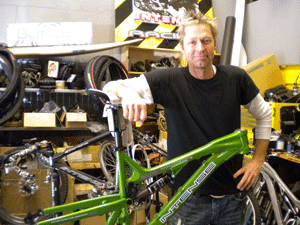 Jeff Steber in the R&D area, where he comes up with concepts and builds prototypes, such as the new Tracer 29. Steber said one advantage of manufacturing onsite is he can draw up a bike, weld it, heat treat it, send it out to be powder-coated and be riding a prototype within a week.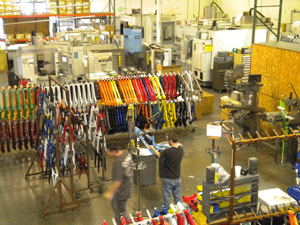 The 14,000-square foot factory floor is now organized into cells and processes exist for frames to move between stations in a modern, one-piece flow.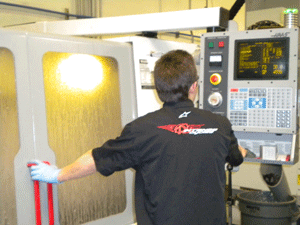 An Intense employee operates the computer on one of 10 CNC machines that cut parts from small bolts to fasteners. Intense also hydroforms its shaped tubes. One of its signature design features, two halves are formed over a tool then welded down the middle to create the top tube.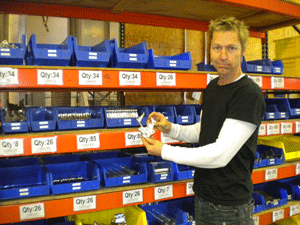 All small parts are machined in-house and bins are stocked for all models. Steber said in the past parts would pile up in boxes, but now small quantities of parts are kept on-hand to keep inventory lean and not tie up cash.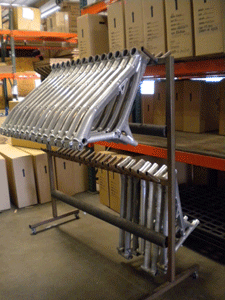 Frames are welded and heat-treated in-house to control the quality of the frames. Intense sends the unfinished frames out to a local powder-coater and anodizer down the street, before bringing them back in-house for final assembly.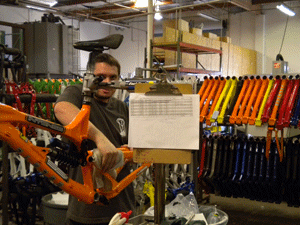 An employee does final quality check and assembly of a frame before it is boxed and shipped. The clipboard shows frames in the queue and special requests for how they should be finished.