Much Bigger Pond = Much Smaller Frog: The IBD's slice of the e-bike pie is a whole lot smaller than we think it is. It's time we stopped kidding ourselves about that fact ... and start getting a whole lot smarter about what we're going to do about it.
Let's start by getting some stuff out of the way. E-bikes are not the Next Big Thing. They are the Right This Minute Big Thing, and only getting bigger from here. Many retailers will recall hearing this statement before, and going back over a quarter century, too. I even wrote a long piece about it in GorillaNet, a pre-internet bike industry scandal sheet and fax/email newsletter I published. The headline was something like E-Bikes: Next Big Thing Or Moped Of The '90s?
I mention this because enough independent bike shops have been burned by here today/gone tomorrow e-bike brands and not-ready-for-prime-time technology that there's still a lingering fog of doubt around the whole ebike topic in many circles. And this fog lingers despite excellent, well-funded, well-supported product offerings from any number of reputable brands both within the traditional IBD segment and outside of it.
While the IBD channel largely dithers about it, the e-bike market has already built its own access to the products it wants to buy.
That was Then. And this, last time I checked, is Now. But guess what? The e-bike market doesn't care about our doubts. It doesn't care whether the enthusiast portion of our customer base (and all too often, industry members ourselves) sneer at motor-assist bicycles. While the IBD channel largely dithers about it, the e-bike market has already built its own access to the products it wants to buy. And as I've often pointed out, the market always wins. Always.
As Trek president John Burke put it in his open letter to the bike business last month:
"America is just at the beginning of its E-Bike Revolution. According to NPD data, e-bike sales were up 79% in 2018.

"In good retailers in the U.S., e-bikes now represent more than 10% of total sales. We could be looking at a business in the near future where e-bikes represent 30% or more of sales. It is safe to say that e-bikes could represent a greater growth opportunity than mountain bikes did in the late 80s and early 90s or carbon road bikes in the early 2000s."
Defining The Market
At last month's E-bike Summit in Chicago, sponsored by the BPSA and PeopleForBikes, the retail data capture experts at The NPD Group (which you may still think of as Leisure Trends) estimated e-bikes as a $143 million market in 2018. That estimate is consistent with the BPSA's own sell-in data, which includes retailers who buy e-bikes from BPSA members who participate in its reporting process. Results would therefore include e-bikes sold by reporting BPSA members to REI (Cannondale and Electra, but not REI's Ghost, Tern, Stromer or other brands), Scheels (Electra, Trek), possibly Performance, and others.
 
Here's a chart showing the BPSA's monthly sell-in data, in units (larger charts are attached at the bottom of this article):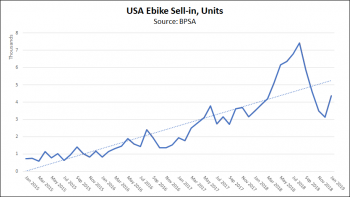 Expanding a bit, let's call that market segment the "e-bike portion of the IBD," or EIBD. For purposes of this discussion, I'm going to broaden the usual IBD definition fairly significantly, to include any retailer selling traditional IBD pedal-only brands as well as e-bikes. These e-bikes might or might not come from traditional bike brands and might or might not also be online, but they always include storefront and in-person sales.
The BPSA/NPD numbers reflect just a fraction of e-bikes sold. So let's create two additional categories:
EBDs, which we can define as retail organizations that sell e-bikes and which do not (currently) sell IBD-brand bikes, whether pedal or electric. These have an in-store presence and may or may not have an online component.
Consumer-direct e-bike sales, which can include anything from mass-market level product and up. Basically, anything not included in EIBD or EBD.
An EIBD retailer may be selling some non-IBD brands; at least some e-bike brands may play in all three spaces. The categories are necessarily fuzzy. But then, so is the e-bike market.
Numbers Don't Lie ... But Reasonable Minds Can Still Differ
To dig a little deeper, I went to Ed Benjamin, a former IBD retailer who's devoted himself to the e-bike market for nearly 20 years. In addition to being founder and chairman of the Light Electric Vehicle Association, Benjamin's consulting group, eCycleElectric, works with clients from the bicycle, e-bike, automobile, motorcycle, and ebike equipment industries. One service the group provides is to import data for ebike markets from all over the world.
Specific to e-bike sales in the USA, Benjamin insists on some important caveats around his numbers.
The categories are necessarily fuzzy. But then, so is the e-bike market.
"Since 2008, I have been using import records from a monthly subscription service called Import Genius," he says. "It provides a way to search US Customs bill of lading records. Even if we had a very precise HS Code for e-bikes, (as the EU does), there is both confusion and a bit of game playing that affect what HS Code and description importers use. So I work with about 30 different product descriptions, plus searches of known importers, and known sources, and known importer addresses. I don't get them all, and I do make mistakes. But the info is proportionate and as inclusive as we have been able to figure it."
Benjamin is equally careful to emphasize that "the key contrast between what I do and what NPD does is that NPD extrapolates from POS systems in a select number of well-established and substantial bicycle shops and other retailers. It is therefore heavily slanted toward the brands those such stores carry, which are generally the famous traditional bicycle brands."
So, Benjamin's group is casting a much wider net than either the BPSA or NPD — a net that attempts to cover the entire spectrum of ebike sales brought from any source and resold through any of the three market channels described in the previous section. Which set of numbers you prefer isn't a matter of who's right, but of what's being described by whom.
Benjamin further estimates there are currently 120-150 active brands promoting and selling e-bikes in the USA as of 2017, although this number is constantly shifting as new players enter the market and others leave. These players range from established IBD to major EBD brands like Pedego, Radsport and Stromer; bike share brands (including Jump Bike, formerly known as Social Bicycles and now owned by ride-share giant Uber); and one-offs and startups, usually sold consumer-direct.
Here's what the eCycle Electric unit numbers look like next to the BPSA's sell-through data (The NPD data is available in dollars only, so is not included here.).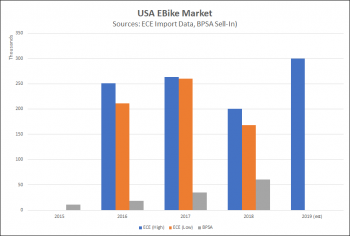 Both sets show the same basic growth curve, although the previous chart shows how much more the IBD segment recovered in the fourth quarter last year.
Overall, the NBDA data shows its brands enjoy a small but growing share of the overall ebike market, from 7 percent in 2016 to 30 percent two years later.
Bottom line: while traditional IBD sales are growing nicely, they're just the tip of the ebike iceberg, and there is an another two-thirds floating just beneath the surface — almost entirely under the IBD radar screen. And, if that isn't an alarming prospect, it certainly ought to be.
In part two, we'll do a deeper dive into the EIBD market and its emerging superstar brand, look at the potential for the EBD segment to affect Bike 3.0 dynamics, try to guess how consumer direct e-bikes will impact brick and mortar retailers, and talk about the possible effects of e-bike ridesharing on both markets.