FRIEDRICHSHAFEN, Germany (BRAIN) — Timed for the opening of the Eurobike show here this week, Shimano has announced a new top-tier road shoe and some new handlebar, stem and seatpost options offered in its PRO brand. The new bar offerings include a mountain bike bar with clean integration for the new XTR Di2 wiring, as well as stems and seatposts that integrate with Di2 batteries. The company also announced new PRO aluminum triathlon/time trial aero bar options.
New high-end kicks
The new shoe is the SH-R321, the second generation of Shimano's Dynalast road shoes. The Surround upper incorporates new materials and additional Custom Fit features.
"The upper wraps around the foot in a way that is more secure and comfortable than any previous design," the company claimed. 
New arch and upper instep sections incorporate a special heat-moldable, Custom-Fit film that enhances comfort and gives the foot added support. The upper of the SH-R321 uses Teijin Avail 100 Ultra fine-fiber material, rather than standard synthetic leather, for better stretch resistance, durability and light weight. The material adapts to the foot's shape during the Custom Fit process.
New buckles are adjustable to various instep heights and shapes. New reversed low-profile buckles and straps gives the SH-R321  smooth and aerodynamic styling.
The sole construction offers an extra 11 mm of fore/aft adjustment range.
The shoes will be available in White, in sizes 38-47, including half sizes, plus size 48. E-width is also available. 
The new shoes will be available this winter for $380 retail.
New PRO cockpit parts
The new PRO Tharsis XC parts include carbon stems, handlebars and seatposts that emphasize Di2 integration.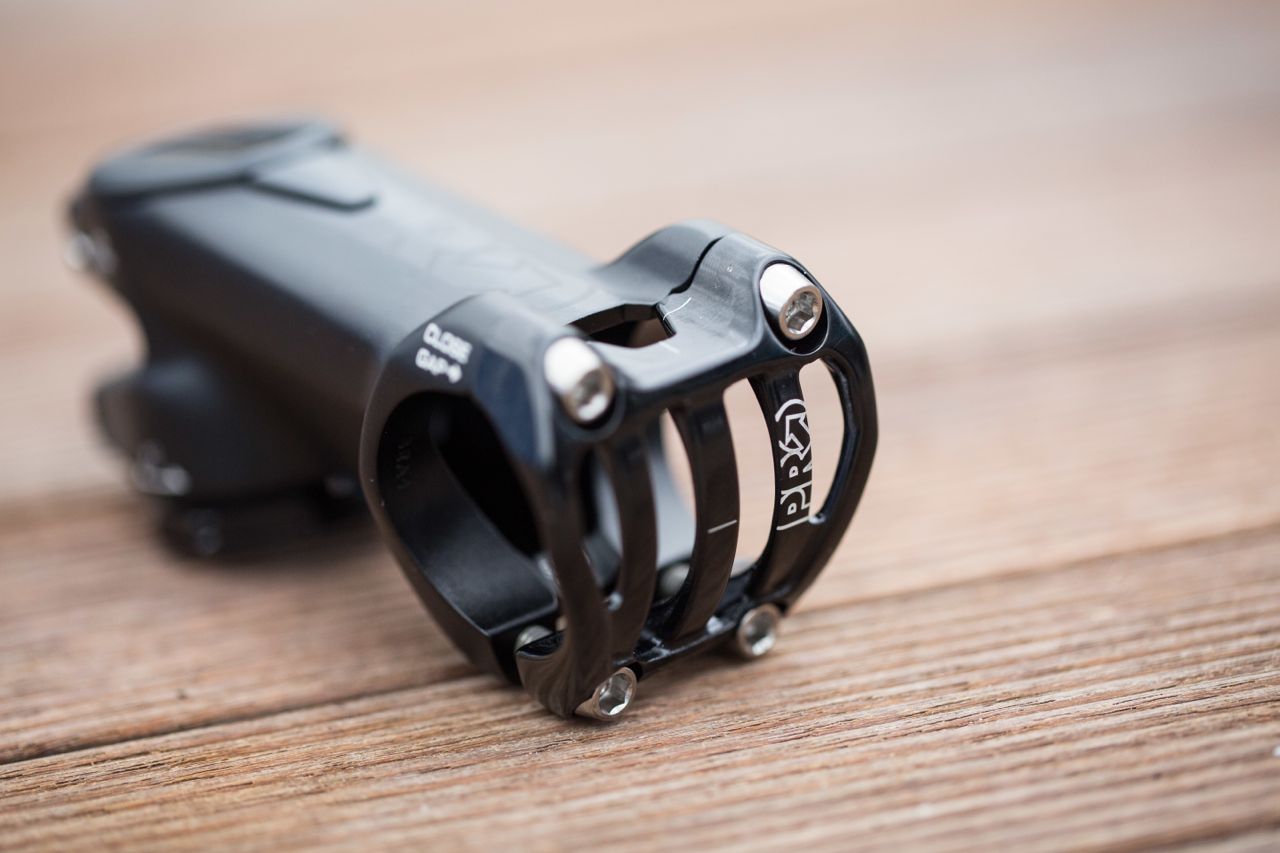 To allow internal wiring and to create an option for mounting Di2 batteries in the stem, the Tharsis stems have a new feature that eliminates the need for star nut headset anchor.
The Tharsis XC bars use a mix of T700 and T800 UD carbon and are available in flat, flat top and riser bends. All bars share the same back sweep of 9 degrees and retail for $200. Bars can be cut to a rider's preferred width, up to four centimeters on each side.
For those wishing to integrate XTR Di2, the Flat Top Di2 model features E-tube wire entry points and internal wire guides.
The Tharsis XC stem, made of 7075 aluminum, features PRO's headlock system that ensures the front clamp and body of the stem are perfectly aligned. New is an integrated headset adjuster that eliminates the need for a start nut or expander inside the bike's steerer tube. It also eliminates the need for a top cap and bolt.
The stem is available in two different angles and several lengths. It retails for $149.99.
The Tharsis XC seatpost uses the same 1-bolt clamp design PRO uses on its FRS and Atherton seatposts but uses T700 UD carbon fiber instead of aluminum. It includes an internal Di2 battery holder.
The Tharsis XC post is offered in zero and 20-millimeter setback and 27.2, 30.9 and 31.6 mm diameters. Its clamp is compatible with 7x7 and 7x9 saddle rails. Side clamps for oversized 10.3mm carbon rails are available as an aftermarket spare part.
It retails for $299.99.
Missile alloy aero bars
Finally, Shimano announced new PRO Missile Alloy basebars and clip-on aero bars. The new aluminum parts offer less-expensive alternatives to the PRO EVO parts.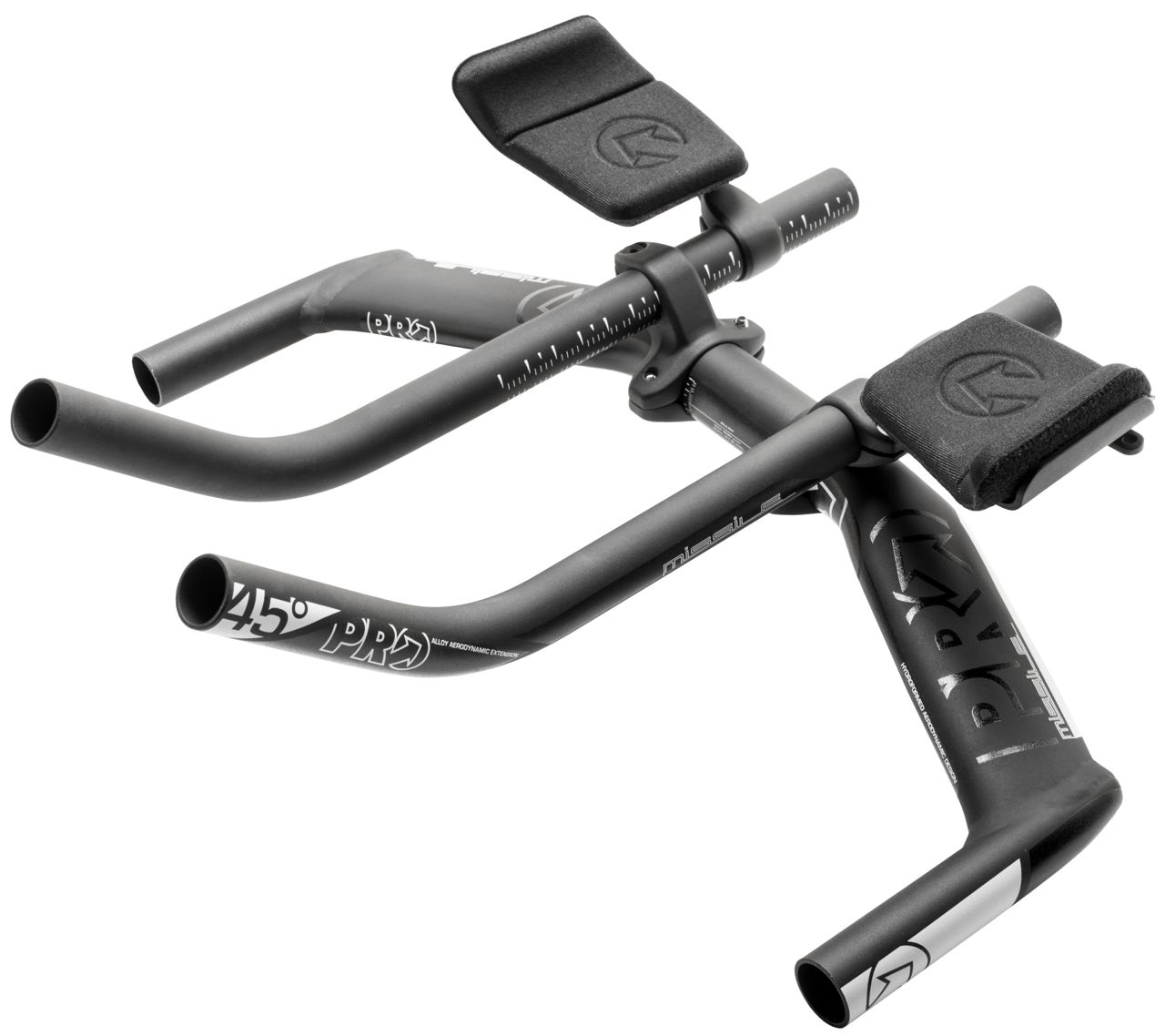 The Missile Alloy bars include stackable 5 mm spacers for height adjustments. The hydroformed base bar cross section is within the 3:1 ratio, so it fulfills the UCI requirements.
Both the base bar and clip-ons offer internal cable routing for Di2 or mechanical shifting. The base bar is 40 cm wide and has a 3.5 cm drop with tip up bar ends. In addition to s-bend extensions PRO will also offer ski-bend extensions.