CHICAGO (BRAIN) — SRAM one-ups the 1-by market with its newly announced Eagle 12-speed drivetrain, boasting a 10-50T cassette.
Available at retail in June, Eagle will come in XX1 and X01 levels at MSRPs of $1,417 and $1,193, respectively. SRAM claims they are lighter (1,456 grams for XX1 and 1,502 grams for X01, not including bottom bracket), quieter, more durable and more precise than competing drivetrains.
SRAM created room for the additional gear by changing the spacing and location of most of the cassette cogs, according to Duncan Riffle, MTB public relations and media coordinator for SRAM. For instance, the 50T cog extends slightly over the driver body, but the location of the 10T cog at the opposite end of the cassette range remains unchanged. Eagle is compatible with all SRAM 11-speed-compatible frames and all SRAM XD driver-compatible wheels and hubs.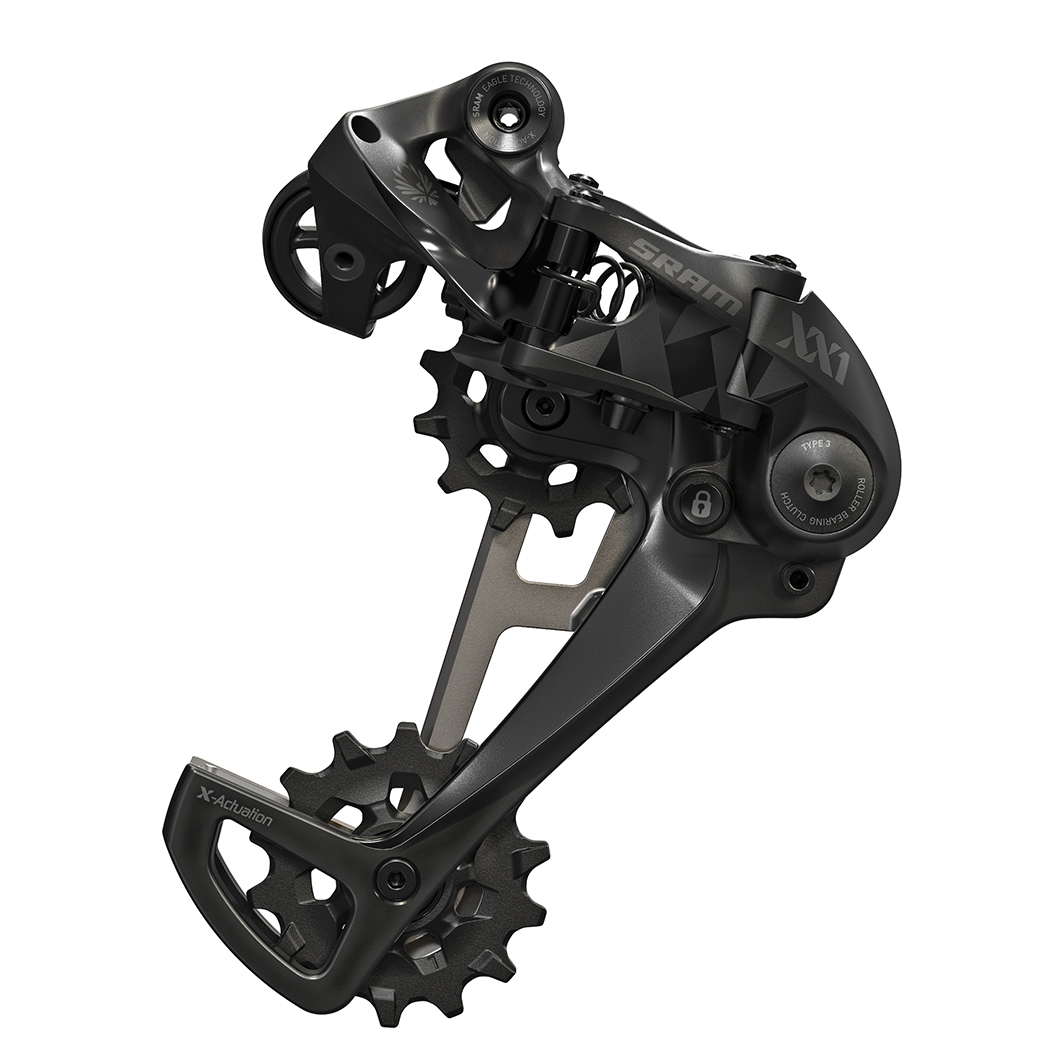 Both drivetrains include redesigned X-Horizon derailleurs with an expanded 14-tooth lower pulley to accommodate the 50-tooth cassette capacity, plus a revamped Type-3 Roller Bearing Clutch design and new tucked-away Cage Lock placement to protect it from trail debris.
The 12-speed X-Dome cassettes — weighing 355 grams — have a cog progression of 10, 12, 14, 16, 18, 21, 24, 28, 32, 36, 42 and 50T to deliver a 500 percent gear range — equivalent to 2-by gear ranges, SRAM says. If some of those gear hops sound extreme, such as the eight-tooth gap between the two lowest gears, SRAM's engineers have accounted for them with their derailleur design, according to Riffle.
"All of the parts in the new Eagle rear derailleur are designed to optimize performance and accommodate the associated gear steps. The longer cage and larger pulley wheel make the move up to the 50 and back down smoothly and efficiently," he told BRAIN.
New direct-mount chainrings feature the second generation of SRAM's patented X-Sync design, dubbed X-Sync 2 Eagle, with a more aggressive tooth profile for improved chain retention, shedding of mud and grit, and longer wear. They're available in even tooth counts from 30-38T.
The cassettes and chainrings are designed for the new Flowlink chain, which has smooth inner plates with no square edges. The chain allows for a narrower tooth profile and, SRAM says, engages with less friction for a quieter ride.
The XX1 Eagle carbon crankset has a hollow structure with a layup tuned for the high-wattage demands of cross-country racing, SRAM notes, while the X01 Eagle crankset is engineered for more aggressive trail riding and enduro racing.
Both XX1 and X01 Eagle can be shifted with either a trigger shifter or GripShift option.
More information on SRAM's website.