Garmin announces that Tacx's smart bike is shipping. Meanwhile, Zwift launches steering and offroad riding features.
FRIEDRICHSHAFEN, Germany (BRAIN) — The indoor cycling craze has come to the interior halls of the Messe Friedrichshafen, where a fair chunk of the new product news this year is related to stationary pursuits.
As Eurobike 2019 opened Wednesday, Wahoo announced it was offering a new $3,500 stationary bike. Stages Cycling, which has a long history making gym and studio bikes, announced a rival model, and Garmin, Tacx's new owner, announced it is now shipping its Neo Bike, which was introduced last year but has been in limited supply.
These smart stationary bikes are far from the ergometers that have been serving as bedroom clothes hangers and yard sale centerpieces for years. They generally use standard bike contact points so enthusiasts can duplicate the feel and position of their outdoor bikes (also known as: bikes). They also have integrated connectivity and other features for riders who've decided they'd rather not schlep their bike inside and connect it to a trainer in order to ride Zwift or complete a TrainerRoad workout.
To take the pulse of indoor cycling, visit the Zwift space at Eurobike.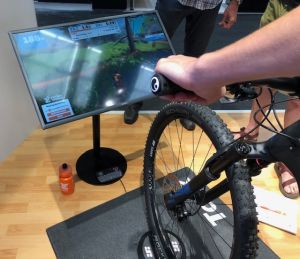 There stands a 30-foot wide by 11-foot tall screen with the platform displayed and eight stations with a different trainer/smart bike. It's the talk of the B3 exhibitor wing and candy for anyone even mildly interested in smart training. To guild the lily, a pink inflatable zeppelin dangled above the massive display, a nod to the Messe Friedrichshafen's zeppelin history.
Jacob Fraser, Zwift manager of brand experience, said the display was six months in development and was the first time it had a dedicated space at Eurobike.
"We shared a space with Tacx before, and always talked about exhibiting on our own," Fraser said. "This helps build business partnerships. It's a great opportunity for the whole industry to come together."
The Wahoo KICKR BIKE adjusts at six different contact points; shifter configurations and gear ratios also are fully customizable, braking controls are built in, and the BIKE tilts to match the terrain in online training platforms, using technology Wahoo developed for its CLIMB trainer accessory. Wahoo's mobile app facilitates set up and configuration. It will ship next month to U.S. customers, with Europe and other markets following in early 2020. 
"This is the ultimate training experience," said Tyler Harris, Wahoo trainer product manager. "This is a real game-changer."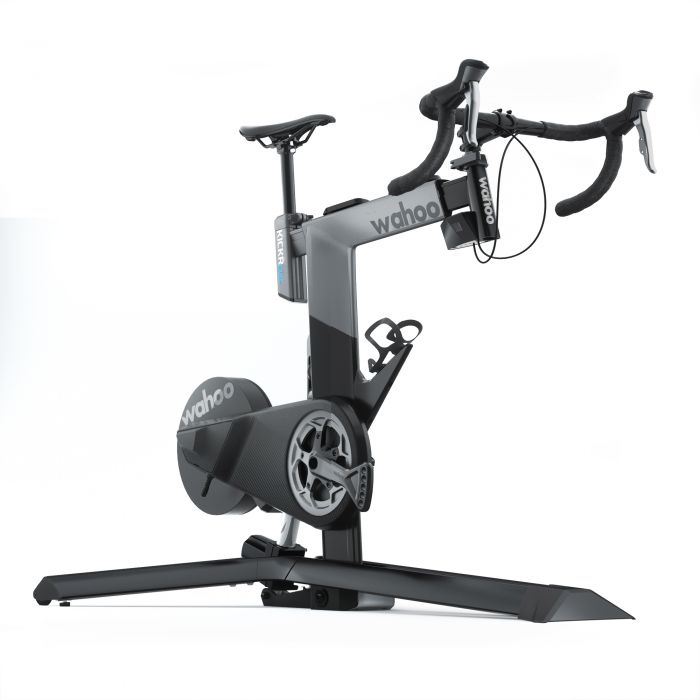 The StagesBike will be available to consumers in the first quarter of 2020 for $2,600-2,800, depending on delivery location.
"Stages Power meters revolutionized the power measurement category when we launched six years ago, but some riders remain unaware of our vast history and knowledge base drawn from building equipment for the fitness club industry," said Pat Warner, Stages Cycling's vice president. "The StagesBike maintains our focus on innovation, accuracy, and reliability, pairing our years of experience building bikes that can withstand the abuse of a fitness club with the real-world cycling expertise demanded by Tour de France-level professionals."
Riders can swap their preferred handlebar, saddle model, or add aero bars to the StagesBike. The crank length also is adjustable and there are laser-etched scales for saddle height, reach and stack. It uses a Gates Carbon belt drive and provides resistance of up to 3,000 watts at 120 rpm. The brake hoods have integrated, programmable shift buttons.
With a background of building indoor bikes for fitness clubs like SoulCycle and Lifetime Fitness, Stages designed its 150-pound bike to be durable, but will be marketed to "enthusiast cyclists," said Peter Nicholson, a Stages spokesman. The bike features two fans on either side of the handlebars that activate automatically.
"This bike can be used by multiple family members," Nicholson said.
Garmin announced this week that the Tacx NEO Bike Smart is now shipping to the United States, Canada and Europe. The bike offers Tacx's "road feel feature" which lets the trainer simulate the feeling of riding on different surfaces, like cobblestone and gravel. The "dynamic inertia feature" controls a rider's mass inertia and compensates for weight, speed and angle of inclination to simulate outdoor riding. A descent simulation features is said to imitate a downhill drive while a new pedal stroke analysis feature measures the position of a rider's left and right legs to analyze their pedaling technique.
The NEO Bike Smart has a suggested retail price of $3,199.99. This week Garmin also announced an updated top of the line smart trainer, the NEO 2T Smart, a $1,400 model that will ship this month.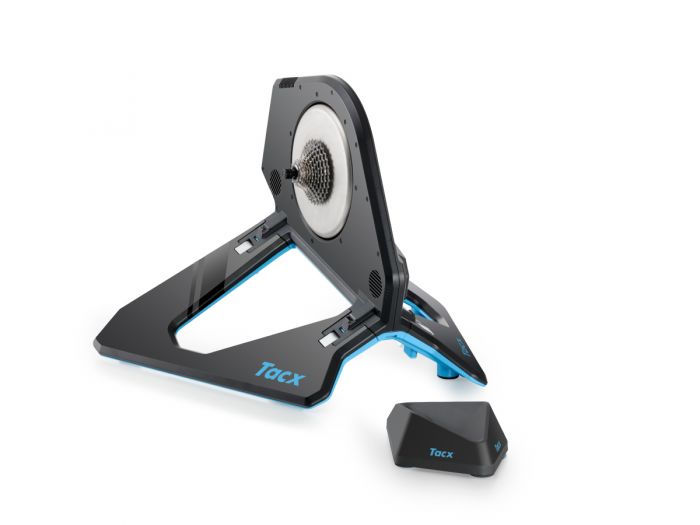 Meanwhile, many of these indoor bikes and trainers will be used with Zwift, which had several announcements as Eurobike opened.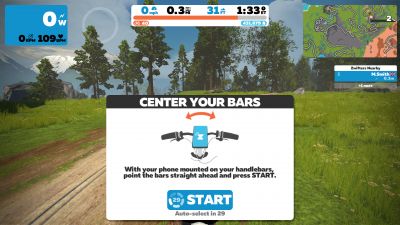 Zwift unveiled steering functionality under its new FutureWorks brand and revealed its latest virtual course, which is based on the upcoming UCI Road World Championships course in the UK.
Riders who approach a new steering test segment in Zwift will receive a prompt on screen asking whether they would like to test steering. Once the steering option is selected, Zwifters will then be transported to the start of a new trail and given direction on how to enable steering. Steering is controlled using Zwift's companion app, available on iOS and Android. The app uses accelerometers in the phone to sense movement as the bars are turned left and right - controlling the rider's avatar on screen.
In the coming months Zwift is expected to integrate steering functionality into the newly launched Wahoo, Tacx, Stages and Wattbike smart bikes being introduced at Eurobike.
"This is a new level of engagement," said Zwift spokesman Greg Fisher, who said the feature will be active at the end of the month. "This ramps the hell out of it."
 Related: 4iiii launches a $600 silent smart trainer at Eurobike.