A version of this article ran in the June issue of Bicycle Retailer & Industry News.
By Alan Cote
It is often said that many developments in the rapidly growing field of gravel bikes mirror mountain bike technology from the 1980s and 1990s. That includes things like tire widths and frame geometry, as well as the gradual acceptance of suspension, including suspension handlebar stems. Sprung stems tasted some big, if largely forgotten, successes on the mountain bike racing circuit: Danish rider Henrik Djernis won three world championships XC titles in a row (1992-1994) using a suspension stem, besting competitors astride first-generation suspension forks from RockShox, Manitou, and others.
In those early mountain bike days, the two most prominent shock-absorbing stems came from Girvin and Softride — the latter used by Djernis. Both were developed and sold as OE equipment on the stem manufacturer's own lines of mountain bikes, as well as being offered in the aftermarket.
Of course, like so much bicycle technology, the idea dates back much further — in this case to at least 1887, with a patent directed to velocipedes showing:  "… an anti-vibration device operating between the steering head and the handlebar to lessen the jar occasioned by obstructions in the road …" Numerous other 19th century patents for suspension stems can be found.
Now, over 130 years later, those "obstructions in the road" — particularly on unpaved roads —  continue to stymie comfortable bicycle riding. Suspension forks for gravel bikes are available, but so far their added weight, complexity, and cost have resulted in relatively low acceptance among gravel riders. Could sprung stems be the sweet spot for gravel bike suspension, becoming as ubiquitous as suspension forks on mountain bikes?
Giant is the latest to explore the space, with a patent titled "Shock absorption device" issued last August. The overall structure is a familiar one: a pivot point located near the steerer tube, with compression of an elastomer as the shock-absorbing element. A bolt can be turned to adjust pre-load to the elastomer, which allows some tweaking of the suspension action. 
A primary design feature Giant touts in their patent is described as a positioning column, which includes two holes and a t-shaped slot:  "… so that when the rider lifts the handles (e.g. stand-up pedaling), the second assembly 120 rotating upward relative to the first assembly 110 is avoided."  Meaning: This should help avoid some of the unwanted bobbing that can occur with suspension stems when rocking the handlebars during out-of-the-saddle efforts. 
With Giant Manufacturing as one of the largest bicycle manufacturers in the world, both under their own Giant brand and as an OE builder for many other companies, the design has potential for spec' on a wide variety of bikes, from gravel to hybrids to comfort bikes. Of course, a patent isn't a product spec' sheet, so exactly what form Giant's stem may take — if it's produced at all — is to be determined. Giant declined to comment on the patent, as is standard practice for many companies.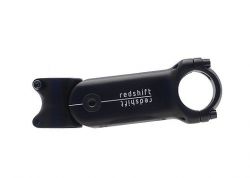 For a product that's already out on the roads, there's the popular ShockStop suspension stem from RedShift, with a patent issued in 2019. The stem launched as a Kickstarter campaign in 2015 and is now sold through a variety of channels. The $159 MSRP stem provides 20mm of travel, swappable elastomer inserts, and the company suggests it pairs perfectly with their suspension seatpost. Of course, unlike the 1990s stems, Redshift targets theirs for road and gravel use, not for mountain bike use on rugged trails.
Another offering comes from Kinekt, which uses a parallelogram design reminiscent of the Softride stem. The $179 MRSP stem provides the now-common 15-20mm of travel, three coil springs with three different stiffnesses, and an optional damper insert. The company behind the stem, Cirrus Cycles, included the stem in a patent application that also covered their suspension seatpost. The patent that issued has claims only for seatposts however. 
Other suspension stems have surfaced as well, such as the techy, air-sprung $350 StaFast stem from Michigan-based inventors Judson Kovalak and Charles Brickey. There's no record of their patent application, filed in 2012, issuing into a patent. Five to six years ago, several consumer websites tested prototypes, but the venture has since gone silent, with the website dormant. 
BRAIN staff has seen numerous suspension stem prototypes in recent years on Taiwan factory tours and trade shows — but as yet, those stems haven't made a big splash as either OE or aftermarket equipment. With gravel's continued popularity, and patented designs from a major industry player like Giant, perhaps springy stems will flourish in seasons to come. 
Alan Coté is a Registered Patent Agent & principal of Green Mountain Innovations LLC. He's a past contributing writer to Bicycling, Outside, and other magazines, and a former elite-level racer. He also serves as an expert witness in bicycle-related legal cases.