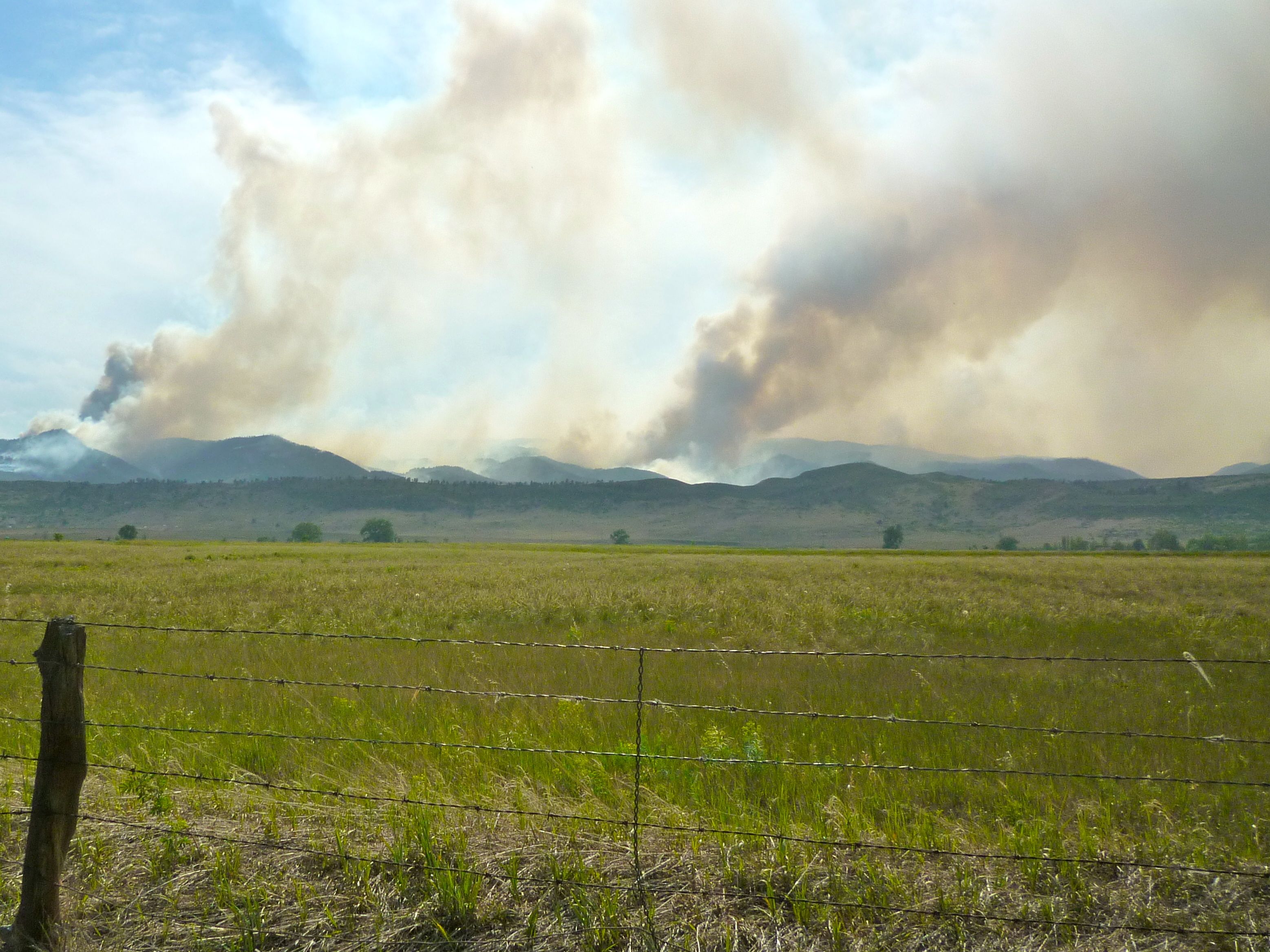 This photo was taken Monday by Ft. Collins resident Nathan Forbes, advertising director for Future Publishing's Cyclingnews.com, Bikeradar.com and Pro Cycling.

FORT COLLINS, CO (BRAIN) Tuesday June 12 2012 1:58 PM MT—A large forest fire near this Front Range college town has members of the thriving local bike industry worried about their homes, their businesses and their favorite trails.

The fire began early Saturday and by Tuesday afternoon had burned over 40,000 acres, making it the third largest in Colorado history. As many as 800 firefighters were expected to be on scene by late Tuesday, but earlier that day it was only 5 percent contained.

The fire is west of the city, an area that is dense with parks and trails popular with road and mountain bikers. Most of the areas are now closed, and those that are not closed have such poor air quality that few riders are heading out, said Tyler Schott, assistant sales manager at the Fort Collins location of Full Cycle.

"There are not a lot of mountain bike trails that are rideable at this point," said Schott, who said business has been slow the last few days. "(Monday) was dead; it was about the slowest day of the real bike season this year."

Matt Hartwig, a shock technician at Push Industries in nearby Loveland, has been evacuated from his home west of Fort Collins. He and his fiance and their three dogs are living in a loft at Push this week. The loft has a shower and a kitchen. Push services shocks and forks for the bicycle and moto industries.

"We got the evacuation call first thing Sunday morning and the fire marshall swept the area later in the morning. We were out of there by noon," Hartwig said.

Hartwig bought the house just two months ago; he said he was "feeling pretty good" that it will survive the fire. "We don't have 100 percent information about what's going on up there, but we know there have been crews in our neighborhood taking preventative measures," he said.

Ian Venable, a service technician at Lee's Cyclery in Ft. Collins, said he hasn't noticed that the fire has affected business much, except that he has an unusual number of serviced bikes waiting to be picked up.

"Maybe people have been evacuated or they just don't want to ride because of the air quality," he said. "I wouldn't ride out there, the air is nasty," he said.

Venable and his family have been sleeping in the basement of their home west of Ft. Collins because of the air quality, he said.

There is little information available about damage to specific areas, but local cyclists expect that several trail systems will need to be rebuilt — in a vastly different landscape — after the fire. Some popular road rides through Ponderosa forests will likely return as rides through an ashen desert.

Local bike races planned for this week have been canceled or postponed because of the air quality. The 2,000-rider Ride the Rockies tour, which began Saturday in Gunnison, was set to finish Friday in Fort Collins. Organizers will announce Wednesday whether they will re-route the final day or cancel it.

The air quality concerns spread well beyond Fort Collins, as the state health department on Monday advised people up and down the Front Range, from Colorado Springs to Fort Collins, to consider staying indoors.