BRAIN Dealer Tour Report: Day 2
SOUTH MIAMI, Fla (BRAIN) — From the sunny parking lot of Mack Cycle & Fitness, Mary Jane Mark points across Sunset Drive, the street where more than a half century ago her father built a store that is now a local landmark.
Mark invites her guest to direct his gaze across Sunset, through an office building's covered parking lot and then traverse busy U.S. Route 1 and the elevated MetroLine tracks to finally alight on a blue car parked in front of an orangish red building.
"See that blue car? That orange building behind it is another one, right there," Mark says.
The orange building is another bike shop, another of the competitors who seem to cluster around Mack's big yellow store like young satellites around a seemingly timeless star.
"I take that as flattery, that people want to be next to me," Mark says cheerfully. "They come and go. That one's been there quite a while."
It's undeniable that there is a cluster of bike retailers near Mark's — it made for an easy riding day for BRAIN's Miami Dealer Tour crew, which was able to visit five shops Wednesday while riding just 18 miles.
The retailers benefit from proximity to Mack's and the creation of a sort of bike-shopping district. But — and with all due respect to the institution of Mack Cycling & Fitness and Mary Jane Mark (who, full disclosure, treated the Dealer Tour group to breakfast at a Coconut Grove yacht club Thursday) Mark's store is not the only draw.
Mack's aside, it's a good place to open a bike shop.
The area is also home to the University of Miami and a large shopping mall popular with locals and the city's hordes of shopping-crazy foreign visitors. The ad hoc bike retailing district is also close to the airport, the previously mentioned Route 1 and MetroLine and the M-Path, a paved multi-use trail that weaves underneath the rail line.
Mack's aside, it's a good place to open a bike shop.
Saturation point
The area near Mack's is the most dense cluster of bike retailing in Miami. Besides the five shops we visited, there's at least one other in the area, and a Performance store due to open nearby this year.
But even outside the district, as some called it, most retailers and suppliers we've spoken with this week say Miami's bike retail scene is "saturated" and extremely competitive.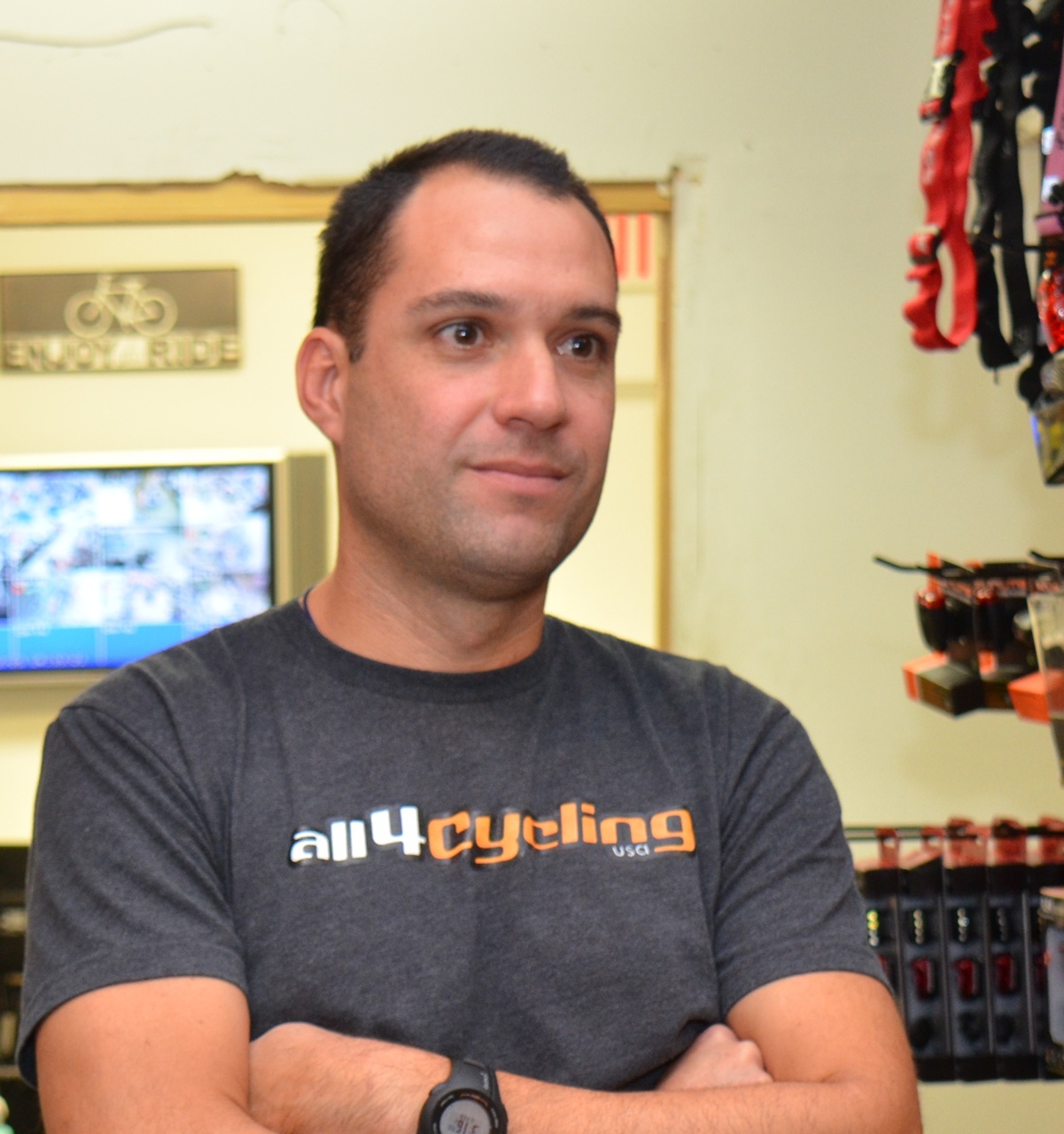 Mario Aponte, who handles special projects for Mack's, said Miami is suffering from "shop growth fever."
"The amount of stores opening in this market is too much. Demand isn't growing as fast as supply," he said. "It's too competitive. The pie is only so big."
He said some of it is vendor driven. All the major suppliers are fighting for a larger piece of the market. That makes retailers anxious, if not downright paranoid, about who their suppliers might open next.
Excess inventory at the supplier level means new players have found it easy to open in a market with as much money pumping through it as Miami's. Much of the excess inventory in recent season has been road bikes, which are a big part of the Miami market.
That's reduced the barrier of entry and made it easy for new shops to open, noted Pedro Navarro, one of three partners in All4Cycling USA, one of the stores we visited later Wednesday.
"So many shops are opening," Navarro said. "The small guys are going to disappear. The strong guys, the larger shops, will stay in business. It's happening already."
Navarro, Juan Zambrano and Paco Rodriguez opened their first store in Midtown Miami in 2009. In 2012 they bought the shop we visited, which is on Route 1 a mile and half northeast of Mack's. They've since opened a smaller boutique (also on Route 1, in between Mack's and the shop we visited) and they plan to open a fourth store a few miles west, in Kendall, Fla., soon.
Perspective from other retailers
The first Miami retailer BRAIN spoke with who said the market was saturated was Nico Stasi, the owner of  No Boundaries Sport, which we visited Tuesday.
Located in a posh shopping district in Coral Gables, No Boundaries has sold running shoes and outdoor clothing and equipment since 1989, adding bikes four years ago after buying out some fixtures and equipment from the bankrupt Boston Ski Market chain.
Stasi is a relative newcomer to bike retailing, but he's a longtime bike enthusiast and lifelong retailer. In fact, he's a third generation retailer whose mother once owned a jewelry store in Venice, Italy. Stasi, a Venezuelan of Italian descent, is a remarkably gracious and cheerful man with a charming accent, and he's also a store owner who relishes getting into the nitty gritty of retailing, whether that means creative scrounging for used display materials or buying inventory smartly.
Stasi was the first to say the Miami market is "saturated," but he was not the last. But, like the others, he's confident he will be one of the survivors.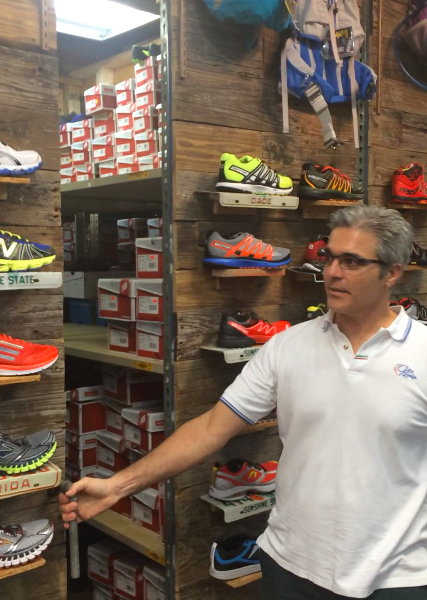 "The market will take care of those issues," he said. "There are ways to compete. There is room for improvement in the market, in retailing. There can be improvements in the presentation of product. There is room for improvement also to customer service."
Stasi also noted that savvy buying has allowed him to maintain margin on bikes while pricing them competitively. No Boundaries' primary bike line is Scott.
"I've been fortunate there has been a lot of inventory available in this industry recently," Stasi said.
Books & Bikes
If there is one retail product category tougher than the bike industry, it's book retailing.
While speaking with BRAIN at a cafe across from his store, we were visited by Mitchell Kaplan, owner of Books & Books, an independent book retailer with three locations around Miami and licensed locations in New York and the Cayman Islands. The cafe where we met Stasi is within one of the book stores.
Kaplan and Stasi are retail neighbors who each admire the other's business savvy in challenging product categories. Books & Books is known for its book fairs and the many events, such as book signing, readings and wine tastings, held at its stores: Books & Books put on 700 events last year, Kaplan said. Kaplan also is co-founder of the Miami Book Fair International, one of the largest book festivals in the world.
Kaplan, whose graciousness is a match for Stasi's, smiled and shrugged when asked how his stores can thrive under assault from Amazon, e-books, big box chains and more.
"We make sure we stay relevant — we are a place for community, for people to come to again and again. They come to a book signing, maybe they buy a book, maybe they don't, but they are here, we are part of their lives and their community. People want that and need that. And I work very hard, like Nico does," he said, glancing at Stasi. "Nico is out there at 6 in the morning, riding with his customers, helping them choose the right bike for them. I don't think there is any other way."