VANCOUVER, British Columbia (BRAIN) — Vancouver is a city of neighborhoods separated by waterways and connected by bridges and a crazy love of bicycling. The water makes it a challenging city to traverse by bike or other means. The evolving bike craziness and the disconnected neighborhoods also create opportunity for bike retailers. MANY bike retailers.
Michael Theil, owner of the three-store Bicycle Sports Pacific chain, says that destination stores don't exist in Vancouver - quite the opposite. Retail space and parking is expensive and it's hard to travel very far anyway, so the result is a large number of small, nichey bike shops.
"In Vancouver bike shops are like coffee shops, there's one on every corner," Theil said. BSP is one of the largest retailers in the city, and an exception in that Theil refuses to be a niche player. His stores offer everything from kids bikes to $11,000 super road bikes (which are primarily sold through the BSP Studio high-end road boutique and fit studio, attached to one of the regular locations.)
Theil said that avoiding the niches has kept him in business over 20 years as trends come and go. "I actually sat down a while ago and counted more than 40 shops that have opened and closed since I started business," he said proudly. But he said just as many, or maybe more, new shops have opened to replace those that closed.
"They open all the time, I can't keep track any more," he said.
The proximity of stores in Vancouver made life easy for the BRAIN Dealer Tour, which visited five stores on Tuesday with just a little over 15 miles of riding. And the group of BRAIN editors, event sponsors and guests could have dropped in on many more stores with even fewer miles ridden. From the sidewalk outside one shop we visited, The Bike Doctor, we could see five retailers who offer bikes, including a used sports equipment store, a Mountain Equipment Co-Op location and a Sport Chek sporting goods store. Several other more traditional shops are within a block or two.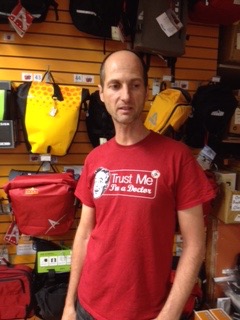 The owner of The Bike Doctor, the doctor himself, Paul Bogaert, is like Theil a longtime Vancouver bike shop owner — he celebrated his 25th year in bike retailing last month. Unlike Theil, he's a believer in niches. Since the beginning, he's focused on transportation, family and commuting bikes, and slowly Vancouver consumers have come around to his kind of biking. In recent years Vancouver, once best known for its mountain bike scene, has become a bike commuting city, helped on by new green lanes and other facilities, a year-ride riding climate and a healthy and environmentally conscious population. Business is better than it has ever been, Bogaert said.
"I've always been involved in bike advocacy and bike commuting, and for a long time the market couldn't really support that kind of thing on its own. But now it's awesome. People are coming in and telling us they haven't been on a bike in 27 years … we are all about being welcoming to people who aren't experts. We say, 'that's exciting that you haven't been on a bike in a long time!'"
The Bike Doctor stocks bikes from Norco, Yuba, Devinci and Raleigh, almost all between $400 and $1,500. He stocks very few drop-bar bikes and said he will likely carry none next year. It's all about affordable, comfortable flat-bar bikes. The good doc doesn't believe in high-end bikes because they are theft targets. "You should have a bike you can leave outside when you go to get a beer, without worrying about it," he said.
The formula sounds nichey, but The Bike Doctor is thriving, with about 22 employees who can barely keep up with the consumers who flock in on weekends. The store has 5,000 feet of sales floor, plus storage and a service and assembly area in the basement.
But Bogaert said all the competition can create price pressure and that sometimes it can be hard to keep employees; he said he's lost three staffers in recent months to rival stores.
The other shops we visited Tuesday were targeting relatively narrow and focused niches. Denman Bike Shop, which has two locations, offers comfortable upright bikes, although Denman targets a more upscale sale than The Bike Doctor, with rides from Linus, Garneau and Electra, and a wide and deep selection of hip urban cycling clothes and accessories from Brooks, Levi's and other trendy brands.
Not far away, Mighty Riders sells to high-end roadies, adventure riders and tourists. Next door, the same owner operates On The Rivet, a clothing-only boutique. On The Rivet offers mostly road-oriented clothes, but nothing with a big sponsor logo. Instead, the store has a deep selection of clothes from Giro's New Road line, Icebreaker, Gore and other brands, as well as an impressive array of cycling shoes from Giro, Sidi, Northwave, Mavic and Chrome.
The BRAIN Dealer Tour of Vancouver is sponsored by Cannondale, Sugoi, Finish Line, People For Bikes and Interbike. Our rides are being led by staff from HUB, Vancouver's regional advocacy group.
On Wednesday, the group will head to Vancouver's North Shore, with stops at Steed cycles, Obsession: Bikes, Mountain Equipment Co-op, Bicycle Sports Pacific's North Vancouver location and Cove Bike Shop.