BERKELEY, Calif. (BRAIN) — For an industry that sells the greenest mode of transportation, bicycle suppliers traditionally create a lot of waste.
Forget, for the moment, the environmental impact of bike manufacturing and the eventual disposal of bike products after their usable life ends. Instead consider that products leave factories and warehouses packed in boxes that often seem larger than necessary, filled with mounds of plastic, foam, and zip ties made with materials increasingly known to be toxic.
The industry trails other outdoor segments in the sustainability of its packaging.
Retailers have an up close view of the packaging and they have to deal with the leftovers, one way or another, after a product is assembled and put on display. More can be done to have less do more, several retailers told BRAIN. And sustainability experts and suppliers say real improvement will require collaboration.
"The bottom line for me, and where I struggled with the bike business, is Specialized has a bit of a reputation for being tough," said Bryant Bainbridge, former Specialized Bicycle Components director of corporate responsibility. "I wanted to get with other companies: 'Hey, let's get together on this stuff. Let's collaborate.' And the bike biz is highly, highly competitive, and so people are rightly suspicious. But sustainability is a collaborative story always. And success and methodologies and learning should be shared. That's how progress is made."
Bainbridge first worked as a wildlife biologist and has a degree in environmental studies. One of his roles was studying the Farallon Islands off the San Francisco coast, the site of the largest bird colony in the lower forty-eight states.
"We monitored it 24/7 and just seeing the amount of plastic in the ocean and seeing what it's doing to wildlife …" Bainbridge said. "Microplastics, the shedding of the little polyester bits every time you do the laundry, is now in every city water supply. What people are just figuring out is it's also airborne. Plastic is in the air."
A report commissioned by the World Wide Fund for Nature and executed by the University of Newcastle in Australia provides the first global glimpse on plastic's impact on people. The findings: Humans consume about 2,000 pieces of microplastic every week, 21 grams a month, and just more than 250 grams a year. Put another way — you're eating a credit card a week.
Reusing packaging is just the right thing to do for Grant Petersen, a bicycle designer and owner of Rivendell Bicycle Works.
"For the last 18 or so years, we regularly receive emails and postcards praising our packaging, and it's 99 percent plastic-free," Petersen said. "We cut zip ties close to the jaws so they can be used again, and we do. We're not the industry's models on this, but there's a companywide conscious effort to avoid plastic, and we have stopped selling plastic water bottles."
James Moore, the owner of Moore's Bicycle Shop Inc. in Hattiesburg, Mississippi, said he has a local service recycle all cardboard that his shop can't reuse and has done so for more than 15 years.
Chad Pickard, owner of Spoke-N-Sport in Sioux Falls, South Dakota, said his shop recycles about 90% of its packaging.
While reusing plastic is good, "the challenge is end of life; where's this stuff going?" Bainbridge said. He said polyvinyl chloride, otherwise known as PVC, is the "wickedest packaging of all."
Bainbridge said PVC is so common because it's so inexpensive, has good physical performance properties and can be easily molded. But it's toxic in its manufacturing. One of the byproducts in its creation is dioxin, "one of the most potent poisons known on earth," Bainbridge said.
He said most of the big and responsible companies have stopped using PVC or are in the process, "but it's quite ubiquitous. Probably virtually every zip tie in a bike box is going to be PVC. It was a struggle for me to find alternatives."
The perfect solution is 100% paper fiber packing, he said. "The holy grail in packaging, let's call it the almost unachievable holy grail, is if you were to use a singular material that has a well-established take-back stream. Cardboard actually is fabulous because there are global take-back streams. Make it as light as possible and you have no dead space."
Bainbridge said shipping bikes without the wheels attached allows the box to be shrunk and packing materials reduced. "I would love to see more companies pack their bikes this way," Pickard said.
Tom Cooper, packing project manager for Specialized, said the company completed an audit several years ago on all of the materials used to package a bike.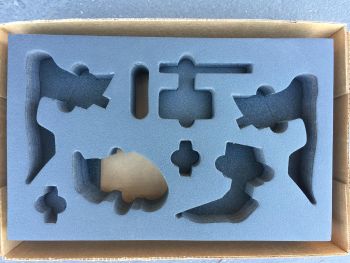 "For example, we took three-quarters of an inch out of all dust flaps, which saved enough material to package another 56,000 bikes," he said. "By taking 10 mm out of the length of nylon cord used in each bike box, we reduced our consumption of cord by almost 2 ½ miles."
Cooper said reworking helmet packaging reduced cardboard use by about 10% for Specialized, and the new design ended the use of foam pads glued to the inside of the box.
A components distributor who did not want to be identified said, while he takes time to pack components tightly and securely to reduce damage and the amount of material needed, fellow co-workers sometimes do not.
"It matters who's doing the packaging," he said. "There's no standard. It's a matter of the training method, depending upon who the shipping manager is and the way they show their employees how to do it."
Petersen said a lot of companies don't think sustainability because "they figure they have 'green equity' because they're making bicycles, so no biggie. They don't want to stop what's working, and they don't see the effects of plastics."
Adam Miller does. Miller, owner of Revel Bikes in Carbondale, Colorado, takes the whole bicycle packaging dilemma and turns it on its side. Revel ships its bikes in a reusable travel cases, which retail for more than $500.
"We buy them in bulk of course, but it's a cost we're willing to take on since it's pretty cool for a new bike to show up in such a dialed way."
If the customer doesn't want the case, Revel will pay to have it shipped back.
"We sell a high-end product, and it is really cool to deliver a high-end product in super clean packaging — think Apple," Miller said. "However, there's a ton of waste or a lot of money needed in creating packaging like that. It's always a balance of budgeting, too, designing super simple packaging and using things like plant-based ink and recycled or compostable cardboard is much more expensive than going the other route."
Miller also believes in reusing packing materials, including foam and Bubble Wrap.
"It's not always the prettiest," he said. "But we print a little note out and include it with everything we ship, basically saying, 'Please excuse the not-so-beautiful packaging — we're trying to reuse materials to cut down on waste!'"
Paul Component Engineering out of Chico, California, recently began shipping some of its products in recycled boxes adorned with original artwork. It has eliminated plastic, wrapping components in paper.
The cost of becoming more sustainable was worth it to owner Paul Price, who made the decision after reading a National Geographic article about plastic's impact.
"Saving the planet," he said. "Right now, for the rest of the year, we are eating the extra cost of biodegradable packaging. We'll have to adjust the first of the year, but it won't be much, and so far, our customers don't have a problem with a little concerted effort to get plastic out of the environment."
Many retailers BRAIN contacted noted examples of excessive component packaging. Moore complained of inner tubes shipped in individual boxes and then packed 10 at a time in a larger box; Petersen bemoaned large foam component cutouts that have "the potential to kill a whale all by itself;" Price criticized the use of "air pillows," when "wadded up craft paper works just as well."
"It takes a big brand with a lot of volume to actually change stuff," Bainbridge said. "The companies that need to be leading this are Specialized, Trek, the Accell Group and Giant; you know, the guys with some real muscle."
Andrew Juskaitis, Giant Bicycle's global marketing manager, agreed that the industry needs to pool its collective resources. He said Giant uses 70% recyclable material for its shipping and "taking it to 100% would incur a reasonable investment but not unforeseeable."
Scott Montgomery, president of Reynolds Cycling, said the industry coming together as one "makes total sense, and I know Europe is way ahead of us in this regard."
While working with Nike, Bainbridge said the team followed the European Packaging Directive, which lists restricted substances and has limitations on the amount of empty space, among other standards. He said he was "shocked" that the bike industry didn't pay much attention to it.
In the end, he thinks China will drive the global sustainability push.
"They're figuring out they can't drink their water. They're fundamentally paying the cost of making the world's stuff with no real controls on it.
He added that a major media eruption related to packaging could turn the tide. "I've always said in the world of sustainability that it takes a good disaster to galvanize an industry or company. Great example is Nike with labor in the early '90s (the Indonesian sweatshop scandal). They were a little arrogant, and after they got beat up, they completely changed their strategy and became a global leader in labor management."