HUNTINGTON BEACH, Calif. (BRAIN) — Electric Bike Company, which builds electric cruiser bikes in California from imported and domestic parts, has opened what could be the first of many retail showrooms. 
EBC was founded by Sean Lupton-Smith, a South Africa-born entrepreneur who had a successful career in the restaurant business before retiring in his 40s in California. He had planned to return to Africa with a few bicycles to support mobility there, but got sidelined.
"I was going to bring three containers of bikes back. And then I saw a guy on an electric bike and I thought, if we are going to really help the area (in Southern Africa) mobilize itself, maybe what we should do is put a bloody motor on these things. How hard can it be?"
He found out, eventually pumping all his retirement funds into the new venture.
Lupton-Smith's bikes went through several iterations and brand names as his company increasingly developed its own technology and manufacturing instead of importing off-the-rack products. With model names inspired by Tesla Motors, EBC now offers the Model S, the Model X, and Models C,Y,M and R. 
"The bike industry is not for sissies, I've learned that," he said, noting that increased tariffs on Chinese e-bikes and parts forced him to diversify sourcing in recent years. Now only about 22% of the value of EBC bikes comes from China. The rest is from Taiwan, Japan, the Netherlands and the U.S. A wooden chainguard option is made by a furniture maker in Oregon, for example.
EBC adds value in its Newport Beach factory where it has about 40 employees who build wheels, paint frames, forks and fenders, and assemble bikes.
In 2017, an early version of Lupton-Smith's electric cruiser caught fire on the sand at Newport Beach; a photo of the conflagration appeared in the LA Times. 
After that, EBC invested over a half million dollars developing its own electronics and battery pack. It now imports Samsung li-Ion battery cells and assembles them in Newport Beach, using a patent-pending battery pack that has an internal smart charger with a retractable cord. For some bike models, an auxiliary battery is available that sits in a front basket (which attaches to the frame) and increases bike range.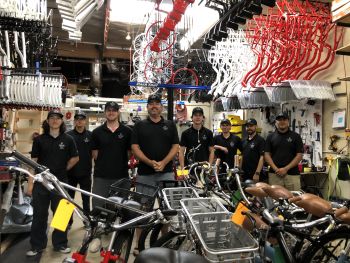 Customization is the brand's secret sauce.
"Customers are looking for personalized products, and we can do that. … At least half or more of our customers are women and they love customizing. Being able to offer that experience sets us apart." 
He said at least 35% of sales are to couples. The bikes start at $1,700 retail.
Custom frame colors and parts spec are available through a B2C website, and through a small handful of independent retailers nationally. And orders can be made through the new showroom in Huntington Beach.
Lupton-Smith envisions a cluster of showrooms that will display EBC bike models and accessories, but not stock inventory. At approximately 1,000 square feet each, the showrooms will allow consumers to order cruisers to be delivered fully assembled to the customer's door in a few weeks. 
Lupton-Smith's restaurant background shows itself when he describes the showroom design. 
"They will be small footprint stores (built) with green, reusable materials … We don't have to have the whole infrastructure in each city, because it's all supported by the factory in Newport Beach. We'll have the four best-selling bikes on display, and some accessories. And right in the middle we'll have a bike stand with a bike, and we'll have a technician there who can help with small repairs and stuff. But it's primarily a showroom. We'll have Pantone color books so the customer can choose any color they want as long as it's in the book."
He plans to test the concept first in Huntington Beach and possibly some more locations nearby.
"I'd love to go national eventually," he said. 
Lupton-Smith has experience with multi-location retail from his restaurant days.  
"Being a franchisor and a franchisee taught me a lot of things … personally I would prefer to really only work with selected high-quality dealers who can have their own tiny design studios, either on a dealership commission basis or 100% corporate-owned," he said.
Expansion plans depend on financing, of course, and for now Lupton-Smith prefers to maintain 100% ownership of the company. "It's nice, I don't have to go through the whole venture capital presentation thing," he said.
The company currently sells about 100 bikes a week and sales have boomed during the pandemic. Last year sales were over $2 million and are on track for $12 million in sales in 2020, according to Lupton-Smith.
And this 51-year-old retiree, who became a U.S. citizen about ten years ago, has ambitions to take the brand further.
"We aren't going to be the only one customizing cool electric bikes forever, so we might as well get as big of a headstart as we can."