FORT MYERS, Fla. (BRAIN) — Hurricane Ian left at least one bike shop "utterly destroyed"— the Fort Myers Pedego store. It's likely that many more stores and the homes of their owners and employees were damaged or destroyed. Retailers who have been able to re-open are trying to quickly rescue customers' bikes that were submerged. And they are contemplating how their market will be affected as the area rebuilds.
BRAIN has heard second-hand stories of several other stores that were heavily damaged or destroyed, but we've not been able to confirm all the reports yet.
The Pedego store was steps from the Caloosahatchee River in Fort Myers, as seen in the TV news screenshot below that Pedego CEO Don DiConstanzo shared with BRAIN. The store took a direct hit, DiCostanzo said. "All those boats you see stacked up are directly behind their store," he said. 
DiCostanzo said Pedego's corporate offices and surrounding dealers are assisting the store owners. The owner of the Pedego in Santa Rosa, Florida, for example, packed his store van with supplies and headed to Fort Myers to assist.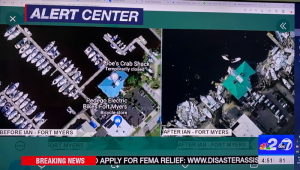 Social media postings show other area stores that sustained heavy damage. The Bike Bistro in Fort Myers, located adjacent to the Estero Bay marsh, was hit hard, the store reported on its Facebook page, where it shared dramatic photos of the damage and the cleanup. 
"The Bike Bistro took a full-on punch to the throat from the hurricane. The surge pounded the area and the back doors to our shop were breached. Our first looks at the shop are horrific. We are heartbroken but are determined to rebuild. It is going to be our 10th anniversary on Nov. 2," the store said on its page. BRAIN has been unable to reach the owners.
Just off the coast, Sanibel Island has at least one bike shop and several bike rental operations. One of them, Billy's Bike Shop, reported on its Facebook page that all employees were safe, but didn't report on store damage. BRAIN could not reach the owners. 
On nearby Pine Island, Island Bikeworks planned to offer free flat repair at its shop later this week, according to its Facebook page. "If you've gotten a flat during the hurricane from all the debris littering our beautiful island, we will be fixing it for you FOR FREE!!" the store said on its page. "While the tubes last as our suppliers can't deliver right now."
"A huge question"
Sanibel, a popular resort and second home destination, was hit hard by the storm and is now unreachable by automobile as the only bridge to the island was damaged. That will affect businesses on the island and the mainland, noted Diane Holm, who owns Fort Myers Cyclery with her husband Michael. The store was suffered minimal physical damage. 
Holm was uncertain about business as the area rebuilds. 
"That's a huge question," she said. "There's no way to predict it. We've lived in Florida all our lives and typically after a hurricane, it's slow to get things moving again. But this storm is the worst we've ever experienced.
"I would say that our regular customers are going to come back in. The big question is all the new residents and the part-time residents, the people on the islands, what's going to happen there?"
For example, in the spring the store took orders for some Catrike recumbents from part-time residents who planned to pick them up when they returned to Florida this the fall. Now those people are unlikely to return this season. "Some of those homes (on the islands) don't exist anymore. And even if they do, they can't get there, so they definitely won't be being picking up their trikes this year."
Holm said she was hoping that more residents would bring in water-logged bikes before they become unrepairable, but so far the store was just fixing a few flats.
In Venice, Florida, Bicycles International owner Wesley Culpepper said post-storm business is not for the faint of heart. 
"The most money I've lost in general in this industry was from Hurricane Irma (in 2017). Keeping staff on hand, but not really getting the customers. We've recently moved into a much larger building and we have more staff and have been here 11 months. We're in a new building and overloaded with inventory ... It's not awesome."
Culpepper got power back at the store Monday and reopened Tuesday. The building suffered minimal damage. 
"Employees were very much affected," he said. "I've got one or two that just got power, but several are still without power. Some can't get away from their homes because there are so many trees down or because of one thing or another," he said.  (Bicycles International has 20 employees total and it has one location.)
"It went that deep"
Down the coast about 43 miles in Naples, employees at The Bike Route are trying to assist customers bringing in bikes that had been submerged.
"The first couple days, we've been inundated with our customers' bikes that were under water — saltwater," said Doug Newman, the store's president. "There's probably going to be thousands of bikes that were submerged in saltwater. They look OK, then over a period of a day or so, everything starts to seize up. If (the bike's value is) less than say $1,000, the cost to tear everything apart — and I don't have enough hours in my life to do that — it's approaching the cost of the bike. And a lot of times, even the headsets were affected. It went that deep," he said.
"What we're trying to do, if they purchased the bike from us, we're trying to get the original purchase receipt so they don't have to hunt for it and just have them claim it on insurance. We have some bikes that are $10,000 to $15,000, we have to try something for them. The cost to repair those, percentage-wise, is not as horrible. But to do that, all the Di2 stuff with saltwater ... We have one, it's a full custom. I have one group, a new Ultegra Di2, and we might have to build it up with that. I'm still having trouble getting parts," Newman said.
Newman said The Bike Route store had no damage, but his house had 4 inches of water in it during the storm, and he lost six cars from his collection. His brother's house had several feet of water in it. 
"I'm going to consider myself extremely lucky. ... I think we're really lucky that everybody is safe. The rest of the stuff we can figure out," he said.
Up the coast in Englewood, about 56 miles north of Fort Myers, Frank Goody, the owner of Bikes and Boards, was planning to move the store's operations to its warehouse, which suffered less damage than the store. 
We "can't work out of the bike shop," he said. "We moved stuff from the shop. It's only 8 feet above sea level and they were calling for a 16-foot surge, which didn't happen here but it happened further down the road."
Goody said the shop might need to be completely rebuilt because of damage, mostly from wind. 
Expert advice
Industry e-bike expert Ed Benjamin calls Fort Myers home. Benjamin told BRAIN on Monday that he was OK but had no electricity. Later on Monday, he sent out an email reminding e-bike owners and retailers that batteries and salt water don't mix.
Did your bike get wet in the storm surge? Get your ebike or ebike battery out of the house right now!

 

I am sitting at my desk in storm ravaged Fort Myers, hoping to find a way to get this warning out. I just got internet service back about an hour ago. 

 

Our area had as much as 16 feet of flood water from Hurricane Ian. One local ebike shop was close to the river, and had 4-5 feet of water. 

 

When a large format, lithium battery for an ebike is immersed, perhaps for hours, bad stuff happens. The result can be (will be) a nasty fire that is hard to put out. 

 

Don't touch a burning battery!. They are hot, toxic and can explode (scattering burins bits about). Get these out of the building before they cook off. 

 

Once they are burning … call the fire department. Our fire department right now is a bit over stressed, so better to get the bike or battery outside, before it cooks off. 

 

If your bike got immersed, push it outside. If the battery catches fire, use a fire extinguisher to put out the flames, and then cool the battery with a stream of water for a long time. Until it is complete cold, dead, inert. Then leave it outside until it can be disposed of via haz mat waste disposal. 

 

Move now! Stop reading this and get those lithium batteries that have been in the flood waters our of your home or building. 
Last week the National Bicycle Dealers Association and consulting group Human Powered Solutions also issued a warning about submerged e-bike batteries.