BOULDER, Colo. (BRAIN) — There are more than a few surprises contained in VeloNews' recent Audience Study, which surveyed over 5,200 of the media brand's readers and online followers in what the magazine's publisher is calling "by far the most detailed media audience survey done in the bike industry in at least 25 years." 
While most publishers survey their readers in hopes of showing potential advertisers how receptive their audience would be to their promotions, the new VeloNews study goes a few steps further, asking detailed questions about what its readers spend money on, how they shop and what they intend to buy next. 
Among the surprises: while nearly all use the internet to find cycling information (on average 12.5 times a week), most (nearly 60 percent) still buy their bikes from their local bike shop. However, when asked what bike brand they intend to buy next, Canyon, a brand sold only online direct from the company, was the third most popular response, beating out many more established brands sold in stores. The most popular response was Specialized (34.8%), then Trek (29.4%), Canyon (23.3%), and Cannondale (20.8%).
The study's respondents were unsurprisingly quite active cyclists: on average they said they rode 4.1 times per week. About a third of the respondents hold a racing license. Seventy six percent own a bike GPS unit and 44 percent own a power meter. The average respondent had $18,772 worth of bike stuff — including bikes, equipment, and clothing — in their household.
Felix Magowan, the CEO of Pocket Outdoor Media, VeloNews' parent company, said the study proved his notion that readers of print magazines are more valuable to advertisers than readers who follow the same media brand through a website or social media. The study found that VeloNews' print magazine readers own more bicycles and spend 20 percent more on bicycles than its social media readers. And print readers own more bike stuff: they would need to spend 27 percent more than a social follower to replace all their cycling-related gear. VeloNews print readers earn 19 percent higher household income than VeloNews social followers.
Brick-and-morter retailers might like print readers best, too, as the chart below shows. Print readers are more likely to have bought their most recent bike from a local shop (64.5%) than digital readers (58.5%).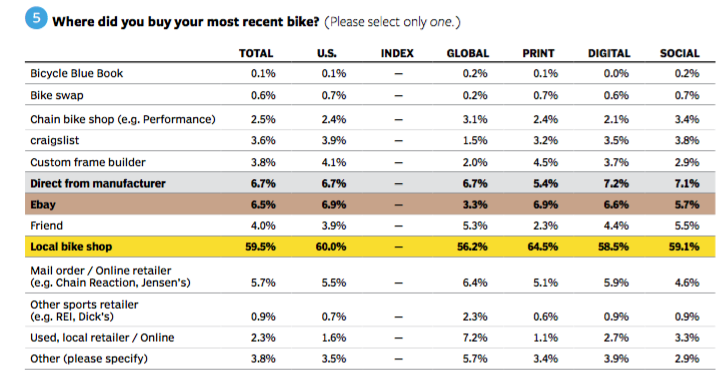 However, Magowen said he found it "sobering" that high-end bike customers now spend far more on experiences, including travel, coaching and event fees, than on gear. About 87 percent of the respondents spend at least some money on bike-related travel. Among those who do spend on travel, on average they dole out $2,285 a year on costs including airfare, tour-company fees, hotels, gas, and rental cars.
Nearly 60 percent of the respondents bought their last bike at a local bike shop. The next most common place to buy a bike was direct from the manufacturer, but that was a distant second place at 6.7 percent. eBay was the third most common source at 6.5 percent. Other sources included from an online or mail order company (5.7%), from a custom builder (3.8%), Craigslist (3.6%) or a chain bike shop like Performance (2.5%).
Besides bikes, the study asked about the brands that respondents own or plan to buy when it comes to helmets, bike racks, wheels, suspension, tires, pedals, saddles, shoes, clothing, eyewear, stems and more.
In some cases the information could be useful for retailers making buying decisions for the upcoming seasons. For most items, the study asked what brand they currently own and what brand they intend to buy next. For example, Saris CycleOps was the most commonly owned trainer, at 28.2 percent, but Wahoo was the brand most intend to buy next, at 53.5 percent. In other categories, the respondents were more loyal. For example Sidi is the most owned shoe (31.4%) and also the brand that most intend to buy next (23.9%).
Pocket Outdoor Media's Dave Trendler said the study revealed another tidbit that IBDs can use: Facebook is perhaps their best channel for reaching customers. "65% of the core cycling demographic uses Facebook regularly," Trendler said. "Our audience also tells us that 1 in 3 core cyclists visits his local bike shop for more information on products they want to know more about. That's a winning combination for IBDs."
The respondents were overwhelmingly roadies: 97.3 percent own a road bike, 68.4 percent own a mountain bike and 35.7 percent own a cyclocross bike. The fast-growing gravel bike segment has not penetrated VeloNews' reader base: only 21.8 percent own a gravel bike.
The study was conducted by Attlesey Consulting, a New Mexico-based independent, third-party market research consultant. It drew from a sample of 5,200 reader responses to 74 detailed questions. The respondents were reached via campaigns on the VeloNews website, in its magazine, on its social media feeds and email newsletters, podcasts and videos. The report is available for download free at velonews.com/study.