SUZHOU, China (BRAIN) — Bafang, one of the world's largest e-bike drive system manufacturers, has announced that it is extending delivery lead times by at least 10-15 days because of the coronavirus outbreak.
TAIPEI, Taiwan (BRAIN) — Next month's Taipei Cycle Show will be held as scheduled, organizers announced, but visitors and exhibitors from mainland China will not be welcome. Organizers also said all workers at the show will be required to wear face masks. 
Outbreak might reduce participation at March's Taipei Cycle show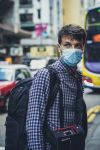 MILTON KEYNES, United Kingdom (BRAIN) —The U.S. industry, which depends on China for about 95% of its bikes as well as many of its parts and accessories, is bracing for disruption due to the Coronavirus. The virus has sickened thousands in China and led to travel restrictions into and out of the country, as well as within it.
Pages