Editor's note: This article has been modified to add that Park manufactures 80 percent of its products in the U.S.
MINNEAPOLIS (BRAIN) — Park Tool is suing Real World Cycling, an Arizona specialty bike tool maker, over the shade of anodizing on three of RWC's aluminum tools. Park has held a trademark on use of blue on bike tools since 2008. 
RWC specializes in suspension service tools and supplies. The company's owner, Chris Streeter, said it uses varying color anodizing on different tool sizes to help mechanics quickly identify the right tool for the job. He said he has offered to change to a different shade that he feels is significantly different Park's trademark blue, but that Park "claim(s) to 'own' the entire spectrum of blue, which I found, and still find, to be a preposterous claim."
Streeter, who said he feels he is being "bullied" by Park, told BRAIN he intends to defend the suit.
"It will cost my small family business thousands of dollars to defend against these false allegations, which amount to nothing short of an attempt to use the greater financial resources of a large corporation to bully my small company in to making concessions that Park Tool has no legal right to demand," he said. "Perhaps to my own detriment, my personal sense of justice compels me to fight this intimidation."
Park filed suit last month in Minnesota's U.S. District Court. It is claiming RWC has infringed on federal and state trademark and trade dress laws, and engaged in unfair competition and unlawful trade practices.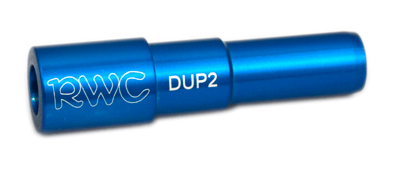 Park is asking the court for a permanent injunction preventing RWC from selling blue tools, and to award legal fees, and up to three times the actual damages incurred as a result of RWC's use of the shade. Park did not specify the damages, leaving that up to the court to decide.
In its complaint Park said that over the years it has prevented at least five dozen companies from selling blue tools and related products, either with out-of-court settlements or lawsuits. In its suit against RWC, Park said companies ranging from Shimano, Trek, and Giant to Ice Toolz, Serfas, and Mr. Tuffy have "acquiesced" to its demands over the color.
"Knowing we work in a small industry our first choice is to always work directly with fellow bicycle industry companies to settle any disputes amicably, which is also what we offered to do in this case," Park Tool's owner and president Eric Hawkins told BRAIN in an email. "99+% of the time we are able to work these things out between us in a direct and amicable manner.
"In the extremely small percentage of times when the other company refuses to resolve the dispute amicably we are then left with no alternative but to take the necessary steps to protect our intellectual property. Even then we hope that an amicable resolution can still be found," Hawkins said.
Park's complaint includes copies of emails between Streeter and Park's attorney, Molly Eichten, starting in October last year. In the emails, Eichten asserts that Park's trademark and trade dress rights include several shades of blue surrounding the Pantone color code 2935. She shared a Pantone chart with 2935 at center and varying shades extending toward black, violet, green and gray, with a red-dotted line around the area that Park claims. "Simply put, stay out of the red box," Eichten told Streeter in one email.
Streeter responded that it was his belief that Pantone 310, a turquoise shade that is within Eichten's red box, would not violate Park's trademark. In the emails Streeter agreed to make immediate changes to the shade of blue on three tools in question, and to change photos on the company's website as well.
However, he told BRAIN, "I clearly let them know that I would NOT give up the entire spectrum of blue."
In a later email, Streeter rejected Park's claim that his company was trying to benefit from Park's reputation.
"Please let me set the record straight with regard to that. Were consumers to confuse our tools with Park Tools, our perceived value would decrease significantly. Unlike your client's mass-produced, overseas-manufactured tools, our tools are 100% designed and manufactured within the United States and have a look and feel that is totally unique." 
Park Tool says it manufactures 80 percent of its products in the U.S., and the company employees scores of workers at its factory outside Minneapolis. 
Streeter said the Nov. 9 email was the last communication he had with Park until Park filed its complaint on Aug. 2.
Streeter said that last fall RWC immediately switched photos on the company website to show the three tools in Pantone 310. As for the actual product, RWC immediately changed the color of the DU Bushing Pilot since it was ready to do a new production run of that part. 
He said the color of the 36mm Fork Seal Press had already been lightened considerably on a previous run, although not to the Pantone 310 since the run predated the discussion with Park's lawyers.  He said that tool is slated to be changed to 310 on the next production run. 
The third tool, the BB30 Cup Tool, is pictured on the site in the 310 shade, but is still shipping in a darker shade. He said RWC still has about 100 pieces in stock. "I would have been, and remain, willing to absorb the cost of stripping, re-anodizing, and re-marking those tools if Park wanted to negotiate in a reasonable manner (i.e. not try to force me out of the entire blue spectrum). As it stands, the next run of the wrenches is, of course, slated to be done in the Pantone 310," he said.
RWC has until Oct. 9 to file a response with the court.