Goal of increasing domestic production leads to new home in Old Fort, N.C.
Editor's note: A version of this story appeared in the January edition of BRAIN.
OLD FORT, N.C. (BRAIN) — For Kitsbow Cycling Apparel to increase domestic manufacturing, David Billstrom came to a necessary conclusion.
It couldn't be done in Petaluma, California.
Hello, Old Fort, North Carolina.
Old Fort, North Carolina?
A sleepy textile mill town with a population of about 700, Old Fort is at the foot of the Pisgah National Forest in the Western North Carolina mountains and where Kitsbow plans to reduce the dependency on Asian manufacturing.
Kitsbow is now located in the former home of Parker Hosiery Co., a 100,000 square-foot building built in 1976 that has an additional 25,000-30,000 space for lease. Kitsbow began operations in December.
"To reduce our dependence on Asia, and fully commit to making our own clothes, it was obvious we couldn't do it in the San Francisco Bay Area," said Billstrom, Kitsbow's CEO. "The other manufacturers in the region must be smarter than we are, because I don't know how they do it. Labor, transportation, rent — really, everything — is so expensive that there is very little margin left to build a business, let alone provide a return to investors."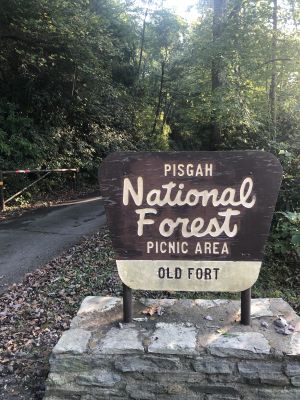 Employing the lean manufacturing model, Kitsbow, which sells primarily direct from its website, manufactures products just in time for shipment. Billstrom said it will continue striving for improved response to demand and produce better lead times. In addition, "we believe we can make a measurable reduction in product waste and thus reduce our harm to the planet with Lean manufacturing," Billstrom said.
With the new factory and manufacturing model, Kitsbow intends to make 95% of its apparel domestically in two years.
How important it is to meet that goal? As Kitsbow founder Zander Nosler said, "It's hard to quantify, but let's just say we're betting the company on it!"
Emphasis on Made in the USA
The company that started seven years ago steadily increased domestic manufacturing, going from 10% two years ago to 25% by last year, but Billstrom knew relocating was in order to take it farther.
"After focusing on revenue and merchandising, when I turned my attention to manufacturing, I was appalled at the cost of our workforce in Petaluma and the frequency and size of the checks we were writing to Asia," said Billstrom, who slid into an operational role two years ago. "Fundamentally, the business wasn't sustainable."
Socks, hats and gloves likely will be the only items coming from outside the U.S. in the future, Nosler said.
The hunt for a new home began a year ago, leading Billstrom and Nosler to look at Tennessee, South Carolina and rural Virginia.
A spot in rural Virginia was the leading candidate until Billstrom took another look at an opportunity right under his nose.
Billstrom owns a home in Black Mountain, North Carolina, with wife Jennifer, and decided to investigate Old Fort, a familiar area about nine miles east.
"In the 300-400 times I've ridden my bike through Old Fort, never did I imagine that I would be working in one of the buildings downtown," Billstrom said. "Life can be surprising, yes?"
That's when Chuck Abernathy enters the story. Abernathy, McDowell County economic director, is the point of contact on industry expansion and locations. "I'm basically a business recruiter," he said.
Old Fort, located in McDowell County, was still reeling from furniture giant Ethan Allen ceasing manufacturing there in June, putting 325 people out of work. But, when one manufacturing plant door closes, another opens.
"David reached out, and part of the fortuitousness for us was the fact he had a familiarity of the area and some roots in Black Mountain," Abernathy said. "My understanding is that we were brought in kind of late into the process. I met with David about four months ago. The project happened fast; it happened decisively, but it wasn't hasty or careless. He knew what he wanted. He's done what he said. It's nice when that happens."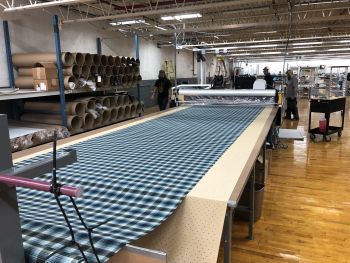 According to the North Carolina Department of Commerce, Kitsbow will invest $890,000 in operating the manufacturing and distribution facility in Old Fort. Salaries for the new jobs vary by position but the average annual wage will be $36,835. The average annual wage in McDowell County is $35,905 according to the state.
Kitsbow received over $400,000 in combined economic incentives from the state and county, which are tied to job creation and capital investment in the new facility. The incentives include a performance-based grant of $200,000 from the One North Carolina Fund.
Law change enhances lure
What helped seal the deal was a recent law change that allows the sale of alcohol in Old Fort on the premises where it's made. That will lead to Kitsbow getting its first neighbor inside the Parker building: a Hillman's Beer brewery and restaurant. Hillman is expected to begin tapping kegs and cooking with gas in the spring.
"We were a lock for rural Virginia, but in the last set of site visits, the opportunity to co-reside with a brewery in a historic mill building located on the edge of a national forest was irresistible," said Billstrom, who added the existence of a deep workforce pool, proximity to Asheville, North Carolina, and singletrack options right outside the factory to test gear made Old Fort the clear winner.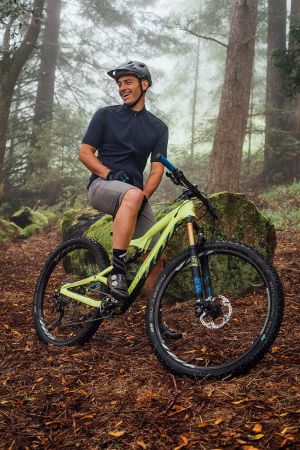 With expansive year-round cycling, hiking, trail running and fly-fishing opportunities to offer, Old Fort could be at the beginning of a gentrification, Abernathy said. With the remaining space in the Parker building and another 100,000 square-foot facility available for lease across the street, he said other outdoor and hospitality industries could follow Kitsbow.
"What David is doing has created huge momentum and interest, and there are tangible, real projects that we're working on that are in that area," Abernathy said. "What we're interested in doing is putting similar type businesses together and creating a streetscape. That's the opportunity."
Kitsbow's Petaluma employees, including part-timers and interns, were offered the chance to relocate with a compensation package, Billstrom said. Two will relocate, with the rest of openings filled in locally. Kitsbow will have at least 55 employees in Old Fort.
Nosler said he's learned to trust Billstrom's business acumen. Billstrom's background includes stints as a venture capitalist in Seattle, Disney vice president, and a technology entrepreneur. He was semi-retired when Nosler approached about joining the board of directors before becoming CEO.
Billstrom "will tell you that he didn't do anything extraordinary, just enforced the basics of business," Nosler said. "But extraordinary or not, I can tell you that the market responded to the changes. He drove our ability to offer more colors for more styles — including a real offering for women at last — to provide more sizes so we can fit more customers, and to in-source more of our production so we are in-stock more often. Net result: Revenue went up."
While the move was a business decision, Billstrom is sensitive to the impact it has had on the townspeople of Old Fort.
Kitsbow received over $400,000 in economic incentives from the state and county. It will invest $890,000 in operating the manufacturing and distribution facility in Old Fort.
"This is the South," he said. "Complete strangers greet you on the street when passing you by. So here in Old Fort, we continue to be stopped by residents and businesses who thank us out loud for coming here.
"Yes, there are winds of change in town now. The incredible natural resources of fly fishing, hiking, singletrack, gravel, road riding, equestrian trails ... well, it will be an amazing transformation. A great combination of manufacturing and tourism."