Editor's note: A version of this article ran in the February issue of BRAIN.
SAN DIEGO (BRAIN) — When Gocycle, an 18-year-old British e-bike brand, first made a stab at the U.S. market, company founder and CEO Richard Thorpe found the market wasn't ready for its upscale, folding e-bikes. 
The brand pulled back and when it relaunched about 18 months ago, Thorpe found a different reception.
"The conversations are a lot different now," said Thorpe. 
Remarkably, Gocycle's first real go at U.S. market was only in 2015, showing how fast the market is changing in North America, at least in some regions.
"There are pockets here (in the U.S.) that are like mini-Europes, though there are certainly some areas where the distances are bigger and that are hostile towards cycling," he said.
The U.S. market is now Gocycle's third largest market, after the U.K. and Germany. The brand now has nearly 150 U.S. dealers, up from just 50 late last year. 
Thorpe said the U.S. e-bike market has matured so that it can now offer niche e-bikes like Gocycle bikes, which fill a very specific need. 
Gocycle bikes feature a swoopy, injection molded magnesium frame, small, wide-tired wheels and a highly integrated design, with no exposed cables or drivetrain. Among its other advantages, the company said the magnesium is fully recyclable.
The brand was one of the first to offer Bluetooth connectivity on its bikes and claims to be the first to offer daytime running lights. Most notably, the bike frames and handlebar masts fold easily, making it easy to carry one into an office, bus, train, boat or RV. Its three magnesium models range from $2,799 to $4,499 retail, while a new carbon framed model, introduced in the fall, retails for $5,499. The carbon model also features Gocycle's new automatic shifting drivetrain. 
Thorpe worked as a design engineer at McLaren Cars and in the light electric vehicle industry and first began tinkering with e-bikes as a hobby. He said he was inspired by F1 cars when coming up with the Gocycles' distinctive styling.
Gocycle has several two full time sales reps and a full time technical support employee in the U.S., and plans to add more sales staff this year and a warehouse in Boise, Idaho.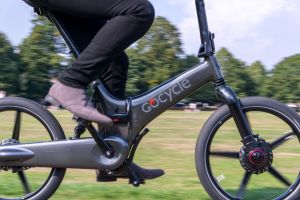 Gocycle continues to sell online in the U.S. and elsewhere, but Thorpe said online sales account for only 5-10% of its business.
"Our customers really want to see and touch and compare our bikes; we haven't found online sales to be that fruitful for us," he said.
Similarly, he said Gocycle spends the majority of its marketing budget on events, rather than print or digital advertising. 
Gocycle recently built out a new Sprinter van that will be used for dealer trips events and other activations. The company planned to have the van at the CABDA West show in San Diego in January and then travel the country, hitting the later CABDA events in Chicago and New York along the way. The brand will also be at the Minneapolis e-Bike Challenge and an electric vehicle show in Texas during the winter.