Editor's note: A version of this article ran in the May issue of BRAIN.
PORTLAND, Ore. (BRAIN) — King Cycle Group, Inc. has become the first industry manufacturer to become a Certified B Corporation, meaning it's "a purpose-driven business seeking to benefit all stakeholders, not just shareholders."
B Corps are certified by the nonprofit B Lab, which verifies that a company achieves a minimum score for its impacts on workers, customers, community and the environment. 
The certification requires a company to make its impact report publicly available and amend its legal governing documents to require its board of directors to balance profit and purpose.
There are about 3,000 certified B Corporations worldwide, and King Cycle Group is the only bike manufacturer.
"Since Chris (King) founded the company in 1976 we have operated with two goals in mind: manufacture high-quality bike parts in an environmentally responsible manner, and have those parts outperform and outlast the competition, staying on bikes and out of the landfill.
We're proud to say that we still believe in these principles and are expanding them," the company said.
The company said its purpose is to benefit employees, customers and the planet. 
"What we do has an impact on all of these," it said in announcing the new status.
"As a manufacturer we recognize that it takes large amounts of energy and resources to produce the raw materials that we machine into finished parts and because of this we want to manufacture our parts in the most responsible way we can, which begins with making serviceable components that last a lifetime so they never have to be made again."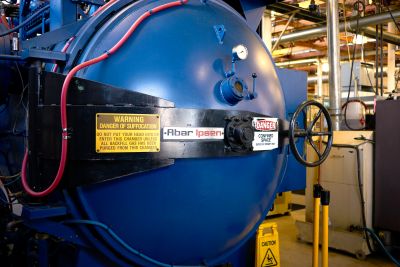 The company said the design of its products, their lifetime warranty, and systems in place at its 73,000 square foot factory in Portland all align with those values. 
Among other things, the factory captures and separates all of the chips of aluminum and steel that are made while turning barstock into parts. The chips are separated from cutting fluid — which is canola oil — and compacted for recycling. The company said canola has an infinite lifespan, so it is captured, strained and re-used.
"This oil causes us to machine slower than a traditional cutting fluid but we believe that the environmental benefits far outweigh the slower machining speed," the company said.
The factory includes a 3,000-gallon water mass loop that runs throughout the building and is connected to the heating and cooling systems. 
Heat produced by machines is transferred to the water mass and cooled by ambient air temperatures overnight. In winter, the heat is redistributed to heat the factory and offices. 
"This system allows us to have no additional heating or cooling needs for two-thirds of the year and greatly reduces the need in the coldest and warmest months," the company said. 
Besides the environmental programs, the B Corp certification takes into account the company's supply chain, hiring practices, and employee policies. 
The certification program scores the company on its policies and practices regarding governance, workers, community, environment and customers. The company achieved an overall score of 80.7, compared to an average score of 50.9. A score of 80 is the minimum to achieve certification.
Patagonia is one of the few other sports-related brands with B Corp certification. Patagonia has been certified since 2011 and scores 151.5. 
Portland Pedal Power LLC, an Oregon company that delivers food via bike, joined the list last year and has a score of 88.2. A British company that sells bike lights also is certified.
Thirty-five states allow businesses to register as "Benefit Corporations," requiring their corporate governance to be aligned with goals beyond maximum profitability. Advocate Cycles, a bike brand launched in 2015 following a crowdfunding campaign, was registered as a Benefit Corporation in Minnesota. The company pledged to donate 100% of profits to bike advocacy groups. Advocate later closed, but its founders launched Esker Cycles, which is based in Montana. 
More information: bcorporation.net.