Need a Pandemic Project? Paul Brodie did.
VANCOUVER, British Columbia (BRAIN) — If you have some time on your hands while sheltering in place (and perhaps a small machine shop and a supply of steel tubing in your shelter), this might be the time to brush up on your framebuilding skills. And who better to teach you than Paul Brodie, the founder of Brodie Bicycles, a multi-time award winner at the North American Handmade Bicycle Show, and a member of the Mountain Bike Hall of Fame.
Brodie has launched a Youtube channel with instructional videos, adding a new video each week.
Brodie has taught framebuilding for nearly 10 years at the University of the Fraser Valley in British Columbia. The continuing education classes are open to anyone 15 and over, and Brodie has taught students ranging from 15 to 75.
But this year's COVID-19 pandemic meant that if Brodie were to hold his classes, while brazing he would be required to wear his reading glasses, a brazing mask, a face mask and a face shield. "My glasses already steam up when I'm just wearing the brazing mask. I can't imagine what that would be like (to wear all four)," he told BRAIN this week.
Probably not much fun and, at age 65 and a diabetic, Brodie is being very careful about virus exposure.
"I fall neatly into the risk category, and it's not like I need the money from teaching, so ... I feel like I've moved on (from the university classes). And we're having a good time making these videos," he said.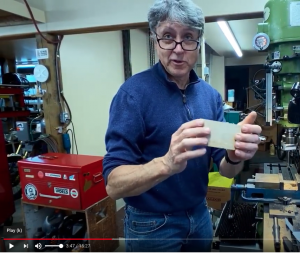 So Brodie canceled the university classes for this year and began working on the videos with Mitchell Nurse, who is one of his former framebuilding students, a neighbor and a riding buddy. So far they have produced 11 videos, with Brodie demonstrating techniques and narrating in his lilting hybrid British/Vancouver accent. Nurse records with an iPhone 10 and a remote microphone and does the editing and production. 
Brodie doesn't teach brazing in the videos, because he's found that skill requires real-time feedback between the instructor and the student. Instead, the videos are intended for bike lovers who are curious about frame building or those with basic (or advanced) skills who want to see how a Hall of Famer does it. 
"You can get quite a bit of information (from the videos), but they aren't intended to replace a class. They are intended to inform and teach, I guess."
If he's not teaching brazing, what's left to teach? Well, Brodie has never been one to braze together off-the-rack parts — he started building before those parts were available. His frames have always been distinguished by the use of dropouts, seat collars, cable stops, head badges, and other parts that he designed and produced in his own machine shop. The video series includes episodes on making some of those small parts, as well as a three-part series on building a custom e-bike frame. The most popular video so far, which is shared below this article, shows how to fix a dent in a round frame tube.
The videos are free, of course, and so far non-monetized. Brodie's YouTube channel now has about 600 subscribers and Brodie is active in responding to questions and comments under the videos.
Once the series has 1,000 subscribers and the videos have at least 4,000 watch hours, Brodie and Nurse can start making some money through Youtube's partner program. "We're headed to those numbers; it would be nice to make some money on this, but I'm just doing it because it's pretty neat to do. It's a new thing for both of us and we are still at the stage where it is very exciting."
"Because it's pretty neat to do" seems to have been the motivation for much of Brodie's highly creative career. Besides his innovative steel hardtails from the 1980s, Brodie has built stylish and innovative road racing motorcycles. He also has built, virtually from scratch, replicas of vintage bikes, such as a replica of at 1888 Whippet bike that he showed at the 2012 NAHBS. Those replica bikes were a pretty neat thing to do, and included hubs, cranks, headsets, brake levers and more that Brodie machined out of solid steel in his own shop.
You can subscribe to the channel at YouTube.com/paulbrodie. More information on Brodie's other projects at flashbackfab.com.