Cycling apparel company opens visitor center to showcase Old Fort's outdoor potential
A version of this article ran in the September issue of BRAIN.
OLD FORT, N.C. (BRAIN) — If the town needed another sign that the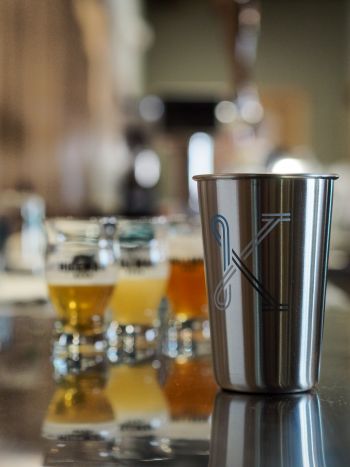 Old Fort Ride House was quickly taking shape, it got one — literally — in late July when a wooden Pisgah National Forest sign arrived on loan from the Forest Service during an employee training day.
As everyone gathered and debated where it should be displayed, it became clear the Ride House — billed as "your shelter from the storm, your launchpad for your adventure, and your base camp upon your return" — was down to finishing touches. Vinyl flooring and carpet taken up recently revealed a rustic designer concrete, befitting an outdoor visitor center that is designed to receive plenty of foot traffic.
The fact that many on this day were looking down at the flooring and up to where the sign should be placed was an appropriate metaphor for a typical day of exploring Pisgah by bike or foot: A lot of downs matched by a lot of ups.
The Ride House going up is the final piece of the master plan CEO David Billstrom envisioned when he and founder Zander Nosler moved Kitsbow Cycling Apparel in December from California to Old Fort, a 700-resident textile mill town in the Western North Carolina mountains.
Located on the first floor of the former Parker Hosiery Co. building, the 2,100 square-foot Ride House will serve as the main entrance to the 23,000 square-foot Kitsbow manufacturing plant upstairs.
Constructing and maintaining the Ride House will cost "a lot," but "it provided jobs during the pandemic," Billstrom said.
An outdoors hub
The Ride House, scheduled to open in August with a staff of six, will serve as the hub for cyclists and hikers, adventurers, and even families just wanting a leisurely stroll along the paved section of the Fonta Flora State Trail running alongside the Ride House. Secure parking will be provided in two lots, a free filtered bottle refill station, restrooms and changing rooms inside, and grab-and-go snacks and drinks for sale. In addition, trail knowledge and advice will be provided by Ride House "Rangers." Eventually, bike rentals and light bike mechanic service also will be offered.
Despite low expectations in the first year, Billstrom said he expects the Ride House eventually to make a modest profit from food/drink sales and rentals.
"We want them to be connected to this place," Billstrom said. "This is where the rubber hits the road."
To help with that connection, a Kitsbow kiosk will be established inside, displaying the latest seasonal clothing and available to try on. If a customer wants to buy, he or she can order it there online and have it shipped home. All Kitsbow clothes are made to order. Two
TV screens showing Kitsbow's manufacturing process will be broadcast live with factory tours offered.
"Our objective is not to sell you clothes," Billstrom said. "We're all about helping you have a fantastic time in Pisgah and Old Fort and create a community."
Helping keep cyclists and hikers connected to their GPS devices, the Ride House features USB charging ports outside under a covered porch area lined with picnic tables. Alongside the tables are bike racks, with complementary locks provided.
Add in new next-door neighbors a Hillman Beer brewery and Mill Creek Mug coffeehouse and you have a small town that's charged up.
"We want this to be a destination," Billstrom said.
Fonta Flora trail access key
When Kitsbow began looking for ways to reduce its dependency on Asia to make clothes, it began relocation efforts and eventually led to zeroing in on Old Fort. A key factor was the Parker Hosiery building's location along with Fonta Flora Trail. When completed, the east-west trail will connect Morganton, North Carolina, to Asheville and include a loop around the Lake James reservoir in Nebo. It will also connect to the Overmountain Victory National Historic Trail and the Mountains-to-Sea State Trail. When completed — 15.7 miles are available currently — the Fonta Flora will be about 100 miles long.
The Ride House's completion will cap a busy year for Kitsbow, which added a new and unexpected manufacturing division: personal protective equipment. Three months after relocating, it answered the call to help first-responders and medical staff in response to the COVID-19 pandemic. It has resumed manufacturing cycling apparel, and its quick and successful pivot got the attention of Congress. Billstrom was asked to testify virtually from North Carolina in July to a subcommittee tasked with uncovering ways to sustain small businesses and improve supply chain resiliency during the pandemic.
"Kitsbow has become three businesses: apparel, PPE, and the Ride House," Billstrom said.
And all that leads to other businesses interested in relocating to Old Fort, said Chuck Abernathy, McDowell County economic director and point of contact on industry expansion and locations.
"The Ride House is a most welcome addition to the Kitsbow location," Abernathy said. "The building and corridor that this service is located now includes a brewery, a coffee shop, and the possible location of an outfitter manufacturing operation that is considering the location. It is all about momentum. The combined location of Kitsbow and Hillman's Brewery has created this momentum."