Empty energy gel wrappers? Worn-out sneakers or wool socks? How about an old bike helmet? There are more options to keep them out of landfills.
BERKELEY, Calif. (BRAIN) — On this Earth Day, April 22, bike industry brands (include BRAIN's parent company, Outside) are promoting more options to keep their products and packaging out of landfills at the end of their useful lives. Here's a rundown of some of the programs.
GU Energy Labs, which has been making its Energy Gels since 1993, is increasingly trying to keep those wrappers off the course and out of landfills, and it's hoping to enlist bike shops to help.
For six years, GU has been working with upcycling company TerraCycle to gather wrappers from events, retailers and athletes. TerraCycle converts them into plastic products including lumber for park benches and playground structures, bike racks, and shipping pallets.
The program has gathered 1.7 million wrappers since inception, including 450,000 in 2020 alone. 
GU covers shipping costs for enrolled collectors and has no minimum package size. It accepts single-serving energy food wrappers from any brand, Celia Santi, who leads the program at GU, told BRAIN.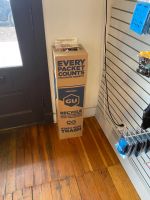 This year, GU is hoping to gather all wrappers at events it supports and is requiring promoters to sign a pledge toward that goal if they want support from the brand.
GU also works with a handful of retailers, mostly running shops. Santi said she is hoping to enroll more bike shops in the program.
GU provides signage and pre-paid UPS labels to participating stores and includes them on an online map of participating stores. Stores don't need to sell GU products.
There is one thing GU doesn't provide to the shops, Santi noted. "We don't send them a box to collect the wrappers. That would defeat the purpose. The idea is they re-use a box that's been shipped to the store." She said GU continues to research biodegradable packaging but hasn't found an option yet that will last until the product's "Best By" date.
There's information available at TerraCycle.com on sending in wrappers and setting up a program at your business or event.
---
In April, General Mills' Nature Valley brand announced a similar wrapper recycling program.
---
Clif Bar, which worked with TerraCycle from 2008-2019, now includes a "how2recycle" label on its packaging, with a link to recycling options. Clif Bar also has reduced the size of its packaging while keeping its product size the same.
---
Bern Helmets is encouraging users and retailers to recycle worn helmets and become "plastic neutral": for every amount of plastic created, a measured equivalent of plastic waste is recovered.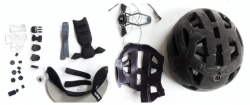 A Bern spokesperson said the company is examining options to become more eco-friendly and using recycled materials to manufacture helmets. Its packaging is 100% recyclable and soon will be plastic-free, according to the spokesperson.
Bern, which manufactures helmets for bikes and other sports, reminds users to break down a worn helmet to its individual components by cutting the straps, removing pads, and foam. 
In addition:
Bern's ABS plastic can be recycled depending on location and recommends this site.
The nylon webbing also can be recycled, and Bern recommends donating plastic buckles to an Army-Navy store, local theater, or trying to repurpose them.
Fabric padding also can be donated to fabric scrap collections. Some farmers markets have fabric scrap collections/donations. 
The EPS, which is the interior foam, can be recycled at donation drop-off and/or mail back centers.
---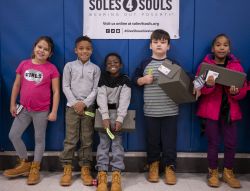 Outside (that's us!) has launched a large-scale shoe drive in cooperation with Tennessee-based organization Soles4Souls. Headquartered in Nashville, Soles4Souls accepts donations of used shoes and clothing across the U.S., repurposing those products to supply micro-enterprises, disaster relief programs, and direct-assistance efforts all over the world. In other words, the group not only saves gear from the landfill, it helps people in need by repurposing shoes for good causes.
If you have piles of old shoes and boots lying around your home or business, consider saving them from the landfill by donating through Outside's drive. It's quick, easy, and best of all, completely free for you. There's more information here: soles4souls.org/outside.
---
SmartWool is gathering used socks, which it will shred and used for stuffing in dog beds. From April 21 to May 2 consumers can recycle any brand or material of sock in any condition (as long as they're clean) at drop-off bins at more than 250 participating specialty retailers nationwide. (Single socks also accepted!) Beyond the May 2 cutoff, customers can also ship old socks directly to Smartwool. A pre-paid postage recycling bag that fits 10 to 15 pairs of socks is available through the Smartwool website when a purchase is made.
There's more on the SmartWool program on BRAIN's sibling site, Outside Business Journal. 
---
On Earth Day, BCycle, the Trek-owned bikeshare company, is offering free 30-minute bike rentals at four of its community programs: In Broward County, Florida; Greenville, South Carolina; Madison, Wisconsin; and Santa Barbara, California.
"In addition to just being fun, there are so many benefits to riding a bicycle or e-bike, like the impact a ride can have towards a better, cleaner future for our planet and people," said Morgan Ramaker, Executive Director of BCycle, LLC. "At BCycle we're so proud to be able to provide a commuting alternative and hope to inspire life-long sustainable choices that can make a real difference and positively affect climate change."
Get your free 30-minute ride using promo code EarthDay21 in the BCycle app (available for Android and iOS) at the participating BCycle-owned locations.
---
Keen has been committed to creating footwear by harvesting and upcycling waste as part of its Detox the Planet Initiative.
For this summer, the Elle sandal features new colors and straps made from recycled PET plastic bottles and PFC-free materials.
In August, Keen will begin using harvested coffee ground waste in two sneakers: the Elsa and Eddy Harvest. By harvesting and upcycling coffee grounds, the use of virgin petrochemicals is reduced. This process also reduces the amount of coffee waste that goes into landfills where they emit greenhouse gas. 
Lastly for fall, Keen will debut styles featuring upcycled car seat leather in the Howser and Targhee boots. With an estimated 90 million cars produced annually around the world, Keen said this has the potential to keep millions of pounds of waste from going to landfills if adopted broadly.  


---
Meanwhile, Panera Bread is winning the bike-related Earth Day internet with a contest to give away 30 custom Vivelo bikes with insulated front baskets that looks like Panera bread bowls. The basket is not edible; no word on if it's recyclable.