WILTON, Conn. (BRAIN) — Dorel Sports General Manager Nick Hage said plans to bring Cannondale assembly back to the U.S. actually began a couple of years ago, and with supply-chain constraints currently hampering the industry, the timing of the announcement couldn't be better.
Dorel Sports, Cycling Sports Group parent company, officially announced Tuesday plans to rent an existing facility near the Savannah, Georgia, port to meet U.S. demand for Cannondale bikes and reduce lead times.
The 1.1 million-square-foot facility in Rincon is scheduled to open for assembly in the third quarter of next year. Cannondale is using about 774,000 square feet of the building's space for distribution. A West Coast distribution center is located in Vacaville, California.
"In 2019, we started to pull all the plans together and made a decision that we want to bring assembly back to the U.S.," Hage said. "We have experience with assembly in Bedford, Pennsylvania, and understand the benefits of having greater control over our supply chain. It lines up perfectly with our current growth strategy, which includes moving away from traditional model year timing and being a better supplier to our retail partners."
In 2010, Dorel relocated frame production to Asia from Bedford, with assembly following in 2014. Bikes bound for U.S. retailers are still assembled in Asia.
Asked if there are plans to eventually manufacture frames in Rincon, Hage said, "Everything's on the table, obviously, as we build for the future, but that's not something we're ready to share at this point."
Cannondale said it's aiming to double its market presence in the U.S. and Europe in the next three years. A new European facility in Almelo, Netherlands, opened last month. Both facilities will be capable of producing a combined 500,000 bikes.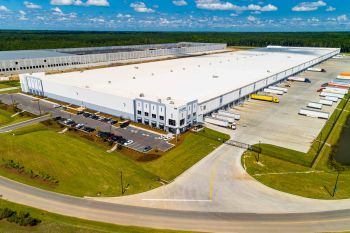 With the opening of the two facilities, Cannondale said European output capacity will triple in the first quarter of next year; build times will be lowered in the U.S., targeting a reduction of 30%-50% for its dealer build times; a more centralized quality-control process at the assembly sites; and all bikes assembled in the Rincon and Almelo facilities will use 100% recyclable packaging.
While many would have trouble finding Rincon, Georgia, on a map, it's strategically located, Hage said.
"It's located less than 20 miles from the port of Savannah, which is a significant hub, so that was a priority," he said. "The state of Georgia has been fantastic to work with and has a talented and diverse workforce."
Hiring is underway, Hage said, with leadership and management positions being filled first. About 60 assembly jobs need to be added and the workforce will total about 150.
With Cannondale marking its 50th anniversary this year, Hage said it's time for the brand to plan for the next 50.
"We have big plans for Cannondale, and this is just one of the ways we're preparing for the next 50 years," Hage said. "While a lot has changed in the industry since the start of 2020, we have plans to future-proof our business. As an American-born company, we're excited to bring back assembly to the U.S. It means so much for the brand and our retail partners."
Dorel Sports is in the process of being sold to Pon Holdings for $810 million. Dorel Sports is part of Dorel Industries, and its Cycling Sports Group includes the IBD brands Cannondale, GT, Charge, and Fabric. The Pacific Cycle Group, the other division of Dorel Sports, includes Schwinn, Mongoose and Kid Trax.