MONTEREY, Calif. (BRAIN) — American Classic, now in its second season as a tire-only brand, is at the Sea Otter Classic expo showing a revamped product line that is now being sold in IBDs in addition to consumer direct. 
American Classic's president, Chris Clinton, said the line offers dealer margins of 40 to 55% depending on order volume. It's currently shipping factory-direct but will open a U.S. warehouse this year. The brand has slightly increased its retail pricing to allow room for a dealer margin, but prices are still aggressive, with the MSRP of its most expensive models at $45.
Clinton joined American Classic last October.
American Classic also continues to offer a 50%-off Road Hazard Replacement guarantee, which Clinton said will be managed by the brand. 
"We plan to monitor (the replacement offer) directly using a form that consumers fill out on our website. Our hope is that this will reduce the customer-service burden placed on retailers who may already be dealing with consumers frustrated by current global logistics and high service workloads," Clinton said. 
Clinton said that once American Classic's U.S. warehouse is up and running, dealer minimum order quantities will be a single item.
He also said the brand is limiting the number of retailers who can sell American Classic products on Amazon. "This allows us to monitor prices to ensure dealers who support our product line are able to sell at our suggested prices and make a full margin," he said.  
Revamped line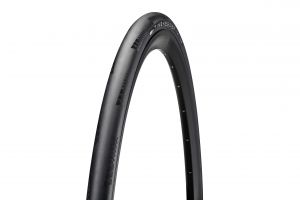 American Classic's new tire line carries on all of the same models launched last fall with several technological improvements. The company said the changes increased durability across the board and while lowering rolling resistance.
The updated Timekeeper and Torcherer Tubeless Ready road tires are now compatible with tubeless straight sidewall rims (TSS, or "hookless"), with a max recommended air pressure of 73 psi. 

American Classic is at Sea Otter Expo Booth B14.