FOUNTAIN VALLEY, Calif. (BRAIN) — In May, a month before the Trump administration proposed a 25 percent tariff on China-made e-bikes, Pedego co-founder and CEO Don DiCostanzo went to Vietnam to look for factories to make e-bikes.
DiCostanzo, who has had most of his company's e-bikes made in China since starting the business in 2008, wasn't anticipating the U.S. tariffs (which were proposed in June and took effect Aug. 23). Rather, he was hedging his bets against the European Commission's proposed anti-dumping duties on Chinese e-bikes. Pedego, which has more than 130 franchise retail locations in North America, does only about 5 percent of its business in Europe. Still, the proposed EC anti-dumping duties of as much as 189 percent would have brought the company's growing European business to a sudden halt.
"If those took effect, we were going to be out of business in Europe," DiCostanzo told BRAIN.
As it turns out, most of the brands selling e-bikes in Europe had the same idea and were also looking around Vietnam, and DiCostanzo found most of the factories there were too busy to take on extra work. But he eventually found two plants that he could work with.
The European Commission eventually imposed a provisional anti-dumping duty of 22 to 84 percent on Chinese e-bikes and is still considering whether to make them permanent.
Meanwhile, three Pedego employees are in Vietnam this week getting the factories ready to start making Pedego e-bikes on Monday. The first Vietnam-made Pedegos should start arriving here in October; DiCostanzo expects to product 3,000 to 4,000 bikes in Vietnam this year.
Pedego is working with two factories, one in Long An province, about an hour's drive west from Ho Chi Minh City. The other is in Binh Duong province, about one-and-a-half-hour's drive northeast of the city. Both factories previously produced nonelectric bikes. "We are teaching them to make e-bikes," DiCostanzo said.
As the Vietnam production grows, Pedego has moved the bulk of its bike assembly out of China and into Taiwan. DiCostanzo concedes that Vietnam lacks the bike manufacturing infrastructure and supply chain of those countries, making logistics a bit more expensive and time-consuming — but he reckons the additional logistical cost is 8 to 10 percent, considerable less than the 25 percent tariff on Chinese bikes. And it will only get better.
"It doesn't hurt to have more supply chain options," he said. "We don't know what's going to happen (with the U.S. tariffs). The whole thing could blow over. And we still have one foot in China," he said.
Although DiConstanzo views the tariffs as a negotiating tool by the Trump administration, and holds out hope that they will lead to more favorable trade relations with China in the long term, he was among the bike industry representatives who testified in Washington in opposition to the new tariffs on e-bikes. 
Pedego had three container-loads of e-bikes in transit from China that arrived in port three days after the tariffs took effect. The company had to pay $150,000 in duties on those bikes. Painful, but that's far less than the $1 million that DiConstanzo figured the company would pay in extra duties this year if it hadn't shifted production out of China.
When the U.S. e-bike tariff was initially proposed, DiCostanzo told BRAIN he was considering moving bike assembly to the U.S. to reduce its impact. However, since then the Trump administration has proposed a 25 percent tariff on most Chinese components, and DiConstanzo expects those to be approved soon. So there would be little savings from assembling bikes in the U.S. — the company would still be paying the duty on Chinese components, frames and motors.
Made in?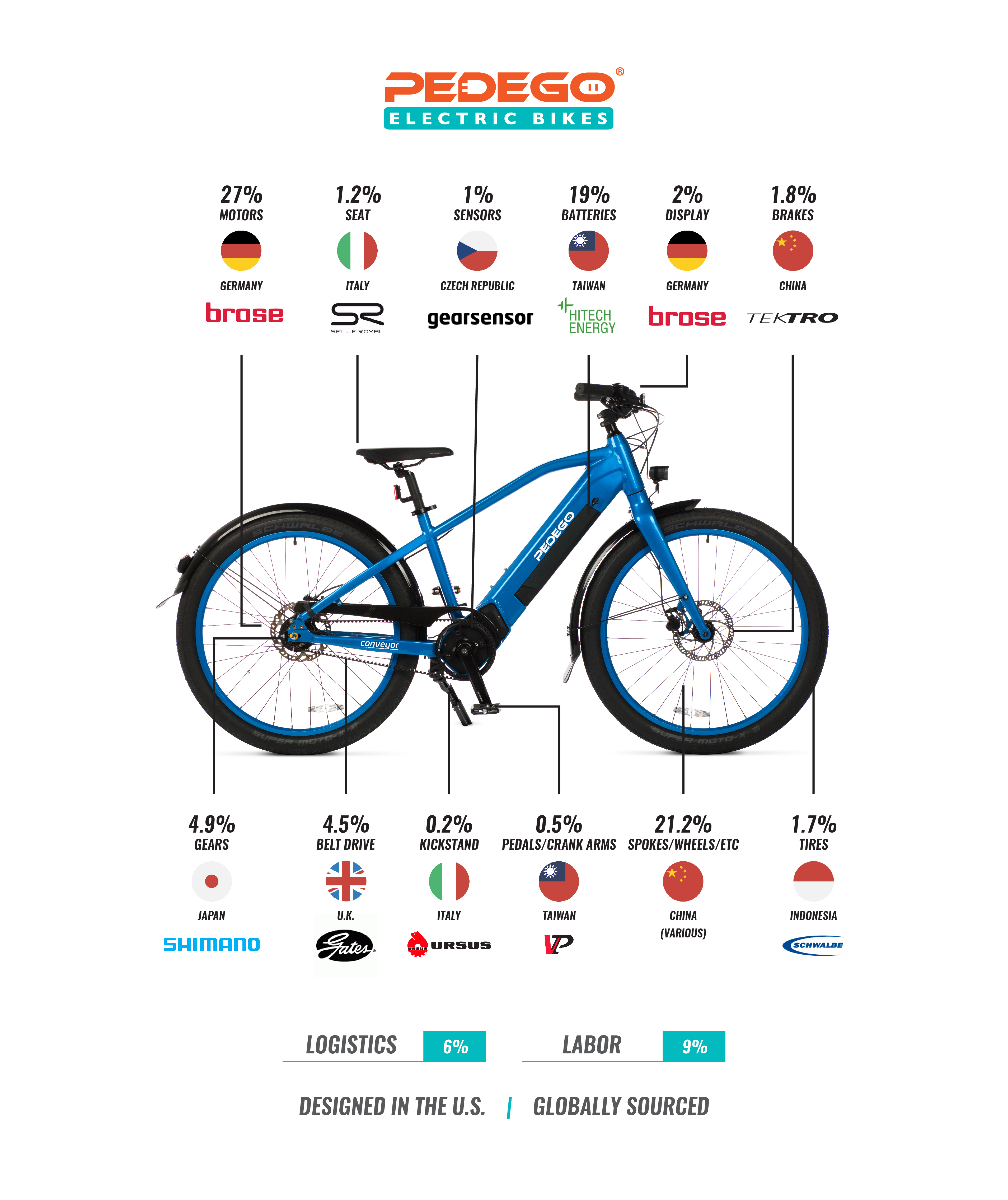 The whole situation has DiCostanzo mulling over what it really means to say a bike is made in China, Taiwan, the U.S. or Vietnam. He recently started taking a closer look at the parts of Pedego's bikes and saw parts from at least a dozen countries. And sub-components come from even more countries: Some of his tires are made by a German company (Schwalbe) in Indonesia, but with rubber from Thailand. E-bike battery cells come from Singapore, but the battery pack is assembled in China. Frames may be welded in Vietnam, but where does the aluminum come from? He made an illustration (left) showing the origins of parts on one Pedego model, which he said Pedego storeowners have requested to show customers who ask where the bikes are made.
In the U.S., Customs officials generally don't assess the origin of a bike's components: If it ships from China, it's considered a Chinese bike and is levied accordingly. The European Commission, however, has "anti-circumvention" rules requiring that 60 percent of a bike's value must be from outside China if the bike is to avoid the Chinese anti-dumping duty. DiCostanzo said Pedego's Vietnam-made bikes still have considerable Chinese content but that the Vietnam-made components and value will continue to grow.
Pedego also increased wholesale and retail prices on its bikes, effective Sept. 1, by about 8 percent to account for the tariffs. He said the price increase has not slowed sales.
"August sales were up 56 percent over last year and so far September is already a banner month. The price increase hasn't slowed us down a bit," he said.
Pedego had sales last year of nearly $18 million. The company was recently included on Inc. Magazine's Inc. 5000 list of the nation's fastest-growing companies, ranked 3,125th. It was the company's fifth consecutive year on the list. The company had a three-year growth rate of 127 percent from 2014 to 2017.