FRIEDRICHSHAFEN, Germany (BRAIN) — Shimano's PRO brand is showing a new three-spoke front wheel and several new saddle models at Eurobike this week.
The Tri-spoke Clincher front wheel designed for triathletes and time trial disciplines. The company has previously offered its Tri-spoke only in a tubular tire model.
The Tri-spoke Clincher uses the same technology trickled down from the tubular version, including the same aerodynamic shape as the Tri-spoke Textreme wheel with a 3K 2x2 twill carbon weave and a wide 65mm deep rim, suitable for 25mm clincher tires.
The PRO Tri-spoke Clincher is built around a Shimano Ultegra 6800 hub, weighing 1,040g in total and comes with a protective PRO wheel bag. PRO also offers a clincher rear disc wheel for triathletes and time trialists who prefer clinchers. The PRO Tri-spoke  clincher front wheel will be available in January 2018 and MSRP is $1,999.99.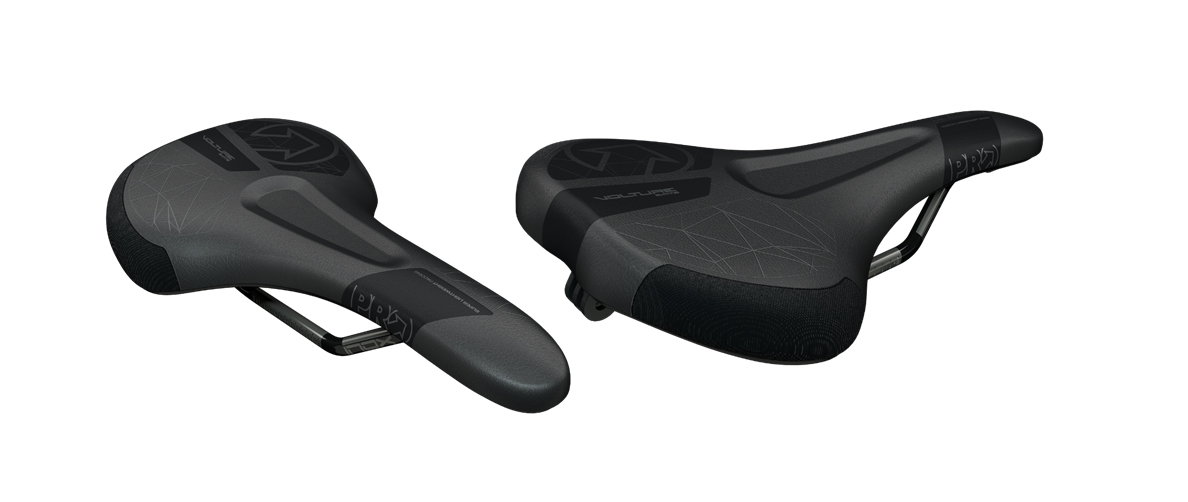 PRO worked with Shimano-owned Bikefitting.com to develop all-new saddle designs for mountain bikers. The new models for 2018 include the E-MTB specific Volture saddle and enduro/trail/all-mountain Griffon and Turnix saddles.
PRO engineers used research from a pressure-mapping study with Bikefitting.com that showed how different riders ride in different positions on a mountain bike saddle, regularly changing position across different terrains and gradients.
The Griffon and Turnix have broadened nose and mid-sections, high-grip covers, and increased padding, adding 2mm of thickness on the front of the saddle to 5mm on the rear. The wider nose area is designed to give the rider a more supportive platform at the front of the saddle for hard efforts on steep climbs while the wider mid-section improves handling and cornering stability. The saddle uppers feature a PU material with a more grip to reduce rider movement around the saddle. Meanwhile, the side material on the Griffon and Turnix saddles has a durable and rubberized feel to protect the saddle base and padding from damage.
The saddle bases are made from a carbon-reinforced polymer with an Anatomic Fit cut-away that is covered at the bottom to prevent mud and water ingress. Rails on the Griffon and Turnix are made from corrosion-resistant INOX steel alloy. The saddles also include integrated accessory mounts allowing additional accessories such as race plates, fenders and cameras to be securely attached.
The Volture E-MTB also was developed with research from Bikefitting.com on e-bike riders. Riders using e-bike motors generally spend less time out of the saddle pushing through steep sections and because they are pushing less force through the pedals, they are putting more weight into their saddles. Therefore, the Volture was conceived to offer more padding and greater comfort to e-MTB riders with additional padding for more comfort in the rear of the saddle, a wider nose design for additional stability and better handling, and a higher tail for better power transfer. 
The new PRO mountain bike saddles will be available in January 2018. MSRP is $119.99.