News from Knog, Guru, GT, Gore and Stan's

PARK CITY, UT (BRAIN) Wednesday June 20 2012 6:02 PM MT—PressCamp continued Wednesday with continued perfect weather and trail conditions as journalists met with dozens of brands to get hands-on experience with new gear.

Here are a few notes from Bicycle Retailer's second day at the show. Watch for more this week.

Previous 2012 PressCamp Notebooks
Knog offers POS displays, new products and packaging
PARK CITY, UT (BRAIN) Wednesday June 20 2012 6:04 PM MT—Australian accessories brand Knog is continuing to expand beyond its young fixie-culture roots to offer products and marketing aimed at riders from "six to 60," as marketing chief Michael Lelliott likes to say.

New products include the Blinder 1 head and taillights, which have one LED, and the Blinder V and Blinder 4 tail and headlights, which have four LEDs. The colorful lights are fully waterproof and use batteries recharged via a cunning little built-in USB plug. All use integrated o-ring attachments that work on a wide range of handlebar and seatpost diameters.


Apple should be flattered by having its product packaging compared to Knog's. The lights mentioned above, for example, come in lightweight shells that resemble egg cartons, made of biodegradable cane sugar pulp wrapped in recyclable PET clear plastic. The packing is attractive, lightweight, compact and environmentally groovy.

Cincinnati retailer Diane Lees (who is at PressCamp wearing her media hat, as host of the Outspoken Cyclist radio show/podcast) noted that Knog's packaging is clever but still puts the product itself front and center. "It shouldn't be about the packaging, it's about the product," Lees said.

The new packaging allows retailers to stock a lot of Knog products in a small amount of wall or counter space, courtesy of the company's new displays, which are available through all its U.S. distributors. One counter-top display, for example, holds 40 Blinder 4 lights that retail for $45, putting $900 worth of products in a very small footprint.

Knog also showed some new U-lock and cable designs.
Guru continues to develop'3-tier' bike program
PARK CITY, UT (BRAIN) Wednesday June 20 2012 6:04 PM MT—Montreal bike builder Guru is continuing to refine its highly flexible and innovative custom, stock and semi-custom bike program, which promises to increase profits for its retailers.

Guru is probably now best known for its carbon aero bikes, but the company has long offered custom bikes for virtually every use and made of steel, aluminum, titanium or carbon.

Last year the company introduced a computer controlled bike fitting device for retailers and fit studios, called the Dynamic Fit Unit.

The DFU is a motorized, computer controlled fit bike. A fitter can move a rider's saddle and handlebar position via hydraulic actuators as the rider pedals. All the positioning data can be saved and ultimately sent to Guru for the construction of a custom frame. Guru promises to deliver a proposed custom drawings within minutes during business days.

"By the time the customer has come out of the changing room, the dealer will have two drawings from us," said Robert Pinazza, Guru's vice president of sales. Pinazza said Guru delivers fully custom frames in four weeks.

Dealers can buy the DFU for $7,000 with a commitment to buy a 25 Guru bikes over four years. Fitters pay $12,000 for the device.

Guru has sold 38 DFUs so far. The video below was made by one of the retailers who uses the machine.

To compliment the custom program, Guru has added a stock bike program for the first time, and is also offering custom paint on stock (or custom) geometry. For example, a stock Photon road frame with stock paint retails for $4,000. The same frame with custom paint retails for $4,300 and a Photon with custom paint and geometry retails for $4,900.

Stock frames with custom paint can be delivered in about nine days, Pinazza said, considerably faster than custom paint offerings from other brands.

"We're not looking to replace the big brands on a dealer's floor," Pinazza said. "We are looking to supplement those sales by offering a just-in-time, high-margin, custom program."


GT gets back to roots with Ti triple triangle offerings
PARK CITY, UT (BRAIN) Wednesday June 20 2012 6:04 PM MT—GT Bicycles is continuing a multi-year rebranding effort that, in part, seeks to play off the brand's glory days in the mid-1990s.

The company is offering two new titanium frames featuring its iconic triple-triangle design, updated for modern use.

The Edge Ti is a road frame for "people who don't want just another carbon road bike," said GT's Chris Hopwood, the brand's global marketing manager.

The Edge Ti has a tapered headtube and a dark, bead-blast finish with polished accents and logos. The frame with carbon fork, headset and seat collar will retail for $2,000.


The Xizang is an updated version of the 1990s hardtail made at GT's skunkworks factory in Longmont, Colorado. Hopwood said collectors in the U.S. and Europe restore vintage Xizang's with era-appropriate components.

The new version is polished titanium with a tapered headtube and hydroformed chainstays for vertical compliance and tire clearance. It will also retail for $2,000.

Hopwood said both bikes are "marquee, showcase" products designed to reinforce GT's image as a heritage maker of durable high-performance bikes.
Gore promotes 'engineering approach' to clothing
Wednesday June 20 2012 6:04 PM MT—Gore's cycling clothing efforts began more than 25 years ago with a rain jacket made for the predecessor of the current Rabobank pro team.

Company spokesman Jason Thorpe said Gore continues to develop clothes with an engineer's eye. "Everything is done for a reason and the reason is not responding to what's happening in Milan," Thorpe said.

Most retailers are familiar with Gore's waterproof-breathable technology. But the clothing line has done more than just stitch the Gore membrane into utilitarian designs. The company sweats the details too. For example, products within its several lines are designed carefully to work together as an integrated system. Shoulder seams on a jersey won't stack up or cross seams on a matching jacket. Jersey sleeves won't extend beyond the sleeves of its matching jacket, for example.

"Once you know your size, you can shop with confidence over time within product families," Thorpe said.

Gore also offers consistent styling over seasons, so dealers can confidently box up summer clothes at the end of the season and display them again the next year, without having to discount them as last year's models.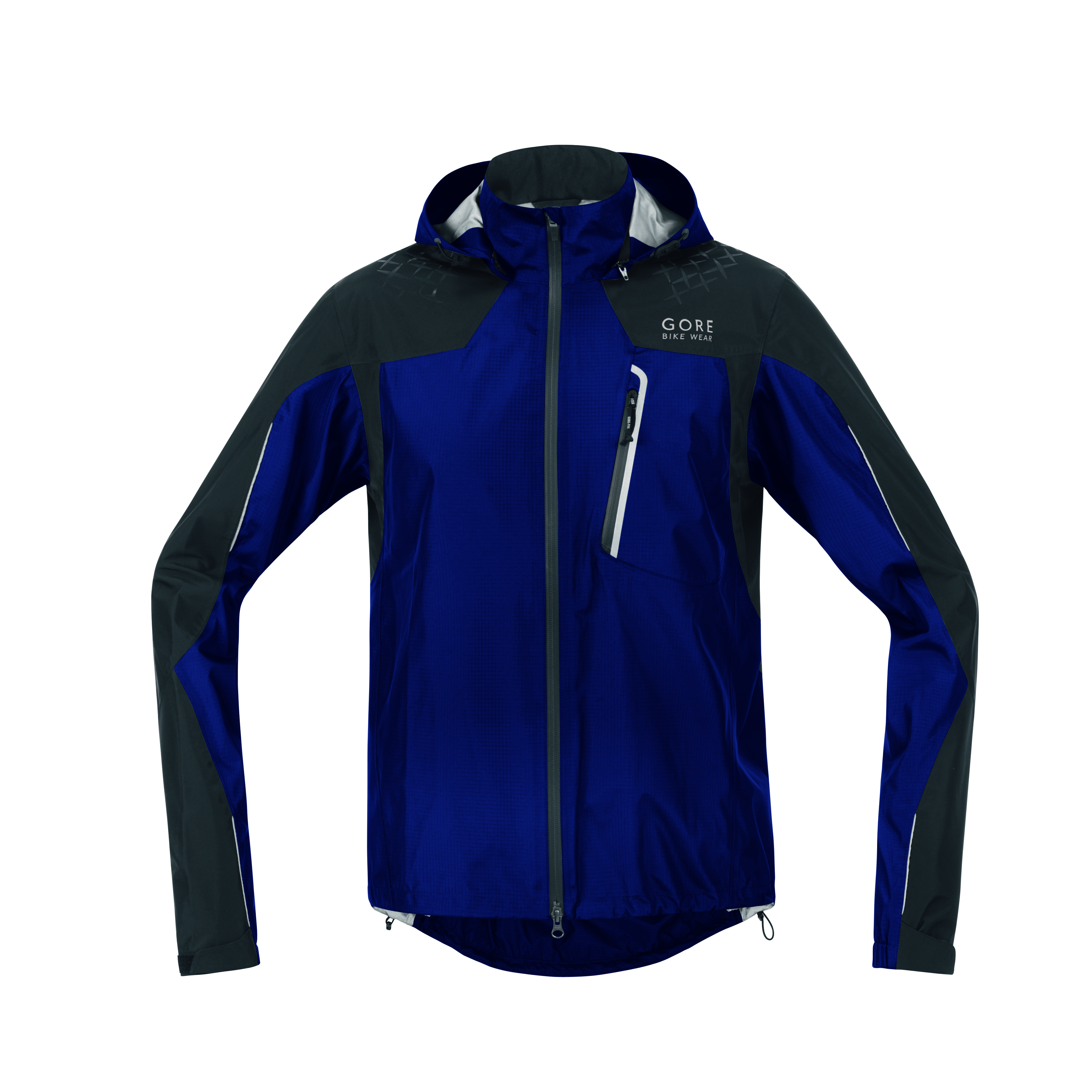 New products and technologies at Gore include the Active Shell fabric, a lightweight windproof packable material that is said to be 50 percent lighter than the company's previous "Pack Light" material, and offer more comfort next to the skin.

A new jacket is the Alpe Cross, a top-of-the-line mountain biking jacket that includes scrub guards on the shoulders and stretch panel optimized for use with a hydration pack. The jacket's sternum pocket also is positioned not to interfere with hydration pack sternum straps. It has an under-helmet hood and a drop tail that can be tucked up with button snaps. The jacket is part of Gore's fall-winter 2012 line and will retail for $279.
Stan's makes some running changes, shows OE rim
Wednesday June 20 2012 6:04 PM MT—Stan's NoTubes is continuing to tweak its line of tubeless rims and wheels, with some running changes to several rim designs and a new OE rim.

The company is adding some material to its Alpha 340 road rim to handle increased spoke tension necessary with tubeless road tires. The tubeless tires' stretchproof beads slacken spoke tension when inflated, so wheels, especially rear wheels, need to be built tighter. Additional material at the spoke bed added about 15 grams to the rims.

Stan's also is offering a stiffer, stronger road rim, the Alpha 400, which has extra webbing inside the extrusion to add stiffness. The rims will be available in three wheel versions.

Stan's also offers new disc brake wheels for road and cyclocross use. The road wheel is built with the Alpha 340 rim (but without a machined brake track). The IronCross wheel is intended for 'cross bikes with discs, with a rim profile that works better with 'cross tires. The IronCross is named for a popular Pennsylvania race and the wheels will retail for $550.

On the mountain bike side, Stan's new Flow EX rim is an updated version of the Flow rims, now wider and shorter for use in downhill racing.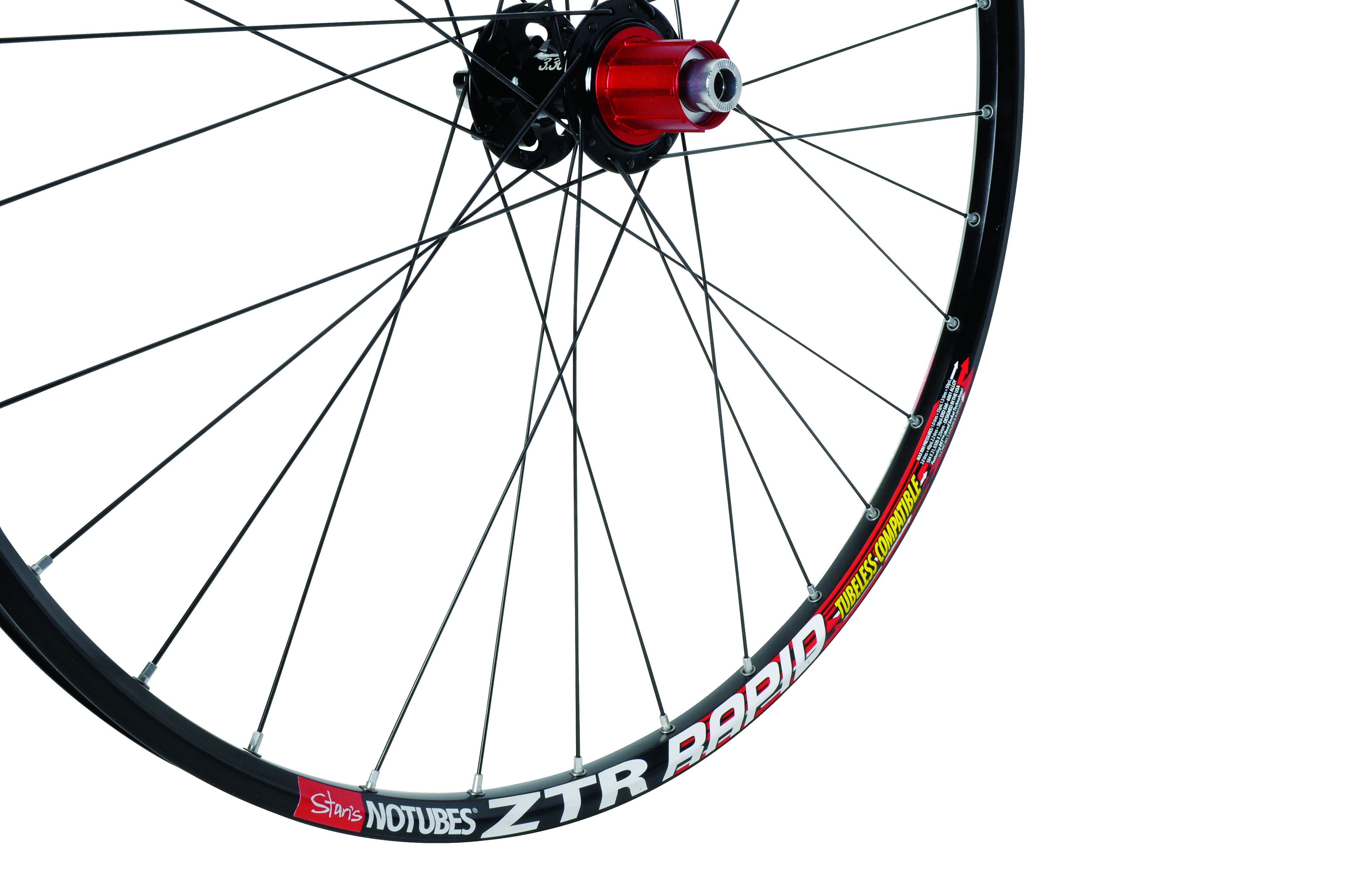 The ZTR Rapid rim is intended for original equipment makers. It's the first Stan's rim with spoke eyelets, which the company said are needed for use with wheelbuilding machines.

Stan's sells to about 2,500 dealers directly and many more through its distributors, which include QBP. Its consumer direct sales have been declining steadily in recent years as retailers have accepted the company's tubeless designs. Direct sales now account for less than 10 percent of Stan's sales.

Previous 2012 PressCamp Notebooks