PALOS VERDES, Calif. (BRAIN) — Industry chatter mixed with Hollywood dreams Wednesday as the inaugural winter edition of Lifeboat Events' PressCamp event got under way sharing the grounds of swank Southern California resort Terranea with the celebrity hosts and aspiring divas of TV's "American Idol," filming on location.
Sightings of the walking media empire known as Seacrest—as well as elaborately coiffed songbirds trailed by film crews—were but a minor distraction as a dozen-plus writers and editors from industry and mainstream media met with 10 companies representing 13 brands. The industry tribe also split up for organized road and mountain rides on a shimmering coastal afternoon—tonic for the many who fled winter's bitter storms for PressCamp.
Winter PressCamp wraps Thursday. Highlights from the first day's meetings:
Box Components
Reaching beyond its BMX roots, Southern California's Box Components showed its distinctive single-lever mountain bike shifters and rear derailleur at Interbike in September. And the brand headed by BMX and mountain bike legend Toby Henderson is looking to delve deeper into the MTB market with a host of new products in the pipeline.
Hollow-forged cranks will mate to Praxis Works' 35-millimeter external bottom bracket, just like Box's Vector BMX crankset. And two 3D-forged alloy seatposts also are in the works.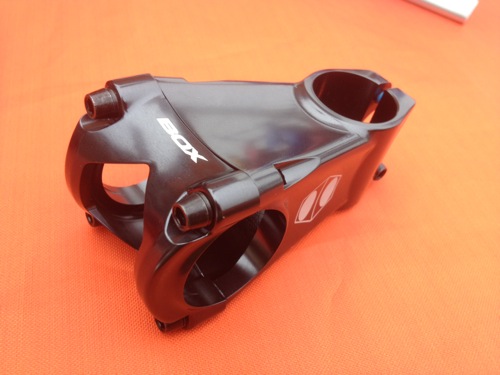 For cockpit duty, 35-millimeter bars and stems are on the way. Samples of the new line of three carbon bars were intended to be available at PressCamp on Wednesday, but were held up in transit, Henderson said.
Those bars, with material bulked up at the upper bends like Box's carbon BMX bars, will come in lengths of 720, 760 and 780 millimeters, in 8-, 15- and 30-millimeter rise, respectively. "They're the stiffest bars we've ever made," said Michael Gamstetter, senior brand manager and senior designer. 3D-forged alloy mountain stems will be offered in 45-, 55- and 60-mil lengths.For cockpit duty, 35-millimeter bars and stems are on the way. Samples of the new line of three carbon bars were intended to be available at PressCamp on Wednesday, but were held up in transit, Henderson said. 
Work continues on bringing the Shimano-compatible single-lever mountain shifters — and Box's rear derailleur — to market. Henderson concedes that for a brand known for BMX bars, stems and grips, building complex components like derailleurs and shifters is no minor task. "The challenge is getting the manufacturing consistent," he said. "We had to forge a new path and not just make another double shifter."
The shifter's unique action works by pressing forward with the thumb to downshift and pushing inward on the lever end to upshift. The rider can also gain a bigger gear by pressing the base of the thumb on the lever end, negating the need to release grip on the handlebar.
The shifters and derailleur are targeted at the Shimano XT level of the market, said Gamstetter.
Vision
"We're taking a TT and tri line and moving it into high-end road," said FSA marketing man Mike Lawless of the new Vision Metron cockpit line, set to reach stores in May or June. Purchased in 2002 when it was producing TT bars, Vision is FSA's component brand dedicated to the burgeoning aero market, producing compact and base bars, stems, posts, brake levers, paddle shifters, clinchers and tubulars.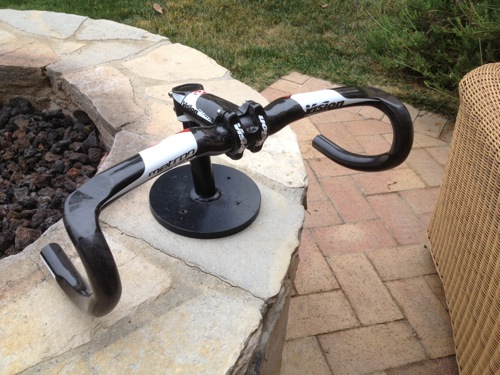 But while the Metron 4D carbon handlebars are clearly shaped to slice wind, they also sport touches aimed at improving comfort and cardio performance. The bars' forward sweep and outwardly flared drops pull the elbows out and open up the chest to ease breathing, for example.
The Metron bar, in 40-, 42- and 44-centimeter widths with 31.8-mil clamp, is complemented by stems 100, 110, 120 and 130 millimeters long, and 27.2-, 30.9- and 31.6-millimeter Metron seatposts—all available 350 or 400 mil long.
Suggested retail is $369 for bars, $319 for stems and $219 for seatposts. All will be available in Vision team red logo or gray-on-black.
This summer, Vision also plans to launch its 386EVO TT cranks in lengths down to 155 millimeters to meet demand from triathletes who say the higher RPM of shorter cranks eases the transition from bike to run in races.
Kali Protectives
Kali founder Brad Waldron came to Winter PressCamp just as the first ready-for-retail batches of the price-point Phenom and Loka helmets—shown in developing form at Summer PressCamp in June 2013—reached his warehouse in Morgan Hill, California.
The Phenom carries over nearly all the technologies of the top-end Maraka R road helmet, though fewer of the vent-surrounding Supervent structures that spread the force of impact, at an MSRP of $159. The $99 Loka doesn't have Supervents, but it does get Kali's Composite Fusion Plus technology—which incorporates impact-dampening cone structures into the helmet's foam—as well as the company's BumperFit tech, which reduces hot spots on the head while also improving impact protection.
A nod to sustainability, Kali also previewed the Saha skate-style commute helmet. The exterior shell is made of polylactide, a derivative of corn husk, while the foam is recycled VPS and the chin strap is fashioned from organic flax seed and cotton. Minimalist graphics are water-based. "It's literally the greenest we can make a helmet," said sales manager Bryan Mason.
The Saha should ship in March, he added.
Infinity Cycling
Funded by Kickstarter, the Infinity saddle is a labor of love—and somewhat of necessity—for triathlete and chiropractor Dr. Vincent Marcel. An avid cyclist, he had been through dozens of saddles over the years, never content with their comfort.
The answer? Give the rider's sit bones a break.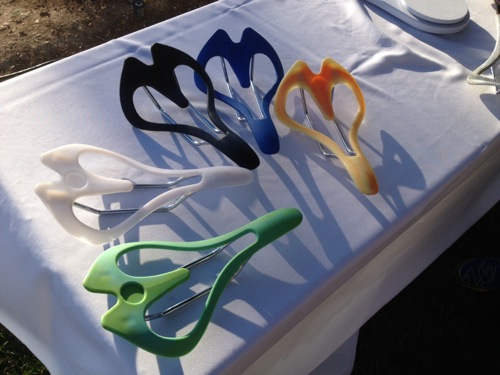 "It's about comfortability," he said. "It had to look good, be light, and it had to feel good."So Marcel fashioned a saddle with radical cutaways that allowed the sit bones and pelvic bone to rest inside free space, shifting the pressure of the rider's weight to be absorbed by his or her fat and water-containing tissues instead.
A successful Kickstarter campaign later, Marcel is gearing up to ship his first California-manufactured saddles to 1,500 crowdfunding contributors. Then it's time to figure out what's next for his nascent business.
Although he'll be selling consumer direct at first, Marcel is engaging distributors and some multi-store industry retailers to explore other sales avenues.
The line will include the Infinity Go commuter model, with a nylon shell and carbon-steel rails, up to the top-end Infinity Elite performance saddle, with carbon rails and carbon fiber/Kevlar construction. Pricing on most models has not been set.