TAIPEI, Taiwan (BRAIN) — Tern and Xtracycle have succesfully completed a Kickstarter campaign that raised more than $150,000 to produce a folding cargo bike. Unlike many such campaigns, which ship the product directly to the consumers who support it, Tern and Xtracycle will fulfill its orders via retailers who will receive a margin for assembling and delivering them.
The Cargo Node bike was developed for city dwellers and city businesses who want to use the bikes for medium distance errands and deliveries, but who lack space to store a traditional cargo bike. 
"In high-density cities, the value of cargo-bikes multiplies," said Xtracycle founder Ross Evans. "Cargo-bikes are optimal for medium-distance errands, and they let you cut through traffic. Unfortunately, in dense cities, space is at a premium, and cargo-bikes are big." The Cargo Node folds to one-third of its total volume in 10 seconds.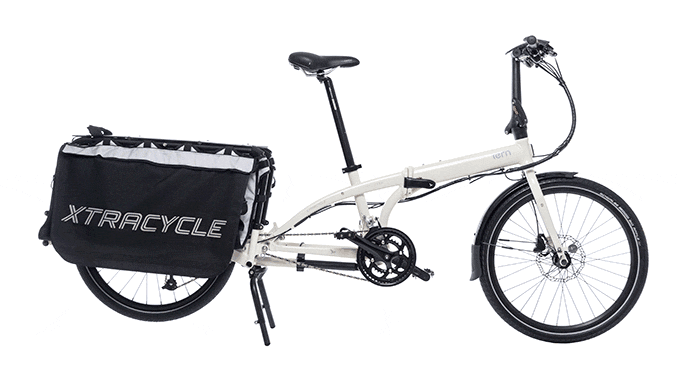 Josh Hon, the founder of Tern said the folding cargo bike seems like a "niche-within-a-niche product," which made investing in bringing it to market was a risk. Thus, the collaborators chose a crowd-funding campaign. 
"Traditional distribution models force distributors and dealers to assume significant risk in the sales-cycle of bicycles," Hon said. "We realized Kickstarter could help us remove risk for dealers and distributors, while reaching the vanguard global audience who see the significant potential of a folding cargo-bike."
Over the course of the one-month campaign more than 20,000 people visited the Cargo Node Kickstarter page. The campaign reached over 100,000 potential customers through Facebook, Instagram and Twitter, and received support from 168 backers in seven different countries. By proving the potential global consumer demand for the product on Kickstarter, Tern built confidence with its distributor and dealer network, with several distributors adding the bike to their product lines after seeing the success of the Kickstarter campaign.
The campaign's goal was $60,000. It actually raised $154,000. Supporters were able to reserve some of the first bikes produced with pledges starting at $1,500.
Steve Boyd, the general managher of Tern North America, said, "We're delivering bikes to the Tern dealer closest to the consumer. Local dealers will assemble and tune bikes, and receive a margin, just like we've been doing on our web store all year."
By fulfilling through dealers, Tern can give consumers service and support throughout the lifetime of their bikes, he said. The company said several dealers have added the Cargo Node to their product selection as a result of the campaign. The Cargo Node will retail for about $1,800 when it becomes available.